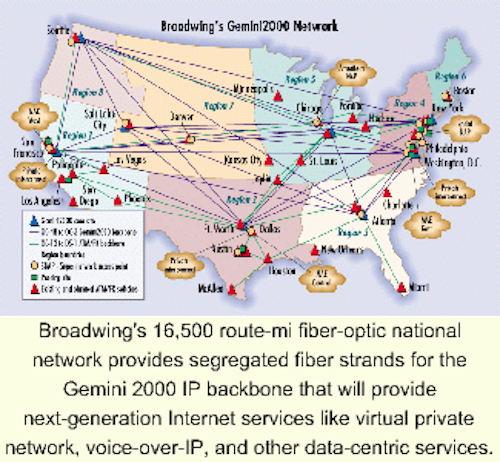 By ROBERT PEASE
It has been nearly a year since the announced merger of IXC Communications and Cincinnati Bell to form Broadwing Inc. with a pro mise of becoming a premier coast-to-coast integrated-communications provider. President and CEO Richard Ellenberger insisted Broadwing would be different from its competitors, focusing on the customer.
Broadwing leveraged IXC's long-haul fiber-optic backbone network, including the Gemini 2000 OC-48 (2.4-Gbit/sec) Internet backbone, to increase its geographical reach. IXC was struggling to continue its backbone build-out because of limited capital, managerial problems, and a general inability to gain traction in the market. But despite its problems, Ellenberger saw a quality national network he could marry to Cincinnati Bell's solid reputation, financial and managerial strengths, and back-office systems to create a stronger combined entity. The complementary companies presented a good opportunity to establish a very strong position in wholesale and retail telecommunications.
Ellenberger, in a statement during the unveiling of Broadwing, stated that "with communications mergers seemingly a daily occurrence, one critical item that seems to be lost in the rush to create 'super carriers,' cut jobs, and stifle innovation is the customer." He pointed out that customers "are telling us that the landscape is littered with broken promises and uninspired thinking when it comes to enabling them to think ahead of their own customer needs to maintain an advantage in the markets they serve."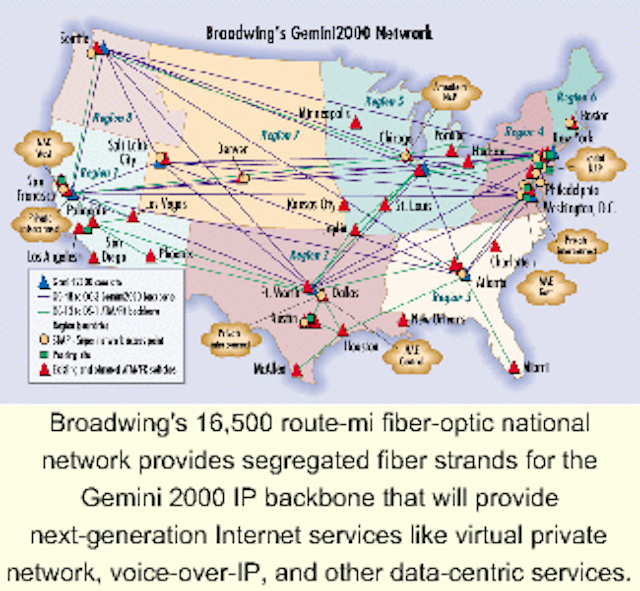 Broadwing's 16,500 route-mi fiber-optic national network provides segregated fiber strands for the Gemini 2000 IP backbone that will provide next-generation Internet services like virtual private network, voice-over-IP, and other data-centric services.
Now, months after Cincinnati Bell took over a struggling IXC, is the new company living up to the expectations of investors, analysts, and most importantly, its customers? In a recent announcement about customer satisfaction, Broadwing offered customers a service guarantee for installation. Basically, if a customer's circuit isn't delivered within 45 business days following the order, the customer is issued a month's free service. If Broadwing's service is more than 31 days late, two months of free service is received. If nothing else, the guarantee serves to show Broadwing's intent to build relationships with new and existing customers amid stiff competition. That was a major concern cited by the Yankee Group, a Massachusetts-based telecommunications industry analyst and consulting firm.
According to a report by the Yankee Group following the merger, the greatest concern was the stiff competition that Broadwing would face as it expands beyond its traditional market. The new company's success would depend on choosing the right markets and the right niches within those markets. Two key markets Broadwing has set its sights on are collocation facilities and small to medium-size businesses.
"Certainly the one who can solve the local loop in the next-generation carrier space will be the winner," says Tom Osha, vice president of corporate communications at Broadwing. "We're keeping our options open regarding a singular local-loop strategy across all our markets. One place that the industry is going is in collocation. We've expanded our collocation strategy, because for Web hosting and ultimately the ISP [Internet service-provider] space, collocation takes the local loop out of play and allows ISPs, 'dot.coms,' and other major users to collocate their equipment with ours. That alleviates the need and expense of the local loop.
"With our Gemini 2000 network and expansion of our data centers to eight primary cities across the country where activity is really congregating, we believe that can be a very interesting strategy and have a major impact," adds Osha. "But I would still say we're pursuing a collocation strategy in conjunction with a local-loop strategy. The three ways of getting into the cities is to build it, buy it, or partner it, and we're exploring the benefits of all three. We have not settled on one yet."
The Yankee Group agrees that Broadwing appears to be targeting the right issues in terms of focusing on quality and customer service. Collocation facilities, or carrier hotels, are undoubtedly hot right now, but the Yankee Group also points out the window for them may only be a couple of years.
"Broadwing's focus on small to medium-size businesses is also good," says Beth Moore, an analyst at the Yankee Group. "There is a significant need for connectivity and high-speed services in that segment of the market. In terms of how they are deploying, that remains to be seen. The company has a lot to do, and they are a bit late to the market, in terms of competitive position. They're certainly not out of the woods yet, but they seem to be in a good position."
Broadwing says it's really not a matter of solving the local-loop problem at this moment. Rather, the company wants to determine how to solve the problems of local loops down the road. For that reason, its collocation strategy seems particularly interesting. But Broadwing is also focused on Web hosting, bundled products, and enabling application solutions.
"We believe the collocation space is ready to explode," says Osha. "We want to be one of those at the forefront of that. At the same time, it's a balancing act. Not only do you look at the future, but you have to operate today by looking at whether it's best to build, partner, or acquire local loops."
The litmus test is still taking place, but Broadwing appears to be taking positive steps on the way to becoming a serious competitor for the top 100 U.S. markets. The moves are positive enough for Moore to point out the possibility of larger companies finding Broadwing a potential candidate for acquisition or merger.
"The company is still small enough that it could still be an acquisition target by a larger company," says Moore. "It would be an interesting purchase, particularly on the part of one of the multinationals that is looking at the United States. There are established facilities, a strong team, some money behind it, and yet, there is a whole lot of growing yet to do within Broadwing before all is said and done. I think that would be a very interesting play."
Overall, the merger that formed Broadwing has been a positive event, says Osha, and the company has all the tools it needs to be successful-a 16,500-route-mi national fiber-optic network, a patented IP backbone system in Gemini 2000, financial and management strength, and a unique vision. But does Broadwing still hold an ace up its sleeve?
"We're a new kind of data and Internet company that is differentiating itself from its competitors in two important areas where we feel the industry has fallen short," says Osha. "Those areas are speed and accountability. Customers are really the forgotten players in the telecommunications space today, particularly with the 'merger-furious' environment and the land grabbing that seems to be going on. We believe we have the opportunity to bring speed and accountability back to the customer."