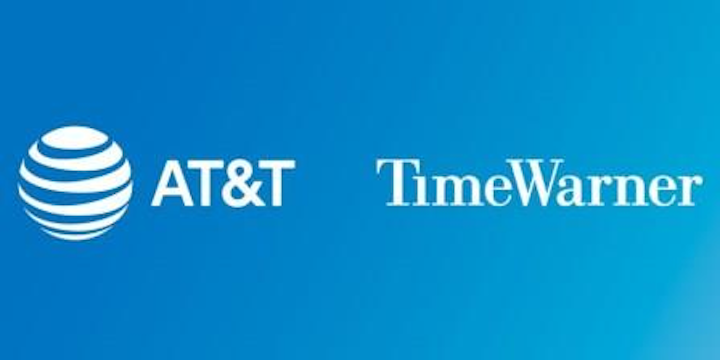 AT&T Inc. (NYSE:T) and Time Warner Inc. (NYSE:TWX) announced the proposed acquisition of the latter by the former for $107.50 per share (approximately $85.4 billion) in cash and stock on Saturday. The cries of concern about the ramifications of the deal began shortly after, from consumer groups, trade associations, and at least one presidential candidate.
Time Warner comprises three divisions: the popular pay-TV and streaming content services provider HBO; Warner Bros. Entertainment, which produces and distributes television content, feature films, home videos, and videogames; and Turner, which owns and operates cable networks TNT, TBS, CNN, and Cartoon Network/Adult Swim. Turner also broadcast rights for the NBA, the NCAA "March Madness" men's college basketball tournament, and Major League Baseball. The division has invested in over-the top (OTT) service provision as well as digital media properties such as Hulu, Bleacher Report, CNN.com and Fandango.
As was the case when Comcast's acquired NBC/Universal in 2011, some observers wonder whether AT&T will restrict access to such content or show undue favoritism toward its own content pipelines. AT&T's current content delivery units include its U-verse and AT&T Fiber services, as well as its DirecTV satellite TV unit (see "AT&T closes DirecTV acquisition").
AT&T and Time Warner positioned the proposed transaction as beneficial to competition, as it would strengthen an existing competitor to cable TV providers. The deal would also benefit consumers by offering more choice, including in how content is accessed, as well as lowering prices, the companies stated.
Several parties doubt these assertions.
"As the FCC has found in past mergers, combining valuable content with pay-TV distribution causes harm to consumers and competition in the pay-TV market. If an AT&T/Time Warner deal is forged as reported, the vertical integration of the merged company must be an issue that regulators closely examine," said Matthew M. Polka, president and CEO of the American Cable Association, which represents small and mid-sized independent telcos and cable operators.
Republican Presidential candidate Donald Trump's camp also decried the proposed deal. "AT&T, the original and abusive 'Ma Bell' telephone monopoly, is now trying to buy Time Warner and thus the wildly anti-Trump CNN," said Trump economic advisor Peter Navarro in a statement Reuters quoted. "Donald Trump would never approve such a deal because it concentrates too much power in the hands of the too and powerful few."
Press reports indicate that members of Democratic Presidential challenger Hillary Clinton's camp said the deal merits close review. But so far the candidate has not expressed an opinion herself on the proposed merger.
The Center for Digital Democracy raised an additional area of potential concern. "A new stranglehold is being placed on our communications landscape, as already dominant cable and telephone monopolies devour former partners or competitors (Verizon/AOL/and now Yahoo!, for example). This is all about tracking and targeting us regardless of whether we use a mobile device, PC, or TV," said Jeff Chester, executive director of the group, via a statement posted on the center's website. "Through the growing capability of mobile phones to follow and geo-target us everywhere we go—the supermarket, while in a car, or even on the street, these new broadband ISP/mobile/TV giants are extending their powerful digital tentacles further into our lives. While some programmers and large advertisers will benefit, the deal raises a host of consumer concerns, including about privacy."
Meanwhile, the U.S. Senate subcommittee on antitrust announced plans to hold hearings on the transaction next month. However, the power to approve or scuttle the deal lies with the Department of Justice and, potentially the Federal Communications Commission (FCC). However, reports suggest that if Time Warner divests itself of the only TV station it owns, it may be able to keep the FCC out of the review process.
Executives at AT&T and Time Warner, naturally, expressed confidence that the deal will go through. Randall Stephenson, AT&T chairman and CEO, said on an analyst call that, much as was the case with Comcast and NBC/Universal, he expects to have to make concessions to achieve that milestone.
Terms of the deal
AT&T proposes to split the $107.50 it has promised to Time Warner shareholders down the middle between cash and stock. The stock portion will be subject to a collar; Time Warner shareholders will receive 1.437 AT&T shares if AT&T's average stock price is below $37.411 at closing and 1.3 AT&T shares if the company's average stock price is above $41.349 at closing. Time Warner shareholders thus would own between 14.4% and 15.7% of AT&T shares on a fully-diluted basis.
The cash portion will come from new debt and existing cash. AT&T says it has an 18-month commitment for an unsecured bridge term facility for $40 billion.
AT&T says it expects the deal to prove accretive in the first year after close on both an adjusted EPS and free cash flow per share basis. The company also predicts $1 billion in annual run rate cost synergies within 3 years of the deal's close.
The agreement has been approved unanimously by the boards of directors of both companies.
For related articles, visit the Business Topic Center.
For more information on broadband systems and suppliers, visit the Lightwave Buyer's Guide.