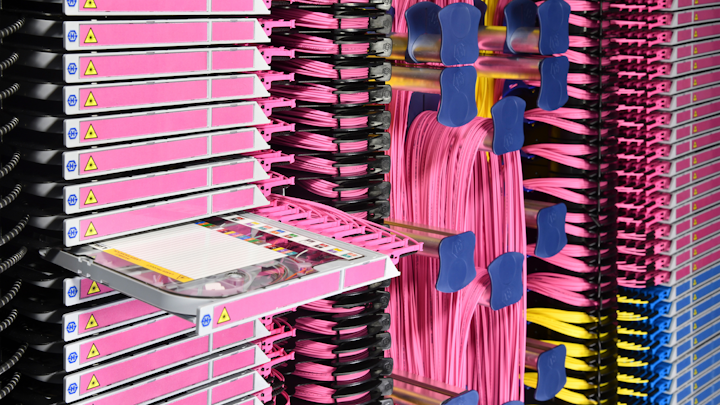 As we head into an era where 5G, virtual reality, artificial intelligence, the Internet of Things and high-resolution video and gaming are revolutionizing the industry as we know it, there is an undeniable pressure on operators to develop and build data centers that can keep up with the increased connectivity and bandwidth demands that these new technologies will bring.
Industry 4.0, machine-to-machine learning and software-as-a-service are other examples of new technologies that data center operators are having to react to and increase storage for, as global cloud data center traffic grows at an unprecedented rate. Data centers are being forced to adapt to the demands of their ever-changing environments, and it is crucial that data center operators invest in technology that will grow alongside them.
Although 400G is currently a very small market and 400G links are not widely deployed in the industry at present, adoption of this technology will grow over the coming years. To ensure data centers are ultra-fast, high-performing, and able to adapt quickly, 400G is key for the future. Hyperscale cloud data centers will be the drivers of the development of 400G, with this momentum expected to increase throughout 2020 and beyond.
A digital era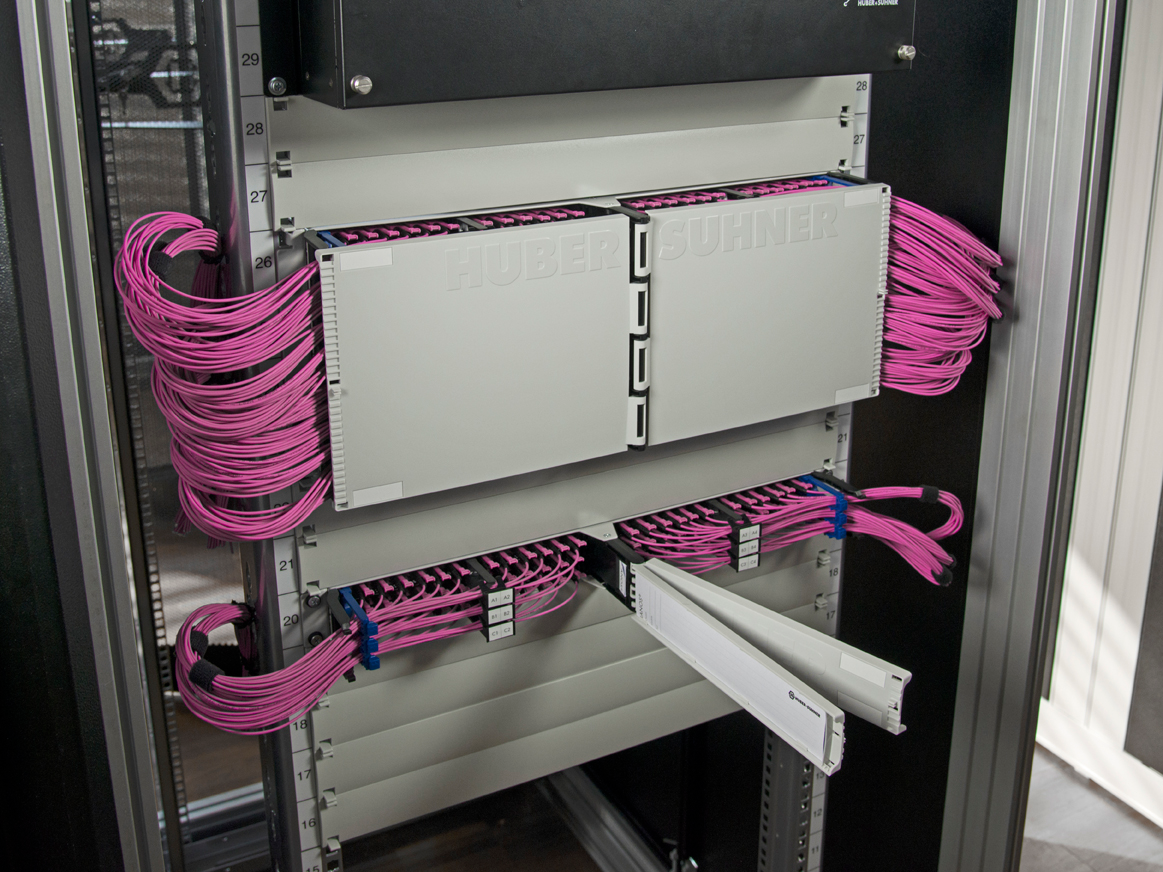 Proper fiber management will be essential for data center operators to avoid having to overhaul their systems every two years.With the rapid advancement of technologies, computing and storage always needs to be available with ultra-low latency. Any downtime of a data center is hugely costly to an operator, so it is crucial that there are fiber management solutions in place that make day-to-day operations as smooth as possible.
We are only just beginning to see the implications of developing technologies. 5G roll-outs and deployments are starting to take shape, virtual and augmented reality are making an impact, and electric cars and discussions of driverless vehicles are beginning to go mainstream. Currently, it is estimated that hyperscale cloud data centers must be upgraded every two years to keep up with the bandwidth and storage demands placed upon them. But data center operators cannot afford to overhaul their entire system every couple of years, as this is incredibly costly and time-consuming.
To cope with bandwidth demand over the next couple of years, operators need to look at technology that can successfully implement 400G optics, enabling market trends to be adopted with ease.
Transceiver options for data centers
With hyperscale data centers exceeding 10,000 square feet and containing a minimum of 5,000 servers, operators must decide whether to use an optical network that is based on multimode fiber or single-mode fiber.
Taking a look at multimode first, the main users are operators responsible for enterprise data centers, which are typically smaller in size than the aptly named hyperscale data centers. Multimode transceivers are cheaper and usually available earlier than single-mode versions. The majority of existing data center backbone cabling is multimode, as until such facilities become a certain size there is no problem with the amount of reach needed. However, the reach multimode transceivers can support shortens with every generation that boosts speed to the next level. While typical gigabit multimode SFP transceivers easily cover more than 500 m on widely available OM3 multimode fiber, 100-Gbps QSFP28 SR4 modules require OM4 or better to cover just 150 m. 400G will require single-mode fiber for longer distances. When we look at hyperscale data centers and the rate that data centers are growing, single-mode transceivers are the transceiver of choice, especially if we look beyond 400G. The range of use of multimode fibers is decreasing with the trend of higher bandwidths.
Single-mode transceivers enable an increase in bandwidth requirements, are future-proofed for 400G, and would be able to handle any increase up to 800G. As single-mode cabling requires less fibers, the complexity of the horizontal backbone cabling can be reduced within the topology. Additionally, the use of 1.25-mm ferrules at the transceiver interface enable an easier cleaning procedure compared to multifiber push on (MPO) connectors, therefore enabling easier handling for operators. They are also, crucially, able to cover significantly longer distances than multimode cables.
Another advantage of single-mode fiber is the option to use multiplexing if the single-wavelength capacity of the deployed fibers reaches its limits. With multimode, multiplexing is only now becoming possible and remains infrequently used.
For short links using either single-mode or multimode, active optical cables (AOCs) seem to be the right choice to create point-to-point connections, as customers would not have to worry about the transition medium and can simply benefit from the "plug-and-play" principle.
When investigating the overall number of data centers around the world, enterprise data centers still hugely outnumber the hyperscale. However, with the growth of hyperscale cloud data centers we expect that the prices of single-mode transceivers will further be reduced which will make them more attractive to use for 400G applications. As we'll now discuss, time will tell which 400G transceiver will come out on top.
QSFP-DD vs. OSFP
When looking to the future of data center networking and infrastructure, there are several potential transceiver options that offer operators both benefits and drawbacks. It is too early to tell which transceiver will be the go-to in the market; it will no doubt take a large operator to take a chance and the industry will follow suit.
The main transceivers that we see in the race for 400G are the Quad Small Form-factor Pluggable Double Density (QSFP-DD) and the Octal Small Form-factor Pluggable (OSFP) optical transceivers. Both are small and offer ultra-fast speeds.
The QSFP-DD supports 14.4 Tbps per 1RU (36x400GbE), has an indirect thermal management system that can provide between 12-15 W of power, and offers a backwards compatibility to the 100G QSFP28.
The OSFP supports 14.4 Tbps per 1RU (36x400GbE) as well but is a bigger module, featuring heat capabilities of up to 15 W of power through its own direct thermal management system.
In general, the new power requirements of the current 400G transceivers (12-15 W) will be a challenge for all OEM switch providers, as the current transceivers have a power consumption of ~3.5 W. This issue needs to be addressed to support the long-term future of 400G.
What gives the edge to the QSFP-DD is the backwards compatibility that it offers to the 100G QSFP28 form factor, which is by far the most popular transceiver form factor for 100G. Having this crucial backwards compatibility is key for operators, as it means there can be a simple and easy transition from 100G to 400G. This means that operators can install a QSFP28 plug into a QSFP-DD port, saving money, time, and effort. The support of larger active equipment manufacturers within the multi-source agreement (MSA) also provides QSFP-DD with a significant advantage.
While the OSFP does offer good thermal characteristics, backwards compatibility can only be accomplished with an additional adapter, therefore further favoring the QSFP-DD for the 400G battle.
Premium structured cabling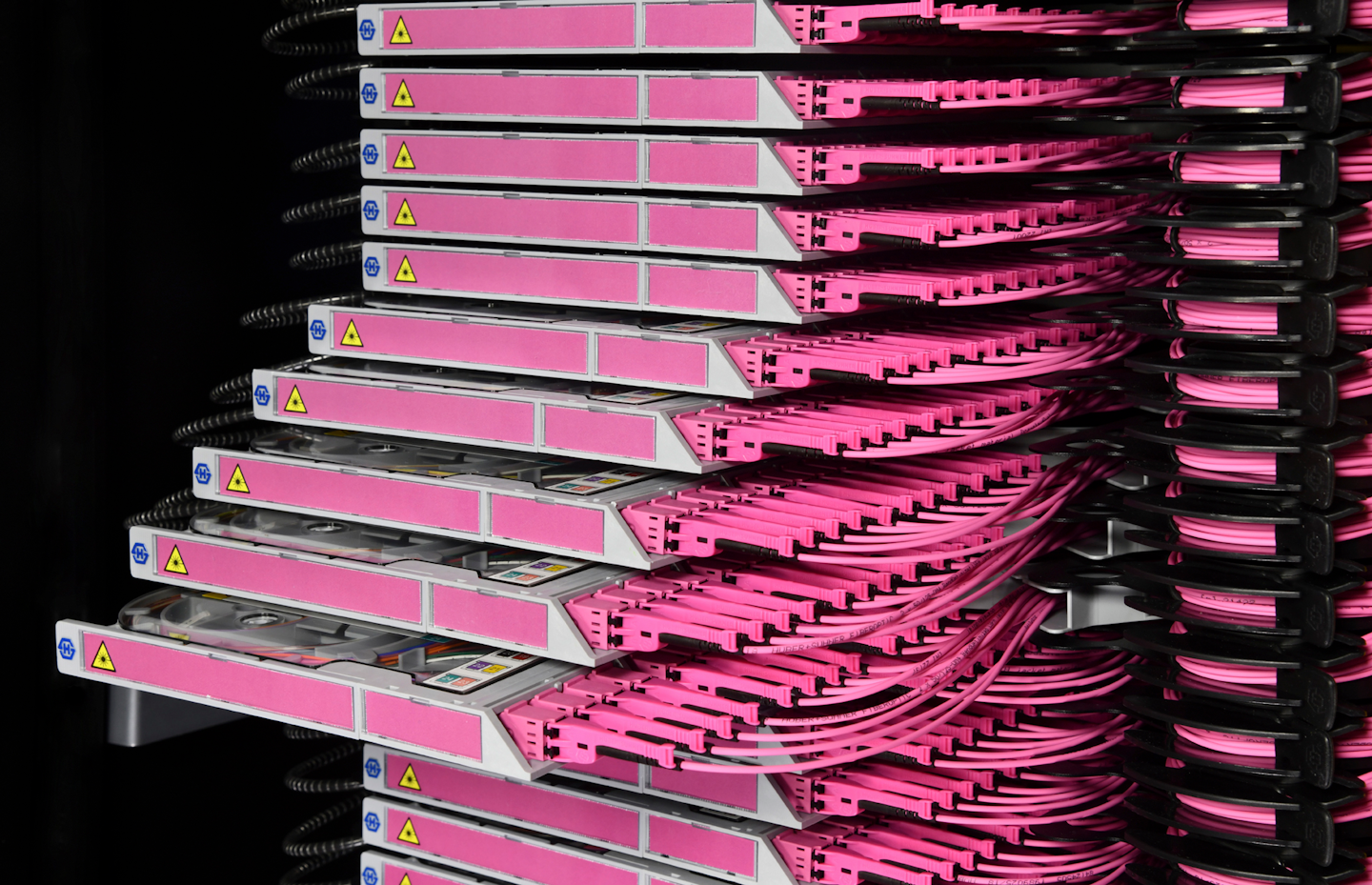 Hyperscale data centers require fiber management systems that provide both high density and ease of use.When it comes to a hyperscale data center and the minimum 5000 servers it likely houses, it is absolutely crucial that every fiber moved is the correct one. Downtime is not acceptable for the operator, due to the large costs that inaccessible data brings. Because of the complexity of the fiber cabling, operators need to deploy a comprehensive fiber management system that is still simple and easy to use on a day-to-day basis.
The efficiency of a data center can really be made or broken by the operation system in place. For the ultimate protection and maximum ease for the operator, the fiber management system needs to organize the cabling in a clear and concise way, reducing the possibility of damage and downtime. Operators should install fiber-optic backbone systems that are high-density and transceiver-independent with a clear demarcation point.
With the future requiring such a short time-to-market turn around, selecting a fiber management system with trays that can be installed and removed in seconds is crucial. Along with the flexibility to be installed in a variety of positions – against a wall, as an end cap of a row, or back-to-back in a row, effectively doubling the density - data centers need to remain flexible and ready for anything. By using a fiber management system with a modular pay-as-you-grow infrastructure, data centers can continuously adapt to reflect demands.
Selecting a dense side-access fiber management system that can be used as a cross-connect leads to a highly secure environment. All of the connections are in one location, meaning that there are fewer reasons to interact with the active equipment in the facility, resulting in less human intervention and error.
There are many solutions in the market that are simple, high-density, and high-quality with an easy handling design that clearly demonstrates the incoming and outgoing connectivity. These are the solutions that operators need to grab with both hands. As technological innovation continues, the pressure on data centers is not going to diminish, and systems that help operators to do their jobs are going to be crucial.
Andreas Sila is data center market manager at HUBER+SUHNER.