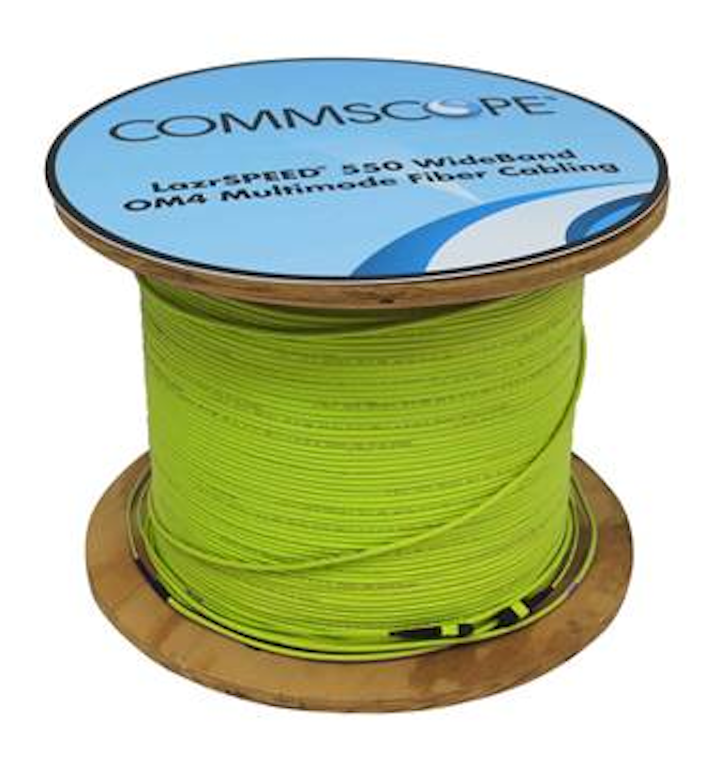 With Finisar's recent announcement that its QSFP28 SWDM4 transceivers have reached the production stage, the building blocks are in place to enable OM5 fiber to see application in 100-Gbps data center networks as well as the 40-Gbps applications for which the necessary transceivers are already available. However, as OM5 roll outs at this lower speed have proven less than brisk so far, one could be forgiven for wondering if the fiber will be any more popular at the higher data rate. The fact that optical cable vendors vary in their enthusiasm for the technology probably doesn't help its popularity.
Multiwavelength in multimode fiber
OM5, originally called wideband multimode fiber (WBMMF), differs from its multimode predecessors in that it has been designed to support the transmission of four wavelengths instead of the conventional one. As specified within ANSI/TIA-492AAAE, the fiber accommodates transmission from 850 nm (the focus of conventional multimode fiber) to 953 nm. The effective modal bandwidth (EMB) is 4700 MHz·km at 850 nm (the same as OM4, which helps ensure compatibility with that fiber type) and 2470 MHz·km at 953 nm. Lime green has been approved as a color-based identifier.
OM5, paired with shortwave WDM (SWDM) optical transceivers, aims to forestall the need to switch to single-mode fiber in medium-reach applications as requirements evolve to 40 Gbps and greater. It is designed to offer more reach than OM4 and other multimode fiber types paired with IEEE standards-compliant transceivers. While different vendors quote different numbers, a conservative estimate offered in a recent article in Cabling Installation & Maintenance suggests OM4 will support 40 Gigabit Ethernet over 150 m with 40GBASE-SR4 optics; OM5 will support 440 m with SWDM4 modules. At 100 Gigabit Ethernet, the advantage isn't as pronounced. OM4 with 100GBASE-SR4 can accommodate 100 m; OM5 with SWDM4 will travel 150 m.
The key here is comparing SWDM4 performance over OM5 with Ethernet-standard transceiver performance over OM4. SWDM4 is not an IEEE-approved approach. That opens the door to comparison with other non-standard optics, such as extended reach SR4 at both 40 and 100 Gigabit Ethernet. Not surprisingly, the reach advantages the OM5/SWDM4 pairing offers shrinks when eSR4 optics are applied to OM4. For 40 Gigabit Ethernet, the OM5/SWDM4 approach provides only 40 m more reach than OM4 and 40GBASE-eSR4, according to the same article. And the use of 100GBASE-eSR4 and OM4 supports operation at 300 m -- twice the reach of OM5 and SWDM4 for 100 Gigabit Ethernet applications, if transceiver vendor estimates are to be believed. To combat this shortfall, Finisar has developed an extended reach SWDM4 QSFP28 module for 100G that it demonstrated at ECOC 2017. The device will support reaches of 400 m over OM5, Finisar says.
The waters muddy further if you decide to apply SWDM4 optics to OM4 – which transceiver vendors such as Finisar and Lumentum, the other company that has announced support for such modules, encourage you to do. Finisar, for example, says its 40 Gigabit Ethernet SWDM4 QSFP+ optical transceiver will support 350-m runs over OM4; the company demonstrated 100-Gbps transmission of 300 m over OM4 at ECOC 2017 using the extended reach QSFP28 transceiver.
So when should you use it?
The need to sort through these permutations may partially explain the reportedly low number of OM5 deployments so far. Even cabling suppliers with OM5 in their portfolios note that most 40 and 100 Gigabit Ethernet links are likely to fall within the reach of OM4, making the extended reach of OM5 unnecessary.
For these reasons and others, some cabling suppliers have opted not to add OM5 to their lines. In a blog posted this past April, Gary Bernstein, senior director of product management for fiber and data center solutions at Leviton, described why his company doesn't support OM5, stating:
The reach advantage of OM5 over OM4 is minimal.
OM5 won't reduce costs. (OM5 fiber carries a cost premium, and 100-Gbps optics prices are in decline, reasons Bernstein).
It won't enable higher port densities, since you can't break out SWDM transmissions into their component parts the way you can with parallel fiber approaches.
A lot of large-scale data centers with a need for 40 or 100 Gigabit Ethernet have or will soon move to single-mode fiber anyway.
This is not to say that the fiber does not have its proponents, particularly for applications that require that extra bit of reach (see, for example, this whitepaper from CommScope). Meanwhile, there is an advantage beyond reach to OM5 and SWDM that could prove useful in future high-speed networks – the ability of one fiber to offer the transmission capacity that currently requires four in conventional use. At 40 or 100 Gbps, that ability could prove helpful when operating in space-constrained environments.
The four-in-one advantage promises to blossom further in 400 Gigabit Ethernet applications. The IEEE's 400 Gigabit Ethernet Task Force, P802.3bs, has settled on a parallel approach with 25-Gbps optical lanes. That means 16 fibers for transmit and another 16 for receive – 32 fibers in all. The appeal of trimming this number to eight fibers total is one reason IEEE 802 hosted a call for interest in "Next-generation 200 Gb/s and 400 Gb/s MMF PHYs" at its plenary meeting in Orlando, FL, November 5-10. The members approved the creation of a study group on this topic, which is expected to consider SWDM for these high-speed data rates. OM5 fiber would be a good bet for extended reach in such applications.
While OM5 deployments have yet to become numerous, the technology remains new. The rapidly shifting data center environment may yet spark greater interest in the fiber – particularly when data centers begin to adopt 400 Gigabit Ethernet.
Stephen Hardy is editorial director and associate publisher of Lightwave.