By Jim Theodoras
Overview
Next-generation access for residential and business applications requires a next-generation approach, such as WDM-PON.
---
With requirements such as fiber to the desktop and fiber to the home (FTTH) turning up in more requests for proposals (RFPs), foreseeable bandwidth demands have rendered obsolete legacy PON architectures. Now at the heart of many forward-thinking operators' next-generation access (NGA) strategies are WDM-PONs. The emergent architecture leverages existing technology and standard protocols to efficiently deliver indefinite scalability without distance limitations for business and residential applications.
New needs, old technology
A gigabit in non-oversubscribed bandwidth to the desktop is emerging as table stakes for business services, and unprecedented 1-Gbps speeds are on their way to residential services, as well. In fact, the rapid increase in the number of separate high-speed devices in an average home has caused a dramatic shift, with growth in residential bandwidth requirements now outpacing that of the office space.
Back when FTTx was a new phenomenon—when bandwidths and geographical penetration were low—point-to-multipoint PONs based on TDM were deployed widely to share bandwidth among users and hold down the number of feeder fibers required to a neighborhood or office building. But the reach of TDM-PONs has always been limited, and growth in bandwidth consumption per user and subscription rates has illuminated the inherent lack of TDM-PON scalability.
For example, the guard band required among subscribers' time slots in a TDM-based bandwidth-sharing approach produces inefficiency in link utilization. In fact, as TDM-PON bandwidths climb, guard-band overhead will consume an ever-greater percentage of usable capacity, eventually eclipsing that of the data itself.
While TDM-PON proponents hype their current transition from 1G to 10G protocols, even the latest-generation 10G offerings cannot guarantee 1-Gbps to each subscriber and, thus, fall short of what many industry visionaries say will be needed to enable the next generation of residential and business user applications. A network operator simply cannot keep up with today's bandwidth realities using the legacy PON architectures.
WDM-PON delivers a solution
Network operators need a more cost-effective and scalable approach to subscriber separation. They need more flexibility, and they need to be able to deliver high-bandwidth, low-latency service performance over significantly longer spans of fiber than the 20 km that TDM-PON typically supports. These NGA requirements have pointed network operators squarely toward WDM-PON, and it's understandable why:
Separation: Whereas the TDM-PON shares bandwidth by divvying the resource by assigning users to time slots, the WDM-PON separates users, applications, and/or traffic classes by using unique Ethernet virtual connections (EVCs) across reserved wavelengths of an optical signal. No expensive "burst-mode" electronics are needed, and there is no guard-band overhead to hinder scalability. Each subscriber and application gets a unique EVC and color in the WDM-PON. Each application for each subscriber can have its bandwidth usage shaped, policed, and monitored, and native Ethernet traffic propagates seamlessly without protocol conversion throughout the unified WDM access, metro, and core network.
Flexibility: The WDM-PON demands no "technology ecosystem," proprietary protocols, special optics, or custom cabling. The WDM-PON uses only commercial off-the-shelf equipment and it mates well with pre-existing access infrastructures. The key new enabling element introduced by the WDM-PON is a temperature-hardened "flexible remote node" (FRN) that may be run passively or actively (with or without power). Deployed between WDM transport gear and customer-premises equipment (CPE), the FRN aggregates both electrical EVCs and optical channels for transport along one fiber between network core and access. (Operators may choose to implement 1+1 path protection with deployment of a second strand.)
Reach: Not only is scalability infinite, so is distance support. While TDM- and WDM-PONs are capable of similar distances between end node and splitter, the WDM version has the ability to be optically amplified and directly carried over the transport network for practically any conceivable distance. So, while it has taken substantial industry effort within standards bodies for competing TDM-PON architectures to reach 20 km, WDM-PONs easily reach hundreds of kilometers. For the operator, this means less equipment to purchase, field, power, and cool across the span of its network—and, consequently, significant savings. Plus, each link, anywhere in the network, can report its status, including latency parameter.
Migration to WDM-PON can be undertaken gradually, and no additional training is needed for field technicians. The only new element required initially is the FRN—alongside CPE, in a basement, closet, or field box or at a local exchange. In the network core, existing WDM transport platforms, physical chassis, and management software are used. At the user edge, the WDM-PON can be implemented by plugging into any optical ports on deployed CPE. Installing an enhanced transceiver on the CPE or a demarcation device yields enhanced service-assurance and operations, administration, maintenance, and provisioning (OAM&P) functionality.
The WDM-PON was a logical, inevitable, and obvious next step for the network. The technological breakthrough delivered by multicolor encoding and optical amplification has earned WDM a steadily
expanding role across the network: from the core, to backhaul, and now, thanks to Carrier Ethernet protocols, into access for both residential and business services.
To the curb or the cubicle
Another driving force for the emergence of flexible WDM-PON architectures in network operators' NGA strategies is the diverse access landscape across residential and business services.
For example, if a provider wishes to reach 50,000 residential subscribers, some may be in sparse rural areas, some in suburbia, and some in higher-density arrangements like residential towers. Some users may still be on dial-up, some on DSL, and some on existing PON architectures. These different clusters of subscribers may be separated by hundreds of miles. The whole point of NGA is to pull all of these disparate subscribers together into a virtual community.
WDM-PON is currently the only NGA architecture that meets these needs. In a residential service (Figure 1), each stream of traffic from a home—each laptop, PDA, HDTV, etc.—is separated by EVCs and transported as native Ethernet packets over any distance between curb and core.

Figure 1. Used in an FTTH application, WDM-PON enables individual subscribers across a wide geographic area to be provided with customized services.
Similarly, in the case of a business service (Figure 2), the flexible WDM-PON offers intra-office as well as interoffice connectivity. An FRN, fielded on each floor of an office tower, for example, can aggregate traffic from Ethernet access devices at ends of each row of cubicles. The Cat5 Ethernet connections that typically run to every cube already are multiplexed, thus ensuring each desktop gets the level of bandwidth required. The traffic collected by the FRN at each floor is aggregated by a WDM shelf, and properly shaped and tagged traffic is handed-off to the IP router. By properly aggregating traffic beforehand, fewer router ports are needed, and the router runs much more efficiently.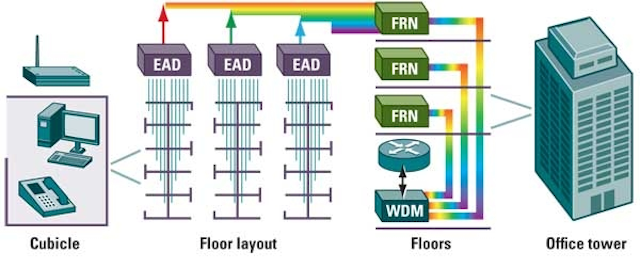 Figure 2. In a business application, WDM-PON augments the WDM nature of current desktop bandwidth delivery approaches to provide greater bandwidth and more efficient service delivery.
Truly next-generation access
WDM-PON's ability to leverage existing WDM transport networks and CPE enables an evolutionary migration, yet the architecture still promises revolutionary benefits for residential and business applications. Dial-up access (56 kbps) enabled the first generation of applications—Internet shopping and remote access to the office LAN, for example. Broadband access (1 Mbps) brought about a whole new generation of applications—social media and online collaboration. Industry pundits feel that at least 1 Gbps is needed to enable the next generation of residential and business user applications that are barely even imaginable today. Widespread migration to NGA architecture such as WDM-PON stands to unleash the next Web-based economic tsunami.
Whether delivering fiber to the home or fiber to the desktop, network operators around the globe are striving to enhance access networks to deliver 1 Gbps and beyond to the user. Only one NGA architecture today delivers the bandwidth, indefinite scalability, flexibility, and reach that network operators need, while still allowing policing and reporting per user, application, and link anywhere in the network: WDM-PON.
Jim Theodoras is director, technical marketing at ADVA Optical Networking.
---
Links to more information
Lightwave Online: Staying ahead of the Access Bandwidth Curve with WDM-PON
Lightwave: WDM-PON Faces Battle for Acceptance
Lightwave: PONs Find Niche in Wireless Backhaul