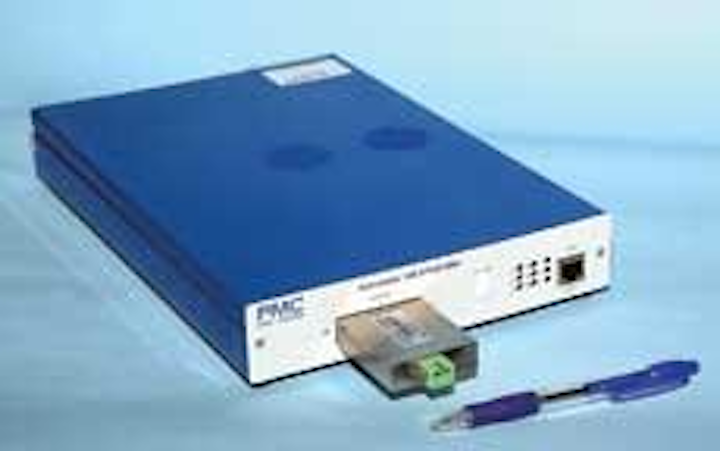 by Stephen Hardy
OVERVIEW
With the IEEE 802.3av standard expected to be ratified in September, several chip vendors have OLT and ONT chips at the ready for the expected onset of deployments next year.
Not surprisingly, the impending ratification of the IEEE 802.3av standard, expected this September, for 10-Gbps EPONs (10G EPONs) has sharpened the focus of both the vendors who hope to supply platforms for this market as well as the carriers who hope to deploy such equipment. Potential 10G EPON MAC chip vendors report that a clearer set of requirements has emerged -- including a change in direction.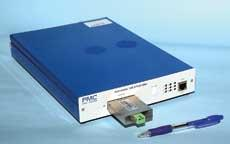 Evaluation boards featuring 10G EPON FPGAs, such as this one from PMC-Sierra, are now in the hands of systems developers and carriers.
The focus as recently as last year was on enabling asymmetric operation, with 10 Gbps downstream and 1 Gbps (and occasionally 2.5 Gbps) upstream. The thought was that symmetric 10-Gbps networks would initially prove too expensive for deployment. That's changed, reports Gilad Aloni, director, product marketing at PMC-Sierra (www.pmc-sierra.com). Carriers in Asia who are driving requirements development want the option of symmetrical operation right away, he says.
Sources at PMC-Sierra's competition agree, but how much of this capability will actually be put to use initially remains unclear. Symmetric deployments likely will target business applications, predicts Robin Grinley, 10G project manager at Teknovus (www.teknovus.com). Zino Chair, vice president of marketing at Cortina Systems (www.cortina-systems.com), who is bullish on symmetric operation, concurs.
"I believe when you talk about real deployment next year -- which I think that's the earliest that we'll get deployment of the technology, probably by mid next year -- [such deployment] will be symmetric," Chair explains. "All of the deployment initially of 10G will be focused, I think, on business applications. That's why symmetric becomes very important."
But there should be plenty of demand for asymmetrical capabilities as well. "If you look at markets like China, with a high density of MDUs, an MDU has a high fan-out ratio to customers at the end, a lot of traffic," says Grinley. "Now depending upon what you're selling to those customers, they may not need a lot of upstream. So if you're going to push IPTV and the TV distribution, then 10/1, even for a large MDU, would suffice."
Thus 10G EPON equipment -- and the chips on which it's based -- will have to be flexible. "In China, realistically, as compared to Japan, the focus is on cheap. Services are cheap. In Japan, it's the other way around. There's so much competition on quality that they're always trying to one-up each other on rate. So in Japan you get these rate wars where they start advertising huge bandwidths in both directions, and they can't charge very much. So the markets are very different. But at the end of the day, I think what's happening is that any carrier anywhere wants to know that both [symmetric and asymmetric] are available," Grinley says. The symmetric chips will have to accommodate asymmetric traffic as well, which adds to the design complexity.
Meanwhile, China has overtaken Japan as the service requirement driver, the chip vendors agree. "China is at this stage is leading 10G EPON," asserts Chair, who reports that chip-level interoperability tests are on the schedule there in the second half of this year. "But for sure, both in Korea and Japan, the biggest service providers also are embracing 10G EPON."
10G EPON chips at the ready
With the requirements more clearly in focus, companies such as Cortina Systems, PMC-Sierra, and Teknovus have applied themselves to getting devices ready for the upcoming tests in China, as well as expected similar trials in Japan and Korea.
PMC-Sierra has maintained its time-to-market lead with the announcement in March that it could now supply its PAS8011 system for 10G OLTs and the PAS9011 for 10G ONUs in symmetric EPONs. The company has reference designs available for each as well.
PMC-Sierra's announcement has left its two main rivals in catch-up mode, but perhaps not uncomfortably so. Teknovus offered a public demonstration of its 10-Gbps capabilities at the Beijing PTT Show last October, which featured its TK4721 OLT device with support for multiplexing of 10-, 2.5-, and 1.25-Gbps EPON wavelengths, as well as multi-service traffic managing and shaping. However, the company has been showing its technology to customers for some time before that; it reported in November 2008 that its 10G EPON technology had at least three design wins with "major Chinese communications equipment vendors."
The TK4721 is currently available as an FPGA that can be delivered as part of an evaluation board; Grinley declined to predict on the record when Teknovus would have ASICs ready, only to allow that ONU devices would precede OLT chips.
As Glen Kramer, chief scientist at Teknovus, described the company's desire to get the FPGA-based evaluation board in front of both carriers and systems developers, "The reason it is being done this way is because really we're not talking about a simple EPON MAC. It's a system on a chip. It has so many functions. It has switching functions, bridging functions, routing functions inside; it has encryption. It has lots and lots of functions."
Cortina Systems, meanwhile, has leveraged its work in other 10-Gigabit Ethernet and 10-Gbps OTN chips as well as other internal areas of expertise for its upcoming 10G EPON products, Chair says. For example, the company is using analog burst-mode technology it has developed in-house, which Chair sees as a differentiator.
The company has not publicly demonstrated its handiwork. However, Chair says the company's focus has been on density, integration, and switching and processing power. Cortina Systems' use of the 65-nm silicon processes also should provide both high performance and cost advantages, Chair asserts. The combination will prove important "because it's very brutal as far as what the expectations are out there in the market," he says.
Those expectations include equipment field trials by the end of the year in some cases and deployments in 2010. "Systems vendors, they're pushing us very hard to get all this stuff out," Grinley says.
Stephen Hardy is editorial director and associate publisher of Lightwave.
Links to more information
Lightwave: 10G EPON Chip Development Races Demand
Lightwave Online: Vitesse Forms Next-Gen FTTH Technology Ecosystem
Lightwave Online: Phyworks Offers 10G EPON XFP Reference Design