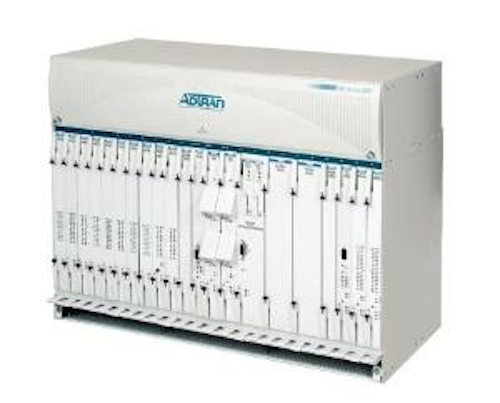 JUNE 24, 2009 -- Diller Telephone Co., an independent carrier serving southeastern Nebraska, has selected the Total Access 5000 multiservice access and aggregation platform (MSAP) and Total Access 300 Series optical network terminals (ONTs) from next-generation networking technology supplier ADTRAN Inc. (search Lightwave for ADTRAN) for its FTTP deployment.
This product offering is expected to provide Diller with the flexibility to offer high-speed voice and data services today but have the ability to expand to triple play without a hardware upgrade.
The capacity of the Total Access 5000 and advanced voice over IP (VoIP) and diagnostic capabilities of the Total Access 300 Series ONTs wasconsidered to meet Diller's needs.
"The combination of the Total Access 5000 MSAP and the Total Access 300 Series ONTs are a flexible and cost-effective means for Diller to begin its FTTP roll-out," says Loren Duerksen, director of corporate operations, Diller Telephone. "We looked at a number of solutions from different access vendors and none compared to ADTRAN's Total Access 5000 GPON solution. The flexibility for future service additions was key in our decision-making process. Support for RF video, IPTV, and a migration from GR-303 to VoIP was important to us."
P. Steven Locke, vice president of sales, service providers, ADTRAN Carrier Networks Division, notes, "GPON provides the capacity to offer unprecedented bandwidth for high-speed data services today, and is able to quickly and easily migrate their customer base to next-generation services such as VoIP, IPTV, or RF video when they are ready."
The ADTRAN Total Access 5000 is a carrier class multiservice access and aggregation platform that bridges the gap between existing and next-generation networks. With an all-Ethernet core, the platform supports legacy and emerging service interfaces over copper and fiber, scaling to support bandwidth-intensive applications. This scalable Ethernet architecture allows carriers to use the Total Access 5000 to economically address both legacy and next-generation services while providing a seamless path toward a converged network.

Visit ADTRAN
For more FTTH news and resources, visit the FTTX Resource Center