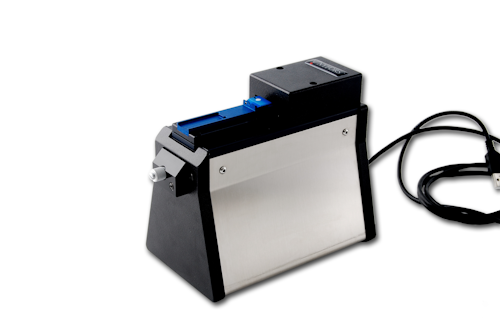 FEBRUARY 19, 2010 -- Nyfors Teknologi made a pair of product announcements today. First, it introduced an improved cleave meter, the CleaveMeter MP1TM. It also released an angle cleaving option for the AutoCleaver LDF.

The CleaveMeter MP1TM is designed to simplify and increase the precision of end-face inspection of optical fiber with cladding diameters from 125 to 1200 µm. The result is quick and easy sampling tests and continuous documentation, Nyfors says.

The non-contact (Michelson) interferometer introduces several improved features which enhance the precision and simplify the process of fiber end-face examination, according to the company. The CleaveMeter MP1TM is designed to provide immediate and accurate information about important end-face properties such as flatness, perpendicularity, hackles, and dust. In addition, the software has several other new features, such as automatic cleaving angle measurement, user-defined markers at points of interest, pseudo-color mode for better contrast, and in-picture measurement results. By means of the host application, the user can view the live camera image, adjust camera settings, save and load images to/from file, and log all information in a specific text-based log file.

The optical system is based on a high-end CMOS camera with 1.3 megapixel (1280 x 1024) true resolution and very high sensitivity, yielding excellent image quality at high frame rates and high magnification, Nyfors says.

The mechanical design is compatible with all Nyfors automatic fiber cleavers, and accepts the fiber holders used in those machines. For other types of holders, custom-made adaptors are available upon request. The CleaveMeter MP1TM is delivered in a small bench-top design.

Meanwhile, the AutoCleaver LDF can now be equipped and delivered with an angle cleaving option designed to enable accurate variable cleaving angles of 15 degrees.

Designed around a rotating clamp, the angle cleaving option is easy to use and produces accurately angled cleaves of 15 degrees with very low deviations from the desired angle, Nyfors asserts. Because of the clamp design, the scrap piece is 19 mm -- the same length as with the original AutoCleaver LDF.

It is also possible to mount the angle cleaving option as an add-on to existing cleavers.