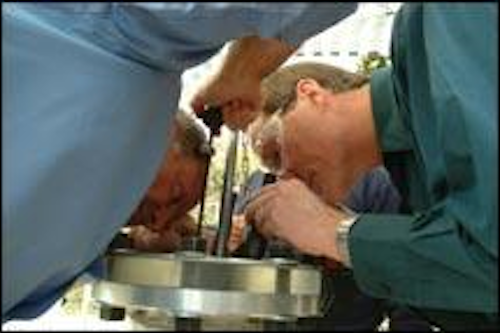 TECHNOLOGY
By MEGHAN FULLER
While installing optical fiber alongside gas pipelines-or even inside abandoned pipelines-is nothing new, installing fiber in live gas mains has proved to be a bit trickier. Nevertheless, several vendors have developed the technology to run fiber-optic cable in live gas-in some cases, without even disrupting the flow. Given the prevalence of gas-main networks in metro areas, fiber-in-gas may emerge as a key technology for extending fiber's reach throughout the metro and perhaps even as far as the home.
Several years ago, the Gas Technology Institute (GTI-Des Plaines, IL) established the Global Technology Transfer Alliance, a consortium of companies interested in pursuing and studying new technologies, one of which was a process called "gas-in-glass," then in development in Europe. "Initially, when we looked at it, there wasn't a lot of interest among gas utilities," admits Paul Beckendorf, associate director of GTI's Gas Operations Program. "But the industry has changed, and there's more emphasis on getting more revenue out of existing gas pipes. It's a gas pipe, but it becomes a conduit, too."
The ubiquity of gas networks makes them ideally suited for optical metro backbone and access networks, contends Scott Beals, vice president of technology at Sempra Fiber Links (San Diego). "Depending on what city you are in, 90-95% of streets in the metro area will have a gas pipeline running down them, so you have access to virtually every building in a metro environment via the gas mains in the street."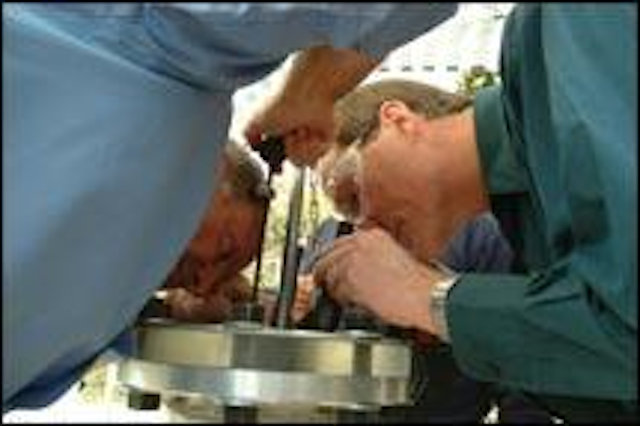 Two employees from Sempra Fiber Links extract fiber-optic cable from a natural gas pipeline via a special fitting with built-in pressure control technology to prevent gas leaks.
The companies in the GTI consortium now see the advantages of fiber-in-glass technology; each has contributed financial resources to fund a study in which GTI will evaluate four fiber-in-gas systems throughout this calendar year. Sempra Fiber Links, the only North American company taking part in the study, has already installed a pilot application in the Dallas/Ft. Worth area. Alcatel (Paris), Gastec NV (Apeldoorn, the Netherlands), and U.K.-based Brand-Rex are also pursuing fiber-in-gas installations, slated for evaluations in the future.
How they do it
Sempra Fiber Links uses a process developed by gas engineers. A special fitting is installed on the gas main, through which the fiber is introduced. Pressure control technology built into the fitting prevents gas from escaping. The fiber is encased in a polyethylene conduit, the same material used in plastic gas distribution pipes worldwide.
"We also have other methods of installing the conduit that involve using metal rods that are pushed down the pipeline up to 2,000 ft," adds Beals. "The conduit is connected to the rod, and the rod is pulled back. That's a variation, but the simple way of doing it is through the special fittings."
In conjunction with Texas-based energy delivery company Oncor, Sempra recently installed 1 mi of fiber in a gas main along a commercial route immediately south of and adjacent to Dallas/Ft. Worth International Airport. GTI observed portions of the installation. The company has also installed about 3 mi of fiber in gas mains in north Wilkesboro, NC, and has several additional projects pending.
Alcatel's fiber-in-gas technology is optimized for use in gas mains with a diameter of 200-400 mm. The fiber is introduced into the gas main at frequent valve points via welded-on inlet/outlet ports sealed with rubber rings that are designed to be chemically resistant and stable under thermal and mechanical loads (see Figure).
"In urban gas networks, you have frequent valves," explains Klaus Nothofer, product director for right-of-way solutions at Alcatel, "You have to bypass all these valves because you cannot pass the cable through the valve. We don't consider this a disadvantage though, because these [installations] are for metro networks, and you need frequent access points. Those valves are natural access points."
Fiber-in-gas installations are not new to Alcatel, which began developing the process in 1996. The first installation was completed in 1998 in Gevelsberg, Germany. While the company has several projects pending, its largest installation to date began in 2000 in Taiwan. Over the past two years, nearly 500 km of cable have been installed in live gas mains in two cities there.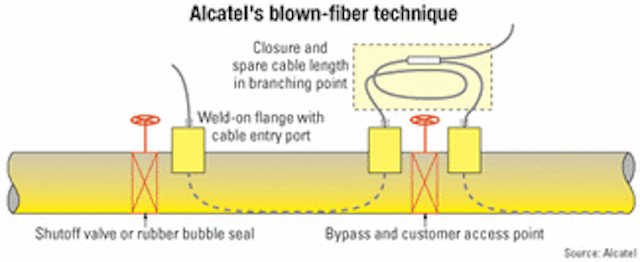 The frequent valves in urban gas networks serve as natural access points for the installation of fiber in live gas mains. Alcatel uses a blown-fiber technique to pull the optical cable from port to port.
Netherlands-based Gastec, meanwhile, has developed a method to install fiber-optic cables in live gas mains via a shuttle that is inserted into the pipeline. The shuttle is attached to a light pulling cord and is maneuvered by the creation of a gas pressure differential; at the inlet side, an overpressure is created of at least 150-mbar, and at the outlet side, a negative pressure is created by flaring off gas through a vented safety valve. The operators then use the light pulling cord to pull in a heavier cord, which, in turn, is used to pull in the fiber-optic cable.
For passing the cable through the pipe wall, Gastec has developed a specially adapted tapping saddle and an end cap with a rubber seal to ensure that no gas will escape. The company is studying methods for making branches and spanning lengths longer than 2 km.
Brand-Rex has also investigated installing fiber in live gas mains. At press time, however, Beckendorf was not certain if the company would take part in the GTI study.
Challenges to installation
Because these installations rely so heavily on existing gas industry know-how and equipment, some of the biggest impairments to fiber-in-gas deployments are not technical. "What is challenging is implementing what could be looked at as a very progressive and innovative technology into an industry-the gas utility industry-that is very conservative by nature," surmises Beals. "We had to overcome some of the preconceived notions about utilizing a gas utility asset like a pipeline to generate additional revenues by using something other than just natural gas."
Alcatel's Nothofer has discovered that gas companies, on the whole, are very receptive to the idea once they've had a chance to evaluate it for themselves. "They don't have any concerns in terms of safety because they are used to working with gas every day," he notes. "When there is a concern, it's coming more or less from people who are not in the gas business. If you talk to telcos, they do not immediately think of fiber installation in gas, because they have no experience with it."
The biggest challenge, adds Nothofer, may be in overcoming regulatory issues, particularly in Europe. "In some countries, it's expressly said that gas pipes may not be used for any applications other than gas transport. That, for instance, was a concern for some of the Italian gas companies we have contacted."
Despite the challenges, fiber-in-gas seems to have a future-and not just as a niche technology, contends GTI's Beckendorf. The flexibility of such installations benefit both the gas utility company and the telecommunications provider, not to mention the end user.
"There is a lot of interest in using this technology even deeper into the access network," adds Nothofer, "meaning fiber-to-the-home through gas pipelines." Such work is currently under development.
---
Correction
Due to an editing error, in the May 2002 Lightwave, "Regulation & Policy," page 23, the reference to Gores Technology Group of Los Angeles was inadvertently preceded by "Al." There is no connection between Gores Technology Group and former Vice President Al Gore, and we regret any confusion the error may have caused.