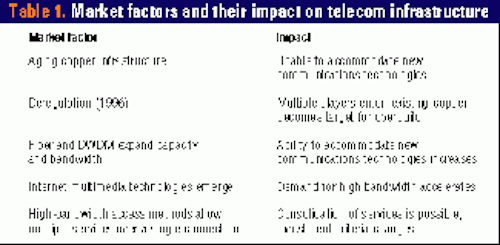 With a ferocious demand for interactive digital services and the need to supply multiple simultaneous services, the cost parity gap between fiber and copper is narrower than ever before.
DOUG WREDE, Optical Solutions Inc.
Fiber-optic transmission networks are essential for giving service providers the capability to compete successfully in the coming years. Once thought to be unaffordable for last-mile applications, fiber-to-the-home (FTTH) is now nearly at cost parity with copper-based technologies.
Demand for interactive digital services is growing and as consumers experience the benefits of broadband, demand grows almost exponentially. Service providers need to factor into their analysis of the business case for broadband technology the need to supply multiple simultaneous services-and the need for high customer satisfaction.
FTTH networks provide the bandwidth required to meet consumer needs while providing the operational tools to reduce costs and provide superior customer service. These advantages make the business case for installing FTTH far superior than that for either DSL or cable modems.
While the single largest market opportunity today is still the local voice market, the majority of the growth will be in data services-in the form of consumer services like video on demand, on-line gaming, e-commerce, and Internet access. In this environment, it is clear that a simple break-even analysis will not be sufficient to guarantee success. Service providers can no longer count on a predictable network load as consumers adopt new digital services. Underestimating the demand for bandwidth could be fatal.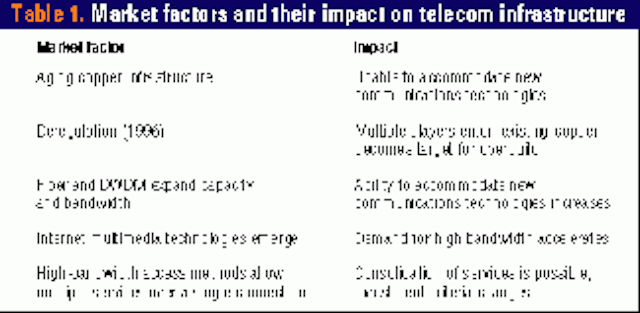 There are more than 330 service providers vying for markets that once belonged to incumbent telephone companies. And it is becoming increasingly clear that service providers that do not pursue aggressive service deployment and packaging strategies in their network build-outs will face serious problems in gaining significant market penetration. Experience shows that when interactive multimedia services are available, uptakes in demand are substantial. Many factors affecting the market are having significant impacts on telecommunications infrastructure (see Table 1).
As customers become accustomed to on-demand services, they will begin to demand premium customer service and consolidated billing. They will also be willing and able to switch providers if they don't get it. In fact, as service providers roll out competitive services, customer satisfaction will be a key determinant as to whether those subscribers can be retained.
Successful service providers must understand that the high bandwidth requirements, the unpredictable demand, and the competitive nature of the market dictate that suitable financial metrics be used for determining capital expenditures. They need to understand the economics of delivering advanced services to their customers and how technology choices will impact those economics. Even fairly conservative estimates of potential bandwidth requirements far outstrip the capability of copper-based technologies. When consumer demand reaches these levels, the best solution becomes fiber-to-the-home.
When evaluating new network technologies, the ultimate goal should be to maximize the revenue per sub- scriber by layering complementary services over a single access connection. Service providers will need to make these additional services possible within the constraints of available capital resources. However, although the costs of equipment rollout are the easiest to calculate, they do not include much of the necessary information required to make the most cost-effective decision.
While FTTH technology may have higher rollout costs, it will pay for itself through maximizing other metrics such as:
Long-term value of the company.
Product attractiveness.
Customer satisfaction.
Operations efficiency.
Ability to meet future demands.
Maximization of return on capital investments.
Sustainable competitive position.
With the current market transitioning rapidly to new digital services, each of these metrics will be seriously impacted by the choice between copper and fiber-optic technologies.
The value of service providers is tied directly to strategic assets and execution on delivering competitive services. A service provider with FTTH is valued much more highly, because a multitude of services can be delivered to customers rapidly over current connections, and future services can be accommodated without rewiring homes or retrenching cables.
As public awareness grows about the benefits of high-bandwidth services, customers will increasingly demand them. Industry analysts predict that nearly 40% of the online population will have broadband access by 2003.
Service providers with FTTH will have a significant feature advantage in the ability to provide their customers a wide range of interactive services with guaranteed bandwidth rates-all without the need to rewire or purchase new equipment. All these services can be provided with a single bill and a single customer-service number-at a price competitive with DSL or cable-modem providers.
The goal of the service providers' business is to maximize subscriber revenue. Because consumers are increasingly in control of their bandwidth usage, customer satisfaction is paramount. Customers must be attracted with compelling bundles of content and serviced with consolidated bills, a single point of contact for customer service, and a highly reliable connection.
Data services are expected to account for the majority of the growth in the telecommunication sector. The rapid uptake for these services means that quality must be kept high, both in installation and delivery of the services. These metrics can only increase in importance as consumers adopt new, high-bandwidth services.
With a bandwidth-constrained network, vast numbers of potential subscribers cannot be migrated quickly to broadband. According to industry analysts, this remains the most important limiting factor to the growth of broadband services for residential customers. FTTH technologies are the only technologies that can maximize content delivery and customer satisfaction while reducing maintenance headaches and customer-service problems.
The rationale for a next-generation network must be based on more than just providing bandwidth to the user. It must also provide the same reliability and scalability as the current circuit network, and service providers must be able to deploy, provision, and maintain it at consistent levels.
Consistent performance levels cannot be maintained with DSL or cable modems because of the variations in service related to distance from the central office or number of subscribers. Consistent service levels cannot be efficiently maintained with active network components that affect dozens or hundreds of customers in the event of failure and that require regular servicing or frequent tuning.
FTTH delivers full bandwidth to all customers and utilizes passive-optical-network (PON) technology-so it contains no active components between the headend and the customer's home. This makes meantime between failures (MTBF) almost an irrelevant concept. If there is a problem with electronics at the home, the problem is isolated to a single home and can be proactively addressed.
Although evaluating future service needs is by necessity somewhat subjective, such factors can make or break the business case. Customer adoption is always hard to predict for emerging technologies, but pent-up demand for Internet services has resulted in very high initial uptakes.
Now that consumers are widely aware of the existence of broadband, user surveys indicate that demand will be sufficient to double the number of broadband users in the next year, and new Internet subscribers will opt for broadband 2-to-1 over dialup. Table 2 shows some of the issues with DSL and cable modems that make FTTH a much more viable option for providers.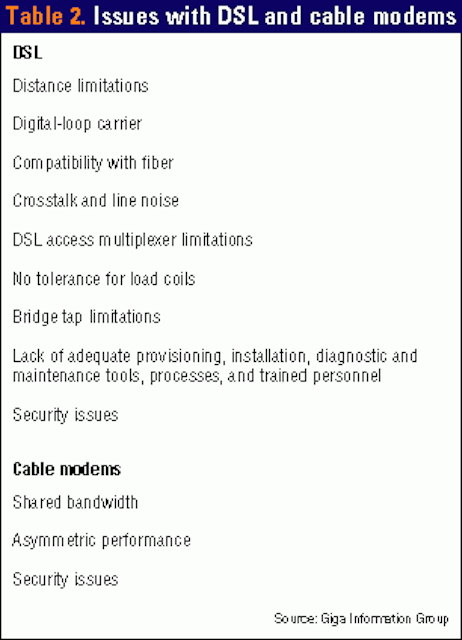 The availability of new services can be expected to produce as much as 20% customer churn per year. In this environment, if the network can't match the competitive service offerings, the service provider has two equally bad choices-rebuild the plant or lose the customer.
A subscriber base that can be served by a variety of high-bandwidth digital services will command premium valuations. These valuations reflect the high revenue potential of FTTH customers. By being able to accommodate new services, a service provider's network has a much higher value-whether you consider per-subscriber valuation or asset-base valuation.
New services are set to explode in the next year. Many of those services are beyond the capability of current networks. Successful service providers will be judged on their ability to serve those needs without additional investments in facility upgrades. Once service providers have adequate network technology, they can begin realizing new revenue immediately, rather than retrenching or redeploying more equipment. Both the cost and time-to-market should be considered, as either will alienate subscribers and allow competitors to enter.
As broadband adoption increases, cable-modem suppliers are reducing the number of customers that can be serviced on each segment. Redeploying network equipment in this manner is very costly. Service providers with FTTH avoid these costs. In the case where electronics need to be replaced, costs are minimized, because all that is required is switching out equipment, not retrenching cable.
It is widely understood that once the networks are deployed, broadband access will be a commodity and providers will need compelling entertainment and content to hold their customer base. FTTH will be required to win this battle because the definition of compelling content will undoubtedly be full-motion video and real-time interactivity. No other technology can provide it all-and no other technology can match the high customer satisfaction and low operational cost of FTTH.
By investing in the infrastructure today, service providers will be able to deliver the digital services as soon as demand appears. Experience shows that the first to market with advanced digital services achieves a higher market share, with the ability to lock in early adopters. Conversely, later entrants will try to play "catch up" at a high cost, because they will be selling a replacement service. In fact, if a service provider has FTTH, an overbuild by a new competitor is virtually impossible because when price is the only incentive, the cost of acquiring market share is prohibitive.
Of course, fiber-optic technologies have been in use for many years. But they are often perceived as being unaffordable for last-mile applications. However, recent improvements in passive optical technology have changed these economics dramatically-to the point where deploying fiber all the way to the home is only slightly more expensive than deploying copper.
Any technology choice must consider the following requirements:
Ability to maintain sufficient bandwidth to deliver new services and prevent customer churn and equipment turnover.
Customer retention characteristics that eliminate lost customers due to satisfaction problems or competitive encroachment.
Operational efficiency, so costs will be low.
Ability to bring new revenue sources without retrenching.
Fiber has always been attractive because it provides a futureproof network. A fiber-optic network doesn't have to contend with electromagnetic interference or problems with electrical surges. Additionally, a passive outside-plant means high reliability, and since fiber does not require electric power, operational costs are low.
As digital services emerge, service providers with optical networks will not have to upgrade to accommodate them. In the past, the cost of fiber was thought to be too high to make this economical, but now the reverse may be true. The value of capturing subscribers and retaining them is so high that the remaining cost differential of fiber becomes meaningless.
Subscribers who can be served by a variety of high-bandwidth digital services over their current access method are expected to command premium valuations. These valuations reflect the high revenue potential of FTTH customers. By being able to accommodate new services, a service provider's network has a much higher value, whether you consider per-subscriber valuation or asset-base valuation.
A key valuation metric is addressable market. Since FTTH provides access to services like interactive television-even at the highest bandwidth ranges-the addressable market extends beyond merely homes passed to the prospects of how many digital services are available to those homes. With FTTH, these services can be provided at nearly the same cost as conventional networks, but with the potential for tremendous additional revenue from interactive digital services.
In addition, low operational costs are the best defense against price competition. PONs reduce operational costs in the following ways:
A passive outside plant means minimal active components and higher MTBF, minimizing truck rolls.
Network power consumption is reduced.
Passive components also feature a lower meantime to repair, which minimizes repair time.
The passive architecture requires only simple maintenance, meaning a lower-cost labor pool.
Because fiber-based infrastructures don't interfere with electrical devices, they are exempt from Federal Communications Commission-mandated sweeps.
In a deregulated environment with exploding demand for new services, the business case for network technology ultimately depends on customer satisfaction. Customer satisfaction in the coming years will be determined by the availability of interactive services at attractive prices and by the delivery of these services with as little hassle and service problems as possible.
Successful service providers must understand how the choice of network technology impacts future revenue streams and customer satisfaction levels-and they must build that understanding into the business case.
FTTH technologies eliminate the last-mile bottleneck, allowing providers to deploy scalable voice, video, and data services over a single fiber-optic network. PON FTTH supports current and future applications. Costs and truck rolls associated with network management are reduced by continuous, real-time fault monitoring and complete control from the headend. Finally, the unlimited bandwidth of fiber will futureproof network investment and increase revenue streams.
Doug Wrede is director of business development at Optical Solutions Inc. (Minneapolis). He can be reached via the company's Website, www.opticalsolutions.com.