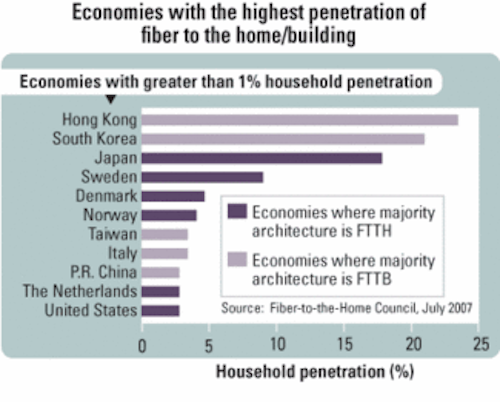 by Stephen Hardy
When the European optical communication community descends on Berlin this month for the European Conference on Optical Communications (ECOC), they might take time between technical sessions and pints of beer to reflect on the growing vibrancy of their continent's market. The niche that seems to be creating the most buzz is the same one that has captured much of the attention in Asia and North America: fiber to the home (FTTH). Yet despite some similarities with other markets around the globe, the FTTH space in Europe appears to be heading in a unique direction.
Until recently, if you asked members of the FTTH community in Europe to assess their position relative to the rest of the world, chances are they would have suggested that Europe lags behind Asia and North America. Recent data on FTTH/fiber-to-the-building subscribers from the Fiber-to-the-Home Council's three arms (North America, Europe, and Asia) suggest such sentiments are now only half right. Asia continues to lead the world, with the three top markets-in order, Hong Kong, Japan, and South Korea-residing in that part of the globe. However, five of the next seven markets are European (see figure), with the United States in 11th place.
Accordingly, a sense of optimism has begun to creep into European FTTH conversations. Outgoing FTTH Council Europe president Hartwig Tauber provided an example when comparing his organization's most recent conference, held in Barcelona this past February, with previous events. "In Barcelona, we had the feeling that FTTH is taking off in Europe," he told Lightwave Europe European Editor Kurt Ruderman. "This was not the case in past years. In Barcelona, there were a lot of real case studies."
As was the case in the United States, the first FTTH deployments in Europe came from municipalities, utilities, and the occasional alternative carrier. The Nordic countries provided much of the early activity, with both "citynets" such as Stokab in Stockholm and alternative carriers such as Bredbandsbolaget (B2, now owned by the Norwegian carrier Telenor) carrying the FTTH standard. The municipalities, in fact, have graduated from focusing purely on in-city service to discussing how to link their individual networks together.
Alternative carrier FastWeb is mainly responsible for Italy's high placement in the FTTH Council's numbers. FastWeb launched as a pure FTTH carrier but has added ADSL2+ to its technology mix. Swisscom, which currently favors VDSL, recently purchased the company; how the two companies influence each other is a topic of interest to European observers.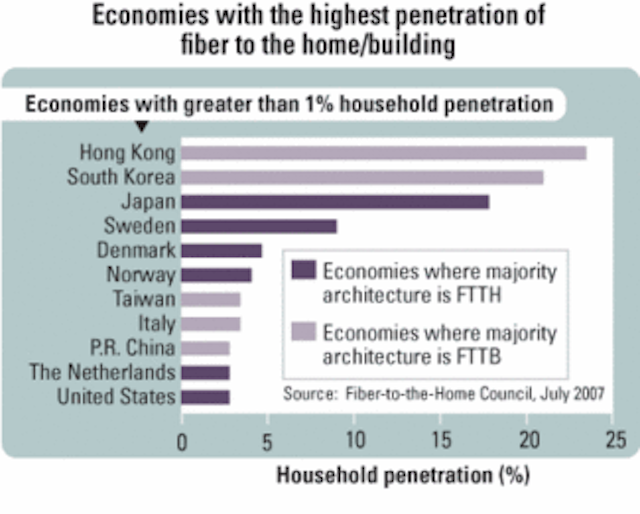 Half of the top ten fiber-to-the-home/building markets in the world can be found in Europe.
But France serves as the current main focus of FTTH attention, now that the presence of significant fiber-based competition appears on the horizon. Competitive carrier Free got the ball rolling by announcing an investment of €300 million between 2006 and 2007 in FTTH infrastructure with the aim of covering all of Paris in two years. The carrier subsequently reduced its plans to €160 million and 30,000 Parisian subscribers by the end of this year, focused in the southeastern portion of the city.
Despite the slowdown, Free got the attention of France Telecom, which announced its own plans for FTTH in Paris. The carrier reportedly expects to pass 1 million homes by the end of 2008. Meanwhile, Neuf Cegetel has expanded its FTTH and FTTX footprint through recent acquisitions of alternative carriers Erenis and Mediafibre, the latter of which runs an FTTH network in the city of Pau. (For more on the situation in France and around Europe, see Kurt Ruderman's coverage at www.light wave-europe.com.)
In Asia and the United States, conventional wisdom says that PONs dominate, and it's just a matter of sorting out EPON from GPON. While PON has its place in Europe, many of the continent's networks run Ethernet point-to-point topologies.
"[Ethernet FTTH] has a significant headstart among municipalities and competitive providers, who have been able to partner with energy companies for access to existing sewer lines to run fiber," reports Jeff Heynen, directing analyst, broadband and IPTV, at Infonetics Research (www. infonetics.com). "With those reduced costs, especially in metro areas, providers could spend more on active electronics in the field to be able to provide Ethernet FTTH. The municipalities and energy companies have pursued an open access model, particularly in Scandinavia."
Open source initiatives, including those driven by the European Community, should continue to drive active Ethernet deployments. Point-to-point networks are easier to share. France will provide an interesting test case for PON in this regard, as France Telecom has adopted GPON for its FTTH rollout, versus Free's use of active Ethernet. France Telecom officials express little fear of having to meet the infrastructure sharing requirements French regulatory authorities have mandated.
GPON does appear to be the technology of choice for European incumbents. Telefónica in Spain and BT have tested the technology, with the latter expressing a willingness to use GPON-based FTTH for certain greenfield applications. Infonetics expects PON sales to rise from $18.8 million in 2006 to $238.9 million in 2010, according to the company's "PON and FTTH Equipment and Subscribers" report.
Meanwhile, Europe also differs from the rest of the world in its comparative willingness to use blown-fiber and other alternatives to standard cabling practices. Ericsson (www.eric sson.com), Emtelle (www.emtelle.com), and Prysmian (www.prysmian.com) actively market blown-fiber technology with success.
While Europe lacks a single FTTH project that matches the scale of Verizon's, the overall health of the optical access market appears good. However, participants would be even more optimistic if more incumbent carriers followed France Telecom's lead. Telefónica remains undecided in terms of its potential deployment, while Deutsche Telekom appears satisfied with DSL as it battles the European Community over whether it needs to make its infrastructure available to competitors. Without further incumbent support, FTTH in Europe will remain something of a grassroots movement for the next few years.