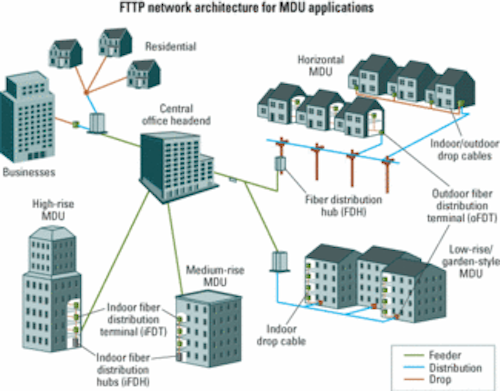 by Trevor Smith and Thomas LeBlanc
Multiple dwelling units (MDUs), such as apartment complexes, condominiums, townhouses, and other multifamily locations, are prime targets for service providers deploying fiber-to-the-premises (FTTP). Although these locations represent a lucrative and competitive market for broadband service providers, they also present unique challenges in terms of fiber cable interconnection to terminal equipment at the premises.
Depending on issues such as geographical location and whether the structure already exists or is new construction, MDU connection strategies will vary from site to site. The connection from the FTTP cabling network to the dwelling may be via a feeder fiber directly from the central office (CO)/headend to a splitter hub on the premises. Other connections may directly extend from the distribution fibers out of the fiber distribution hub (FDH) to a fiber terminal on the premises.
The size and type of MDU could dictate a need for extensive fiber cabling and connections within the structure. Larger MDU structures may involve splitter hubs located inside the premises, as well as subtending riser and drop cable networks with intermediate fiber terminals strategically located throughout the building.
In every case, however, there are key building blocks that include indoor and outdoor FDHs and fiber distribution terminals (FDTs). Additional drop cables, raceways, and outlets complete the interconnection in many MDU environments. The simple fact is that MDUs represent a target market for service providers and lie right in the heart of FTTP network builds worldwide.
There are several types of MDU structures, but four variations will address most of the considerations for connecting them into FTTP networks. These include metro high-rise, mid-rise, garden-style, and horizontal-style structures. We'll consider the unique characteristics of each.
In metropolitan areas, high-rise condominium and apartment dwellings are the norm, since real estate is at a premium. These structures require special planning to meet the challenge of ensuring FTTP networks can efficiently and reliably deliver bandwidth across multiple floors at different heights.
Typically, the design of these structures includes planned cabling access for connecting networks through the various floors and building sections. Since there are numerous living units, they are usually connected directly to the serving FTTP equipment in the CO/headend. From there, a feeder cable is routed to the structure and connected to an FDH in the basement.
The optical splitting function and connection of the network within the building is performed in the FDH. A network of riser cables is distributed to the various floors through established pathways, either inside or outside the building. These riser cables are tapered as they traverse the vertical rise, with segments of the cable dropped at each floor.
The riser cable is typically connected to an FDT located on each floor. Drop cables are installed into each living unit and routed to the FDT on that floor. As each living unit requests services, final interconnections are performed by the technicians.
Many mid-rise residential buildings tend to be older structures with walk-ups, having no provisions for new cabling networks. This provides the FTTP network builder with the challenge of traversing the inside environment without incurring major cost. Like the high-rise, the mid-rise is often directly connected to the FTTP equipment in the CO/headend via a feeder cable routed directly to the building. The feeder cable is terminated in the basement at an FDH for optical splitting and service connection within the building.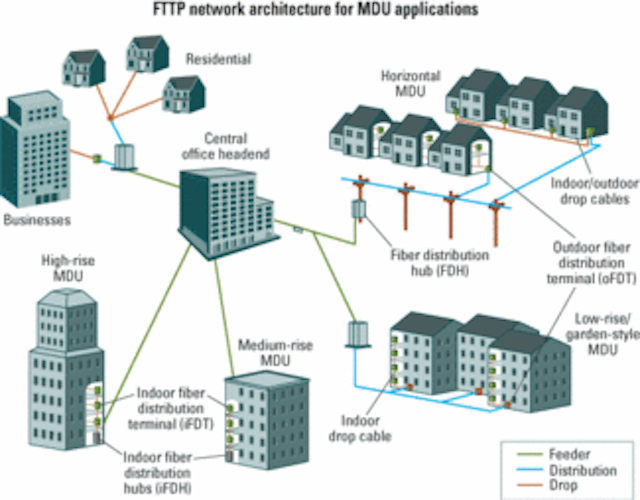 The MDU environment presents a variety of installation scenarios to technicians.
The connection strategy for mid-rise buildings includes routing riser cables to every floor, where FDTs interconnect with fiber drop cables. Drop cables are often routed through hallways, protected with raceways or conduit, and connected to wall plates in the living rooms. Mid-rise units present an important challenge in finding space to install terminals and hubs, as well as overlaying riser and drop cables efficiently and aesthetically.
Much of the new construction for residential apartments and condominiums involves building garden-style structures, typically two- or three-story buildings with walk-up access and multiple living units per floor. Many of these structures are not designed with the addition of cabling networks in mind. This factor also presents significant challenges to installing FTTP network cabling.
Network interface between the outside plant (OSP) and drop cables in garden-style structures tends to be either on the exterior surface or closeted just inside the building entrance. The FTTP network interface is often colocated where other utilities are positioned. In new construction, fiber drop cables can be easily routed through the framing structure in conduits or directly into the walls before they are sealed. New construction also offers the option of installing microducts during construction and later blowing fiber into the living units as service is requested.
Installing fiber into existing units, however, is usually much more difficult. Overlaying installation often involves routing drop cables through the attic, basement, or around the exterior of the structure-adding time and cost to the process. New cables, such as indoor/outdoor cables, have been developed that provide much more flexibility to the installer for routing drop cables.
FDTs are also being designed to provide more flexible options for interconnections. One typical FDT provides standard connector interfaces on the exterior surface. By using a preconnectorized FDT, connections can more easily be achieved for indoor/outdoor drop cables. Also, external FDTs and outdoor drop cables can be configured with rugged, hardened connectors for direct and easy connections. FDTs can also be configured as indoor enclosures with standard connectors. Typically, they would be located immediately inside the building entrance with fiber drop cables routed inside the building.
Horizontal-style MDUs can use an FTTP connector scheme that is virtually identical to connecting a line of closely located single-family homes. The network interface will be an FDT, outfitted with either rugged or nonrugged connectors, located on the exterior surface of the structure. FTTP distribution fibers are allocated downstream from the FDH to a particular MDU structure.
Rugged connectors are used when hardened fiber drops are routed on the outside of the structure and connected directly to the optical network terminal (ONT) on the side of each individual dwelling. Conversely, nonhardened indoor cabling can be routed via internal pathways from the FDT to ONTs in each unit.
The key building blocks for MDU connectivity include FDHs, FDTs, riser cable, drop cable, raceways, and wall plates. Again, the manner and use of each building block is dependent on many considerations, particularly the type of MDU, its geographical location, and whether it is a new build or existing structure.
Both outdoor and indoor FDHs are available for connections between fiber-optic cables and passive optical splitters. The outdoor FDH is constructed for protection against rain, wind, dust, rodents, and other environmental contaminants. It can either be pole mounted or pad mounted to provide environmental and mechanical protection for cables, splices, connectors, and passive optical splitters. The enclosure is accessible through secure, lockable doors and designed for easy craft access and maintenance.
The indoor FDH is specifically designed for use in an MDU closet or basement. It provides a vital crossconnect and interconnect interface for optical transmission signals at the MDU. Like its outdoor counterpart, the indoor FDH provides mechanical protection to its components but is also designed to accommodate a range of fiber counts and to support factory installation of pigtails. It may be mounted on a wall, rack, or pedestal. Both outdoor and indoor FDHs are available in a range of sizes for accommodating the various types of MDUs.
FDTs are also available for outdoor or indoor use, for terminating, splicing, and interconnecting fiber-optic cables for deploying fiber into MDUs. The outdoor FDT supports network interface to 6, 12, 24, 48, or more living units using standard SC (APC or UPC) connectors. The unit can also be configured with rugged connectors to provide an interface to hardened drop cables.
Outdoor FDTs are mounted to the exterior surface of an MDU structure and are typically divided into sections with distribution cable routed into one section and drop cable routed into the other section. The cables meet at a central connector field that includes termination for the distribution cable and "parking" for the drop cables. Splice trays can be configured to each side of the outdoor FDT.
Outdoor FDTs can be quickly connected to the plant via outside plant cable stubs that are preterminated on the distribution side. Connectorized pigtails prewired on the drop side provide easy connection for individual drops. Other features include standard grip clamps, grounding capability, and the ability to accommodate a variety of OSP cable types.
Indoor FDTs are located within the MDU and may serve as a primary network interface as an alternative to an outside FDT. A typical application would be to support a tapered fiber distribution network within the building where FDTs are installed on the various floors. By design, they effectively isolate the splicing and cable termination from the interconnection on the drop cables. This separation provides a space-efficient and craft-friendly interface unit.
Like its outdoor cousin, the indoor FDT provides standard SC connections (APC or UPC) and can be equipped with parking for locating the staging drops prior to deployment. Terminal enclosures come in a range of sizes from 6 to 48 fibers and are wall mounted.
As with the FDHs and FDTs, drop cables also are manufactured specifically for indoor or outdoor use. Outdoor cabling, used mainly in horizontal-style MDUs, requires hardened drop cables around the exterior of the building. These drops are often buried alongside the structure and use rugged optical connectors to connect FDTs located at the street or side of the dwelling with ONTs at the premises.
The hardened fiber drop is typically terminated with a rugged outdoor connector on one or both ends to facilitate rapid service connection. Outdoor fiber drop cables are available in dielectric flat, flat with toneable wire, and in figure-eight configurations-all with connectors on one or both ends.
Indoor drop cables connect FTTP premises equipment and OSP cabling systems in most MDU applications. They are typically routed from an FDT (indoor or outdoor) to each individual living unit. A wide variety of cabling installation techniques can be used to route indoor drop cabling.
Raceways are configured along the ceiling of the MDU hallway, allowing an extension of the raceway to be used to cover existing cabling, such as voice or cable television wiring. Decorative covers are available for raceways to provide the appearance of crown molding.
Alternative techniques for drop cable installation include using conduit to provide a protective path from the FDT all the way to the living unit. Conduit provides the advantage of enabling the installation of fibers any time after the conduit is put in place, as well as the ability to remove and replace fibers. Another alternative is to install microducts for leveraging blown fiber techniques.
Drop cable installations in MDUs tend to be labor intensive, particularly in existing structures. With that in mind, overall efficiency and cost-effectiveness will be best achieved by considering individual building conditions when determining the optimal method of fiber drop cable installation.
It is estimated that more than one-third of all U.S. households are located in shared residential structures or MDUs. With lucrative opportunities and stiff competition providing ample incentive, service providers are under immense pressure to "get it right the first time."
Connecting MDUs into the FTTP network requires an understanding of the wide diversity of structures and the most effective use of a variety of available solutions. Once the structure is fully understood, the connectivity plan can be developed and optimized for the structure-and the promise of fiber can be effectively fulfilled in MDUs.
Trevor Smith is the FTTX program manager, global connectivity solutions, at ADC (www.adc.com), headquartered in Eden Prairie, MN. Thomas LeBlanc is the FTTX associate product manager, global connectivity solutions.