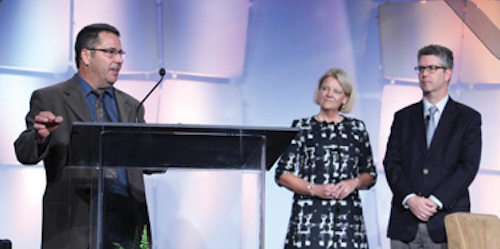 with MICHEL PARENT
In his 26 years as a technology consultant within the Outside Plant Technology Research group at Bell Canada, Michel Parent has seen just about everything when it comes to optical communications technology evolution. So when Bell Canada was ready to move from fiber to the node to fiber to the home (FTTH) in 2009, Parent was ready to help guide the carriers' installation strategies and solve any problems encountered in the field. His wisdom and influence earned him the 2012 FTTXcellence Award.
Now in its ninth year and co-sponsored by Corning Inc. and Lightwave, the FTTXcellence Award honors the achievements of an individual who has significantly advanced the use of optical communications technology in North American access networks. In this interview, Parent reviews his experiences with Bell Canada's FTTH history, including its current brownfield FTTH deployment in Quebec City in the province of Quebec.
Lightwave: What were the main challenges you faced as you began working with FTTH in 2009?
Parent: It was more the scale of the deployment that was a difficulty. It was not the technology. The technology in 2009 was mature enough. Corning and Verizon had already developed single-fiber hardened connectors, multifiber hardened connectors, so a lot of connectorization [technology was already available]. The main difficulty remains the splicing. And when you get into pre-connectorized, the main issue is slack management, the quantity of material or configuration required, drops of predetermined length, that's an issue. Same thing with the terminal with stubs at various lengths. So it's the material management that's difficult.
Maintenance on fiber is still a challenge, and there's still development required, that's for sure. And time to restore is the main challenge on fiber when compared to copper. It's more the repair, not the preventative [measures]. You have a pole down, a car crash, whatever. There's TV on this, and people may get upset and want the service back ASAP – and to restore fiber is not the same ball game as on copper.
When fiber is deployed into underground structures – whether you do toll or trunk or you go to large customers in main cities, everything is underground, is in structures, duct systems. In the aerial it goes into very wide right-of-ways, no trees. When we get into the distribution, the fiber is in a completely different environment and the types of damages we experience are completely different. And we have to adjust to that.
What are some of the practices that have helped Bell Canada streamline its FTTH deployment?
We're right into the development of those practices. It's funny – deploying fiber, we kind of follow the same path that we did on the copper. It's a path you have to take; there's no other way. Like on copper, at one point it was straight underground, from the CO to the house; it was like that on fiber. It seems that we will have to develop the same techniques on fiber that we used to have on copper. The fiber guys are used to splicing in a van or in a truck. If you ask them to splice in a tent, they don't like that. But now we'll have to develop techniques same as on copper for fiber – to splice on strands, with aerial platforms. And that will be a challenge – not because the techniques don't exist, but because mainly of the people training and getting the craftsmen to buy in.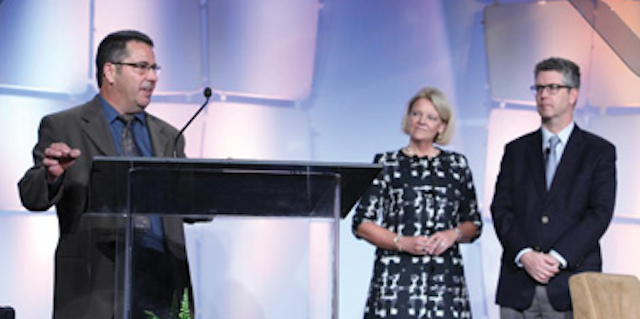 Michel Parent accepts the 2012 FTTXcellence Award as Kim Hartwell, senior vice president, carrier networks and customer experience, Corning Cable Systems, and Lightwave Editorial Director and Associate Publisher Stephen Hardy look on.
What are some areas for cost savings that you've identified?
Single-fiber versus ribbon. We used to do ribbonization in the field; when we go from ribbon to loose tube, we "ribbonize" the loose tube rather than splitting the ribbon. But we're still looking for tricks. One area that is still challenging is the conversion of existing MDU buildings. And the conversion of brownfield buried areas, how to overlay to what we call a "direct buried" DSA [digital serving area] with no duct system is also what we are targeting.
What are the MDU challenges you mentioned?
In the conversion [of existing buildings], we need techniques that will allow us to get in and mostly get out of there ASAP. We have to limit disruption. So connectorized solutions appear to be the key. So that's what we see for the brownfield MDUs.
For the greenfield MDUs, it's more to try to educate the builders, that's the main challenge. It's how to prepare the building for fiber. We don't have copper riser cable anymore. What is required in the apartments in terms of power, space for the equipment. And in MDUs of course, we have powered equipment to serve elevator phones and that type of stuff and then there's the intercom – so we have to let them know that Bell is no longer putting copper into the riser anymore, so they have to plan for the right system.
What currently is Bell Canada's overall FTTH strategy?
We deploy fiber in the greenfields – no copper. Quebec was the main focus as a brownfield to do an overlay, and we'll do the entire city. But it's not the only area. There are other areas in the Montreal suburbs that are covered and are of significant dimensions.
Why has Bell Canada chosen to use indoor ONTs?
It makes our life easier to put it indoors. Bringing the power out there, bringing the grounding that is required and all that [outdoors] – well, you go straight into the house with the fiber and you're all set. The point to having the ONT outside is like the old demarc in copper; you want to be able to fix any problems reported by the customer without having an appointment or access to the unit. But with the services we provide to the customer, we'll ask to get access anyhow. So there's no gain to having the ONT outdoors. And in our climate, [having an outdoor ONT] causes more problems than benefits.
Are there any compromises you've had to make in your FTTH deployment due to the climate?
Nothing different than the usual business. When compared to the south, a flush-to-grade enclosure is not a good thing. You need to work more with pedestals. Because of the winter, on installations we don't want the guy to have to work too much outside; to build a field-mountable connector on the side of a house, that's not easy in wintertime. So we try to have everything outdoor connectorized to get [the technician] indoor ASAP.
The other thing I'll say is that water doesn't affect fiber, but ice does. So we have to keep water out of there.
Any advice for others embarking on an FTTH deployment?
It's going to be there for a long time, so do it right!
MICHEL PARENT is a technology consultant for the Outside Plant Technology Research group at Bell Canada, specializing in fiber optics.