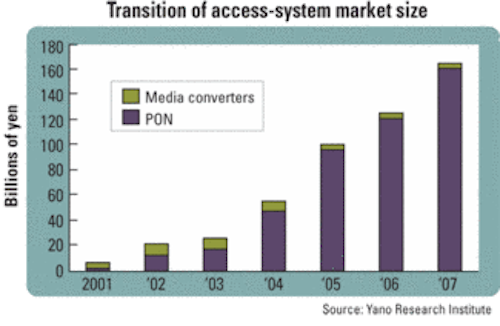 Japan's Yano Research Institute (Tokyo) has compiled a report that it says reconfirms the rapid growth of that country's FTTH subscriber-line and systems markets. The report breaks down Japanese Internet access-line subscriptions by type of connection at the end of fiscal year 2004, as follows: 13.67 million lines of DSL, 2.77 million of FTTH, 2.96 million of cable TV Internet, and 30,000 of fixed wireless access.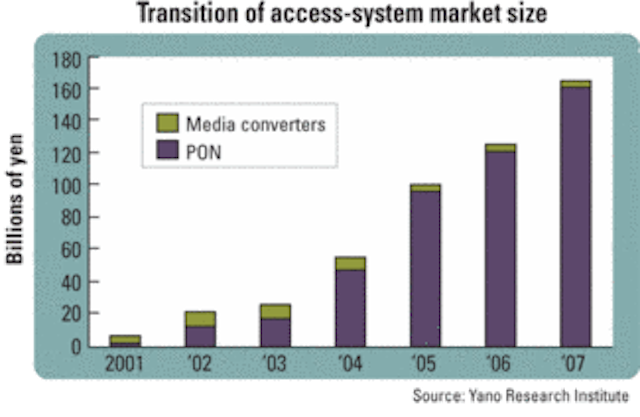 The report reveals that, in the latter half of 2004, the net monthly increase of FTTH subscriber lines came close to that of DSL, both hovering somewhere between 100,000 to 150,000 lines. Yano forecasts the net monthly increase of FTTH subscriptions will have surpassed the increase of DSL in the early part of this year.
Rapid expansion of the Japanese FTTH market has been driven mainly by tough competition among FTTH service providers, the report suggests. The firm sees many providers offering lower subscription fees and fee-free services for the first several months of subscription as well as free cable work and activation services, in an attempt to lessen customers' initial costs. The report also cites the popularity of triple play service provisioning as another key factor in the FTTH market expansion and says long-term survival for service providers will be mainly determined by the financial strength of individual companies.
The institute reports that PON systems exhibited the most remarkable growth among various systems markets, due to the low cost of the technology. The report notes that GEPON systems have also played a leading role in forming a Japanese PON system market worth 47 billion yen.
For more information on the report, "FTTH Market in Japan and Its Future Prospects 2005," visit the institute's website, www.yanoresearch.com.