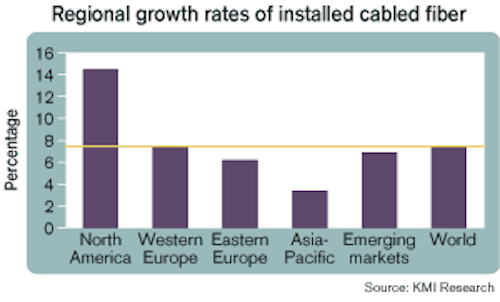 The amount of cabled fiber installed per year worldwide will exhibit a CAGR of 7.5% from 2004 to 2009, according to the latest edition of KMI's "Worldwide Optical Fiber and Cable" market report. This 7.5% CAGR is revised upwards from KMI's view one year ago, due to stronger than expected demand in North America. Although KMI had incorporated fiber to the premises (FTTP) deployments in its earlier forecasts, Verizon's demand was significantly larger than had been expected.
Verizon's FTTP initiative contributed to a 61% increase in the amount of cabled singlemode fiber installed in the United States last year. As a single customer, Verizon accounted for about 30% of the total cabled fiber demand in the U.S. last year. Continued growth in FTTP and other fiber in the loop deployments in the U.S. and stronger growth in Western Europe will result in a 13% increase in worldwide demand this year.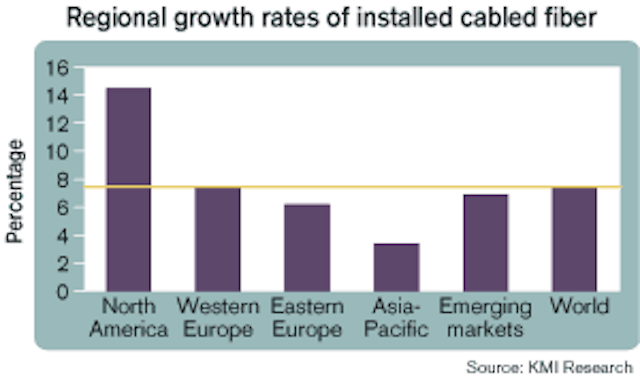 The new research also found that low water peak fiber demand grew by 33% in last year and will grow by another 43% this year, combined worldwide demand for 50-µm-core multimode fiber (both standard and laser-optimized for 10-Gbit/sec applications) will surpass 62.5-µm multimode fiber next year, fiber capacity will continue to be at least 120% greater than demand from 2004 to '06. Also, Asia will account for 54% of singlemode cabled fiber deployments in '04 and decrease to 45% in '09, while North America's share will increase from 27% in '04 to 37% in '09.
For more details on the report, call (603) 891-9203 or visit www.kmiresearch.com.