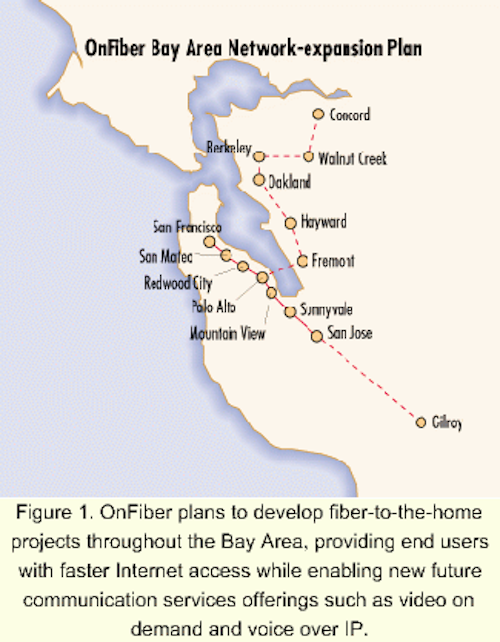 By ROBERT PEASE
A fiber-to-the-home (FTTH) startup has completed its first major project in Palo Alto, CA, connecting a group of homes directly to a fiber-optic network. OnFiber Inc., based in Cupertino, CA, is demonstrating that a market exists for "speed-hungry" Internet subscribers who are willing to pay for high-speed access from their homes.
The company's initial project was completed last month at Classic Corners, a new development of single-family homes in Palo Alto. The developer contracted OnFiber to install communications conduits directly to 30 homes in the development and provide direct fiber links to the Palo Alto Internet Exchange, one of the largest Internet access hubs on the West Coast.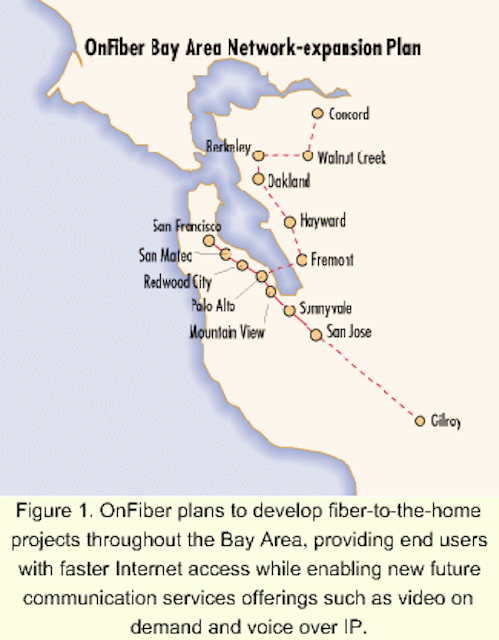 Figure 1. OnFiber plans to develop fiber-to-the-home projects throughout the Bay Area, providing end users with faster Internet access while enabling new future communication services offerings such as video on demand and voice over IP.
"We put together the entire architecture, from the subscriber all the way to the Internet cloud," says Keith Cooley, co-founder and chief technology officer at OnFiber. "Beginning at each home in Classic Corners, a pair of multimode fibers lead back to a central utility pad. At the utility pad, we have what we call a neighborhood switch. From an Ethernet switch located at the neighborhood switch, singlemode fiber interconnects with a splice point to the Palo Alto fiber-optic backbone network. We've leased two strands of fiber on the backbone to connect directly to the Palo Alto Internet Exchange with a 10-Mbit/sec connection."
Ethernet switches for the project were provided by Extreme Networks (Cupertino, CA), a company that manufactures 10/100-Mbit/sec switches and is active in the Gigabit Ethernet market. Cooley says Extreme was selected for its keenness on upgrading Ethernet to telecommunications capabilities. The switches are an integral part of OnFiber's platform and, in the Classic Corners project, aggregate traffic onto the Palo Alto backbone splice point.
The splice point into the city's fiber network is located 3,000 ft from the development. The city agreed to use an abandoned water main under El Camino Real, a main thoroughfare in the peninsula portion of the bay area, to run 12 strands of singlemode fiber that connects the splice point to the property line of Classic Corners.
A Gigabit Ethernet uplink runs from the neighborhood switch to the Palo Alto Internet Exchange. As more traffic aggregates onto that connection, it will be upgraded from 10 Mbits/sec to 100 Mbits/sec and, potentially, to a 1-Gbit/sec connection in the future. OnFiber is offering similar FTTH architectures to a number of developments on the peninsula and plans to funnel all the traffic through the exchange.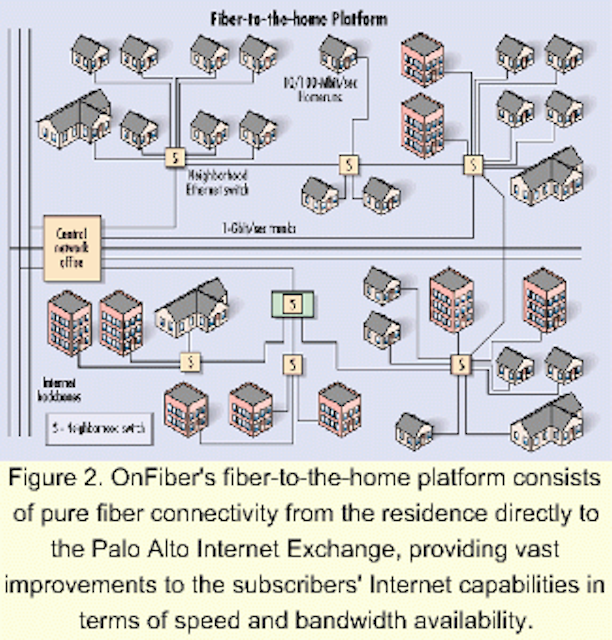 Figure 2. OnFiber's fiber-to-the-home platform consists of pure fiber connectivity from the residence directly to the Palo Alto Internet Exchange, providing vast improvements to the subscribers' Internet capabilities in terms of speed and bandwidth availability.
Cooley believes the availability of fiber directly to the home will enable subscribers to scale in terms of speed and bandwidth as well as provide the means to take advantage of future cutting-edge technology and service offerings that only fiber will enable. Although the service is initially for use with the Internet, OnFiber has built a business model for a new communications platform that is based on optical fiber, Ethernet, and Internet protocol (IP) to provide multiple services.
"Although faster Internet access is our initial service offering, we plan to eventually provide other services on the platform as well," says Cooley. "For example, we plan to do digital video on demand with a company called On Demand, and we also plan to do voice over IP."
OnFiber's main business is geared to providing fiber-optic technology directly to subscribers in residential areas. However, Cooley doesn't rule out the possibility of providing access to small and mid-size businesses in close proximity to its fiber.
With so many technology companies residing in the area, FTTH is more widely acceptable in the region. It especially appeals to residential communities where high-tech subscribers are familiar with communications technologies and additional capabilities of optical fiber.
"One of the things the high-tech end users want is a virtual private network [VPN] between their home and their workplace," says Cooley. "In one particular neighborhood there are a number of employees from companies like HP [Hewlett-Packard Co.] and Sun Microsystems. They would like to work at home and still be a part of their companies' Intranets. We intend to offer that service of secure VPN from the resident's home to HP or Sun. Those are the initial companies we plan to work with."
A second FTTH project is scheduled to begin this month in Mountain View, CA. It's approximately double the size of OnFiber's initial project and will connect to the Palo Alto backbone using fiber along the Caltrain corridor, which is the commuter rail route between San Francisco and San Jose, CA. At least four companies have dropped fiber along that route, says Cooley, and OnFiber intends to develop other large projects along the peninsula, aggregating them together into a regional network.
"We want to prove the viability of FTTH in new developments and prove its success in existing residential developments-something that really hasn't been proven to this point," says Cooley. "We intend to prove the concept by connecting at least 100,000 homes in the Bay Area before moving to other cities such as Chicago or Seattle."