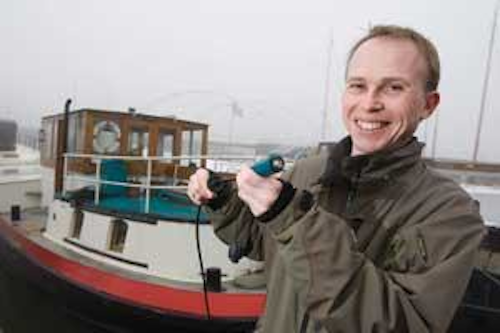 by Meghan Fuller Hanna
Among readers of Lightwave, the acronym "FTTH" is well-understood to mean fiber to the home. But for subscribers of Amsterdam's CityNet network, the "H" could also stand for "houseboat." Thanks to an existing military connector specially designed for external field deployment, even houseboat owners in the Netherlands' capital city are now enjoying voice, video, and data services via fiber.
In 2006, Amsterdam began construction on a city-wide, open-access active Ethernet network. Glasvezelnet Amsterdam (GNA), or CityNet, is a joint activity among the city of Amsterdam, a consortium of five housing societies, and two private investors—ING Real Estate and Reggefiber BV. Phase one of the project—which covers about 40,000 households in the districts of Zeeburg, Oost/Watergraafsmeer, and Osdorp—is on target for completion this year.
But for the folks at Draka Communications (www.draka.com), which has been a contract partner since it responded to the original tender in 2006, an interesting challenge soon emerged. The 2,500 houseboats or "woonboten" that crowd the city's canals were also identified as potential FTTH customers.
While some of the houseboats have taken up permanent residence within the open water of the canals, others are mobile. They frequently go sailing on the IJesselmeer or depart to various shipyards for maintenance. As a result, Draka needed an optical connector robust enough to allow the houseboat owners themselves to physically connect to the network upon mooring and disconnect whenever a trip was necessary.
"A fixed optical connector was out of the question," recalls Draka engineer Ignaat Eijpe, "so I had to think of a type of connector that is first of all robust enough for 'ordinary people' to handle and also easy to clean."
Draka turned to supplier Stratos Lightwave (www.stratoslightwave.com) to provide its Hybrid Multi-Application (HMA) series of expanded beam connectors, often used in military applications. According to Stratos, the HMA series is "immune from water, mud, dust, and other contaminants and...is ideally suited for environmental extremities where low maintenance and quick repairability are necessary."
Oliver Ax is owner of Amsterdam's first fiber-connected houseboat. "I now have ultra-fast Internet, TV, and telephone through one single cable," he reports.
Also known as a lens connector, the HMA series features a spherical lens that is placed in front of the fiber to spread the light out into a parallel beam hundreds of times larger than a traditional light signal. Because the surface area of the light is so much wider, contamination is no longer an issue.
Eijpe uses a pair of reading glasses as an analogy. "If there is dust on your glasses, normally you don't notice it because it's very small," he says. "You get a lot of light in from all sides, and it comes in around the dust. It's the same thing that happens with this connector. In a normal optical connector, if there is some dust on the connector itself, it completely blocks the signal because it's a very tight light beam. But this connector is much wider. Instead of 9 micrometers, it's a few milli-meters. If there's a little dust in the way, it's not a problem; the rest of the light goes by it."
Also, because the fiber is protected behind a hard-coated glass lens, the connector can be easily cleaned—a key attribute if everyday people are to handle it. "If the connector falls into the water, you take it out, polish it with a tissue, and put it on again," says Eijpe. "You cannot do that with normal connectors."
The one drawback is that the military-grade connector is more expensive than the typical SC connector used in FTTH applications, he notes. However, the HMA is the only one that allows houseboat owners to make a good optical connection themselves.
Eijpe confirms that about 10% of Amsterdam's 400,000 homes and businesses are currently connected via FTTH, including a total of 150 houseboats. Of those 150 houseboats, approximately 50 are currently customers of the military-grade connector. Houseboats that are permanently moored feature a fixed optical connection much like the typical home.
Meghan Fuller Hanna is senior editor at Lightwave.