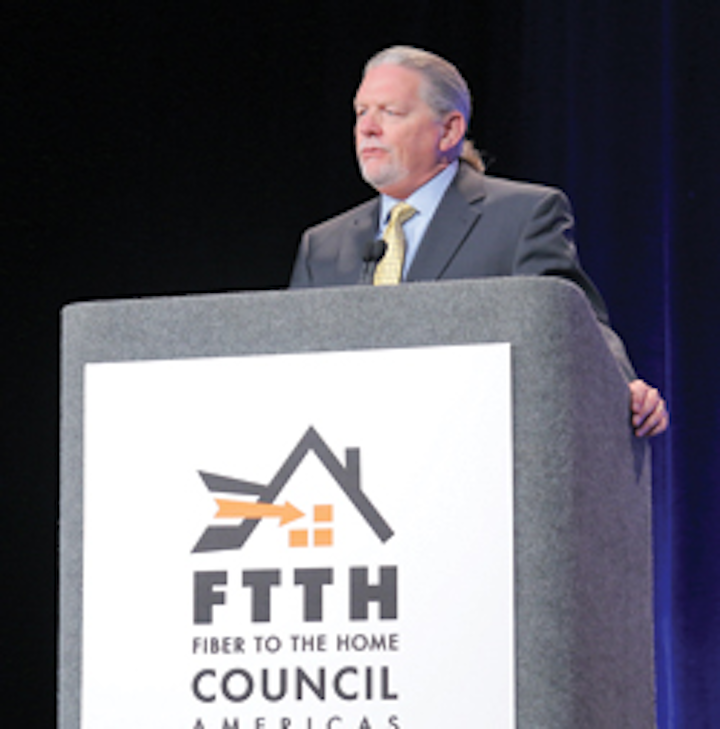 AT&T has stepped up to the challenge of providing high-speed fiber-optic broadband services with its 1-Gbps AT&T U-verse with GigaPower service. Part of the service provider's Project Velocity IP (VIP) effort, the brownfield fiber to the home (FTTH) deployments began in Austin, TX. For his role in planning and enabling those rollouts, Gary B. Kerr, assistant vice president, construction and engineering southwest, for AT&T Network Operations, received the 11th annual FTTXcellence Award at the 2014 FTTH Conference in Ft. Lauderdale, FL, in June.
Co-sponsored by Corning Inc. and Lightwave, the FTTXcellence Award recognizes an individual who has significantly expanded the use of optical access technologies in the Americas.
Kerr recently spoke with Lightwave about his 42 years with the Bell System, the strategy behind the GigaPower (or, as he calls it, "LightGig") rollouts, and his advice for others contemplating an FTTH build.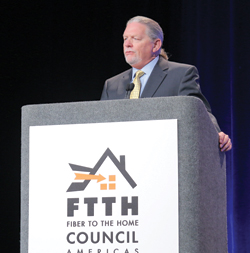 GARY B. KERR, 2014 recipient of the FTTXcellence Award, is assistant vice president, construction and engineering southwest, for AT&T Network Operations.
Lightwave: How did you get involved with the GigaPower effort?
Kerr: When it was determined that we were going to do the GigaPower build, Austin was the city selected to start it - which, of course, is in my territory. So we looked at different ways to do the build. It's an overbuild, so we started with aerial overbuild, because it's less expensive than buried.
So we were looking for the best solution. We ended up going with a tethered solution that enables us to deliver it faster, because I don't have to splice every terminal like we did in our normal BAU [business as usual] world. And we worked with our supplier, with our procurement organization, with everybody to get things in place, the contracts in place, to enable us to do that. And we were successful. And we trialed it in Austin and it worked well. And we're moving forward with that as we expand into other cities.
Could you provide more details about how you chose the tethered approach?
We were trying to find a solution that would enable us to go faster. Speed to market. So that's how we ended up with the tethered solution, because it reduced the number of splicing hours we had to do. We have a committee, a team, that looks at the new technology and makes sure that it meets the requirements of the network. And they did that, in working with the vendors, trying to determine what solutions were available out there from multiple sources. And we ended up with the supplier we're going with now, because they had the best solution at the time.
At this point they're the sole supplier. We continue to work that with other suppliers to have more than one.
What kind of architecture are you using?
We already had a BPON/GPON architecture in place. Obviously, to get to a 1-gig service, we had to upgrade to GPON. And we had plans already to do that [as part of Project VIP]. So we had existing fiber to the premises subdivisions - not just in Austin, but everywhere. So the first thing we did in Austin was upgrade all of those subdivisions to GPON to give the higher-speed capability. So we had to go and install splitters that connected back to the GPON hardware in the CO. And we did that as a matter of our deployment. We have since done that in other locations as well.
How have the deployments gone so far?
It's been pretty smooth sailing, quite frankly. Of course, we've been building neighborhoods for a long time - 135 years, right? So it's not like it's new work. It's similar in some ways to a rehab project, where we have to replace cable.
And are those deployments strictly aerial?
We started with the aerial. It was the fastest and least costly overbuild. But now we're going to back into buried neighborhoods and paralleling our copper cable there.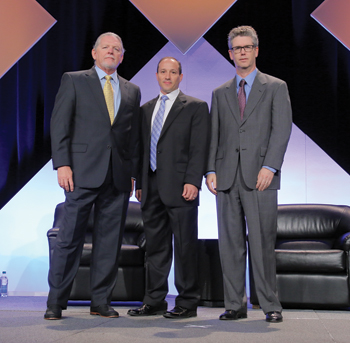 Gary Kerr (left), Corning Optical Communications Vice President of Market Development Bob Whitman (center), and Lightwave Editorial Director Stephen Hardy at the 2014 FTTH Conference.
What happens to the copper infrastructure?
We're leaving that. This is an overbuild and not a forced migration. As people want the higher bandwidth, they'll migrate to the LightGig network.
Has the FTTH technology at your disposal met your expectations? How could it be improved?
That's a really good question. We're always looking for a way to deliver [the infrastructure] at less cost and faster. Because it all comes together, right? If it takes you a longer time, it's going to cost more.
It's a pretty mature technology, I think, at the state it's in today. We've been doing FTTP for quite a while - 10 years, I guess. And so that's matured over that time. The cabinets - the head PFP, as we call it, the fiber crossconnect cabinets - have gotten smaller, the splitters have gotten smaller, which makes it more palatable for the neighborhoods. That's the thing that I've seen improvement on in the last 10 years, is some of that.
But I don't have a certain thing that I would go to anybody and say, "I need you to develop this." So I kind of put it in [the category of] mature technology. There's always room for improvement, and we're always looking for that, right? But the things that we've needed to deploy fiber to the premises have been developed for quite some time.
Finally, what advice would you have for others deploying FTTH for the first time?
So it's all about cost and execution. I mean, that's what my whole world is, right? You've got to have your costs in line; you've got to execute crisply and hit your schedules to deliver the homes at a per-home cost that we target. It's getting started right - getting your planning done, getting your backbone fibers placed so that you have fiber available and you're not rushing to get that work done at the same time you're doing the neighborhood build.
So it all kind of falls into place if you approach it systematically. That's the advice I would give anybody: Make sure you have your ducks lined up, otherwise you'll be spending more to catch up than if you would if you planned it properly to begin with. I know it's kind of boring, but that's the stuff I look at.