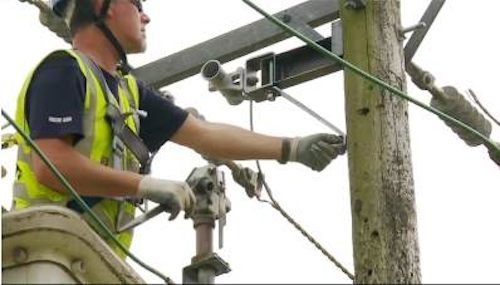 Irish power utility ESB has selected Vodafone as its partner on a €450 million project to deploy an open-access fiber to the building (FTTB) network across Ireland. The fiber-optic network initially will reach 500,000 premises in 50 towns, leveraging ESB's existing overhead and underground infrastructure.

The FTTB network will deliver download rates of 200 Mbps to 1 Gbps, the partners say. This will represent a significant upgrade for most subscribers, based on data from Irish telecommunications regulator ComReg that indicates 43% of fixed-line broadband users in Ireland receive speeds of less than 10 Mbps.

The project is subject to European Commission approval. Nevertheless, ESB and Vodafone hope to begin deployments "in the coming months," with first customers receiving services at the start of next year. The first phase of the FTTB deployment should conclude by the end of 2018. This implies a second phase, for which the two companies did not provide details. The ESB/Vodafone joint venture will build and manage the network, offering access to it and its subscribers on a wholesale basis.

ESB chose Vodafone for the project based on a tender process launched in September 2012. Vodafone was named the preferred bidder for the project in September 2013, and the two companies have been negotiating ever since. The new joint venture company will have 60 employees, the partners say.

Vodafone already serves 200,000 fixed broadband customers in Ireland.

The Irish Government welcomed the joint venture's creation. "The National Broadband Plan underlines Government's commitment to delivering high-speed broadband services to rural Ireland, with fiber as a core element. Complementing Government investment in rural areas, will be commercial investment in more densely populated areas, offering competitive high speed services over multiple technology platforms. Today's announcement by ESB and Vodafone to create a joint venture company to deliver up to one gigabit of broadband speeds in 50 locations nationwide is a very exciting step in ensuring that regional towns can enjoy similar levels of connectivity to our cities, benefiting local business and helping to attract investment," said Minister for Communications, Energy and Natural Resources Pat Rabbitte.

For more information on FTTx equipment and suppliers, visit the Lightwave Buyer's Guide.

Want to learn more about FTTx innovation? Attend the Lightwave Optical Innovation Summit
The Lightwave Optical Innovation Summit will feature panels and presentations that will illuminate where optical innovation is required in carrier and enterprise/data center networks, what it should look like, and when it might appear. A wide range of experts from the user, technology development, academic, and analyst communities will offer their views on innovation in a variety of areas, including FTTx. Find out more about the Summit, which will be held in Austin, TX, July 14-16, at the Lightwave Optical Innovation Summit website.