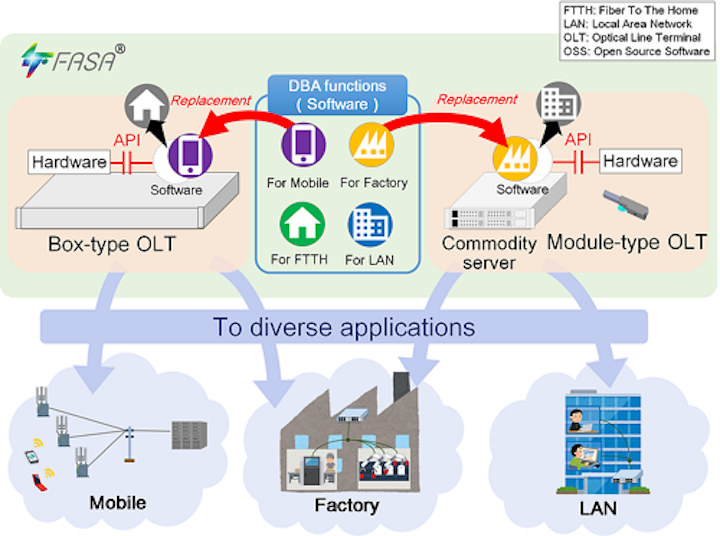 Nippon Telegraph and Telephone Corp. (NTT) says it has developed and tested a PON optical line terminal (OLT) prototype with what it calls "a softwarized and modularized" dynamic bandwidth assignment (DBA) function. The virtualization of the DBA function could enable operators to replace the DBA function in a fielded OLT with one more optimized for a particular application, such as support of 5G requirements at mobile base stations.
Development of the virtualized DBA function is part of NTT's Flexible Access System Architecture (FASA), a plan for software-defined access network capabilities that the service provider unveiled in 2016 (see "NTT's Flexible Access Systems Architecture envisions white-box OLTs"). A server-based OLT is part of the concept but would need virtualized instances of typical OLT functions to operate. The DBA function is among the most challenging, says NTT. The service provider says it solved the challenge through a hybrid approach that combines hardware and software components. The hardware is independent of the intended application, while the software enables optimization.
NTT says it has created an API that enables control of the hardware and software combination as well as cooperation between the two. The company says it hopes to establish the API as an open standard through work with such bodies as the Broadband Forum.
NTT plans to report on its work at the NTT R&D Forum 2018 (Autumn) November 29 to 30, 2018, at the NTT Musashino R&D Center, and at ONF CONNECT December 4-6, 2018 in Santa Clara.
For related articles, visit the SDN/NFV Topic Center.
For more information on FTTx technology and suppliers, visit the Lightwave Buyer's Guide.