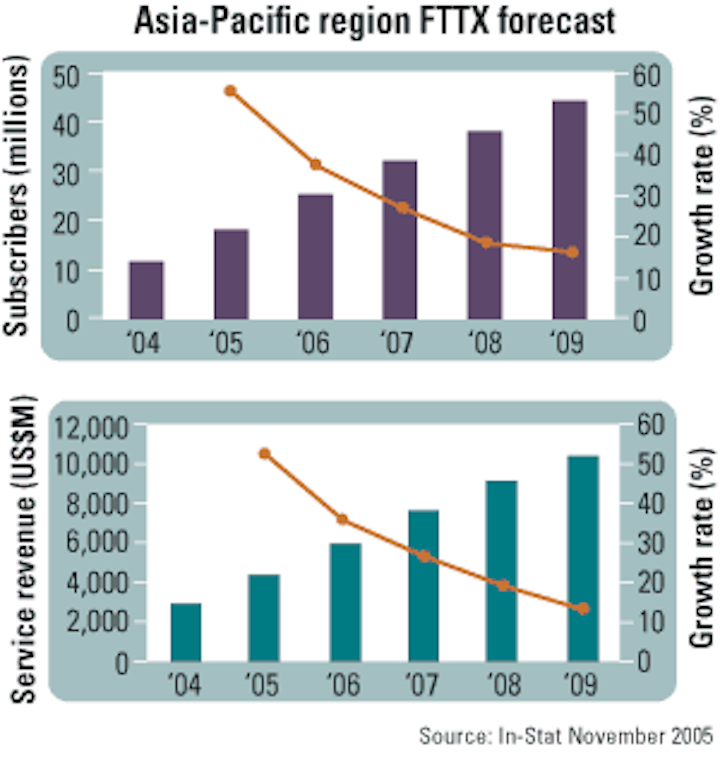 According to a report by In-Stat (Scottsdale, AZ), five major Asian countries compose the fastest developing regional broadband market for the adoption of residential FTTX services, in fiber-to-the-premises, home, neighborhood, curb, and building (FTTP, FTTH, FTTN, FTTC, FTTB).
The study contends that Asia as a whole, and in particular the growing China and Australia markets, provides "huge growth potential" for equipment and service providers seeking "to claim a slice of the growing FTTX pie."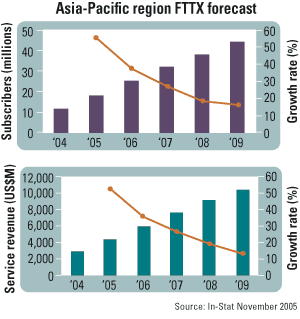 "Foreign investors may not need to build up networks or provide services on their own," maintains Victor Liu, an In-Stat analyst. "Instead, content developers and value-added-services providers may have better revenue prospects if they work closely with broadband service providers who lead the adoption of FTTX in those markets."
The report says that FTTC/N+LAN technologies are cost-effective for introducing broadband services to homes in China. It also notes a buildup in Japan of high-speed network infrastructures extending fiber to homes, delivering an array of voice, data, and multimedia applications, with increasing demand seen for voice-over-IP services. Service providers in South Korea are increasingly offering "money-making applications" such as online gaming, video-on-demand, and e-commerce services-applications well suited to the increased bandwidth of FTTX deployments, according to the firm.
For more information on "Asia Pacific Embraces Residential FTTX Services," visit www.instat.com.