Premier Products
Sep 1st, 2007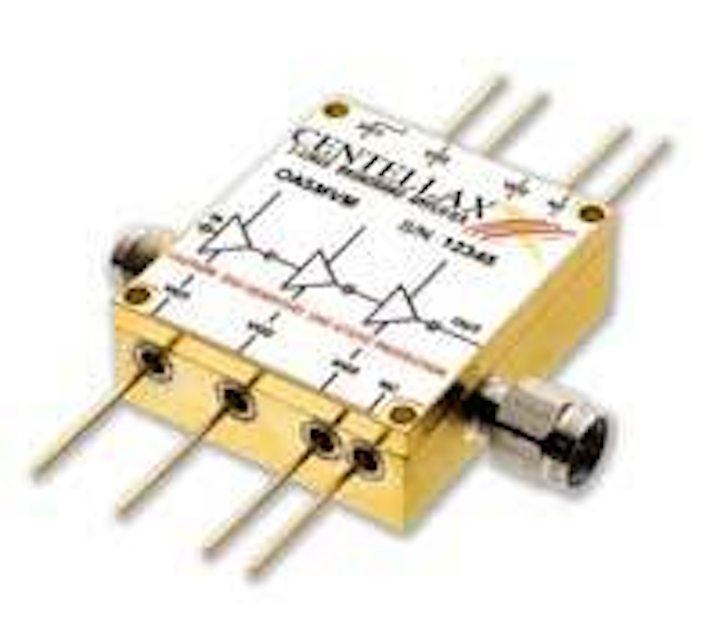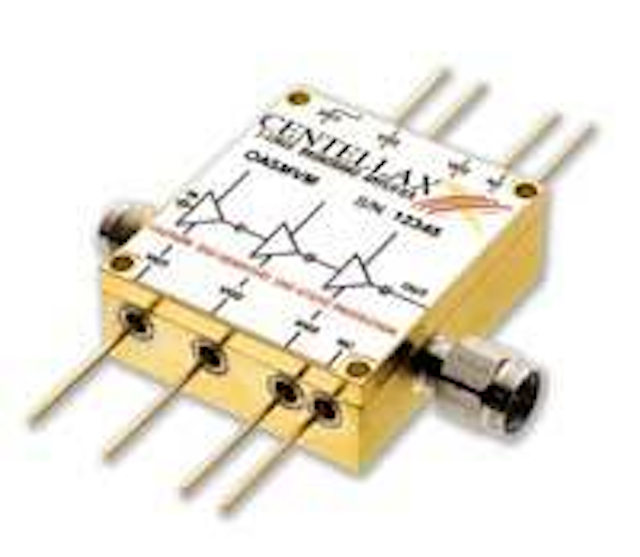 Modulator driver amplifiers
The OA4SMM4, a dual-channel 43-Gbit/sec modulator driver amplifier, and the OA5MVM, an ultrabroadband driver amplifier for 100-Gigabit Ethernet (GbE) applications, operate from DC to 65 GHz for various modulation applications. The OA4SMM4 is designed for electro-optical test equipment and SONET OC-768/STM-256 optical modulator driver applications. It is available with DC bias tee or peak amplitude detector options, but not concurrently. The OA5MVM is designed for 56-Gbit/sec Mach-Zehnder or lithium niobate optical modulator driver applications. Its performance and small size make it suitable for intermediate reach, long-haul, or ultralong-haul network infrastructure design.
Centellax, www.centellax.com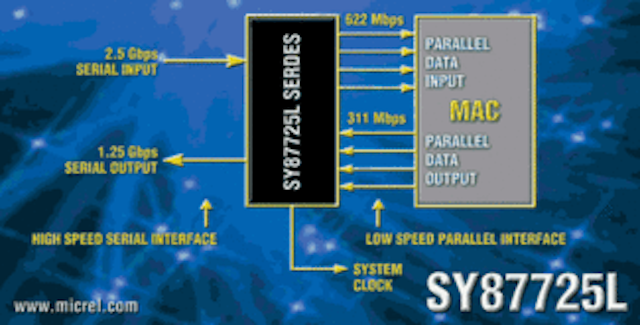 The SY87725L is a single-chip programmable SerDes that supports multiple PON standards and rates including asymmetric gigabit PON (GPON) with data rates up to 2.5 Gbits/sec on the receive side and 1.25 Gbits/sec on the transmit side. The device offers complete clock recovery and data retiming circuitry, along with an integrated 4-bit serial-to-parallel data converter, on the receive side. On the transmit side, it also includes a synthesizer with an integrated 4-bit parallel-to-serial data converter. The device is targeted at BPON/GPON/GEPON/EPON applications in the growing FTTH and FTTP markets. An evaluation board is also available.
Micrel, www.micrel.com
The CX95202 "Xenon-IIIG" GPON and the CX95203 "Xenon-IIIE" GEPON devices are reportedly the world's first family of systems-on-chip (SoCs) for gigabit and gigabit Ethernet PON (GPON/GEPON) residential gateway applications. They are targeted at optical network units (ONUs) used on the client side of FTTP networks. The high-performance devices have a processing capacity greater than 10 Gbits/sec. To ensure interoperability, the Xenon-IIIG and Xenon-IIIE SoCs are based on ITU G.984 and IEEE 802.3ah PON industry specifications, respectively.
Conexant Systems Inc., www.conexant.com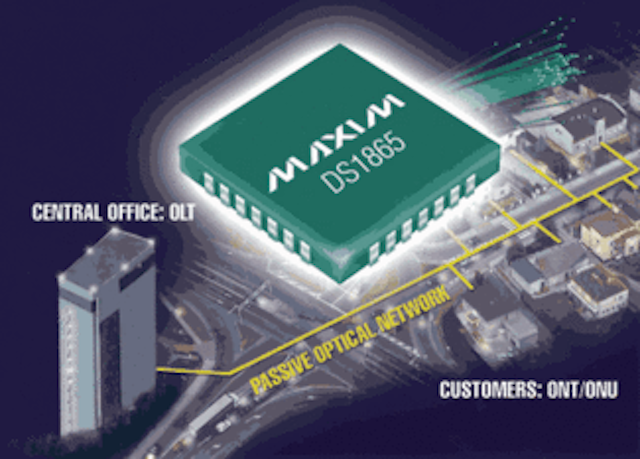 For BPON and GPON triplexer applications, the DS1865 optical control, calibration, and monitor IC integrates GPON power-leveling functionality, a laser bias average-power-control (APC) loop, video amplifier control, and SFF-8472 diagnostic and alarm features. The chip simplifies GPON transceiver design in several ways. The APC loop controls the laser's bias across temperature and aging, removing the requirement for a laser-bias lookup table. The modulation control DAC and APC loop have 8 bits of resolution, and another three levels of scaling: +0, -3, and -6 dB. This scaling ability allows a single register to control the ONU power level. The DS1865 memory map conforms to SFF-8472 specification, making the device simple to use and design in.
Maxim Integrated Products, www.maxim-ic.com
The NT25L31 edge-emitting laser driver and NT25L32 VCSEL driver are designed to support 125-Mbit/sec to 2.5-Gbit/sec fiber-optic transceiver applications for datacom, telecom, and storage markets. Both ICs can be partnered with the company's 125-/155-Mbit/sec receiver chipset, the NT20016 1.25-Gbit/sec TIA, and forthcoming NT24L70 limiting amplifier to form complete Fast Ethernet, OC-3, and GbE transceiver offerings for low-cost 1×9, GBIC, SFF, and SFP products. The chips support both 3.3 V and 5 V legacy markets. The NT25L31 and NT25L32 are manufactured in standard 0.18-µm logic CMOS on 8-in. wafers.
Nanotech Semiconductor Ltd., www.nanosemi.co.uk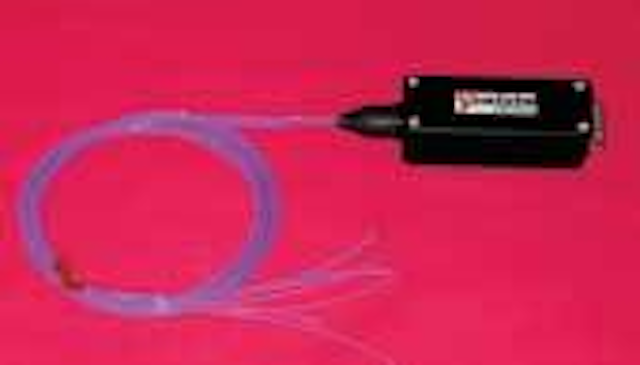 The SA40, an eight-channel saturable absorber module suited for enhancement of 40-Gbit/sec transmission, behaves like a nonlinear mirror to provide noise suppression below a power threshold level, which implies regeneration of the zero symbols in the NRZ and the RZ format. Its absorption recovery time is ~5 psec. The device is available as a component and as a benchtop module. The component version is equipped with a TEC for external temperature control. The benchtop version includes the temperature control electronics of the component and eight circulators, one for each channel.
Yenista Optics, www.yenista.com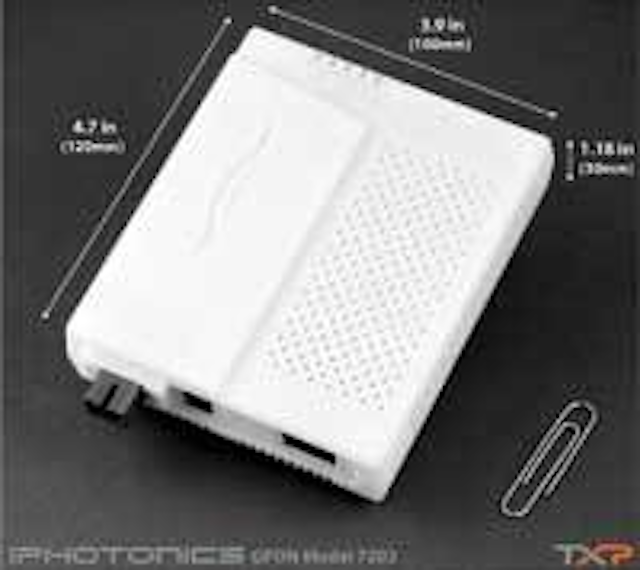 PoE-based GPON ONT
A new 7200G family of miniature power-over-Ethernet (PoE)-based GPON ONTs has been launched. The small size (one-quarter the size of current-generation GPON ONTs) and ease of installation of these new ONTs makes them suited for operators deploying FTTP in multidwelling and single living units that have space limitations. The new models can be mounted indoors and require no tools to install. The 7200G ONTs help service providers deliver up to 1,000 Mbits/sec of bandwidth to end users, providing a single GbE port that supports triple-play IP-based services, including high-speed Internet, IPTV and voice over IP (VoIP). Multiple-port ONT models are expected to be released later this year.
TXP, www.txpcorporation.com
The EtherReach 1000 is a new portfolio of Intelligent Ethernet-over-fiber network terminating equipment intended to address carrier requests for easy-to-deploy and cost-effective managed Ethernet access devices. The EtherReach 1000 series is part of the EtherTone family of carrier-class metro Ethernet access, aggregation, and transport platforms. All EtherTone platforms are MEF9 (UNI) and MEF14 (QOS) certified. Provider Backbone Transport (PBT/PBB-TE) is now supported, as well as traditional Q-in-Q and MPLS deployment options. The products share a common software and hardware architecture to terminate Ethernet over fiber with a mix of different 10/100, 100FX, and GbE interface options. The equipment will help further OAM capabilities by supporting Iometrix's new Cnode software agent technology, which enables carriers to assess their Ethernet network's end-to-end performance for service-level agreements (SLAs).
ANDA Networks, www.andanetworks.com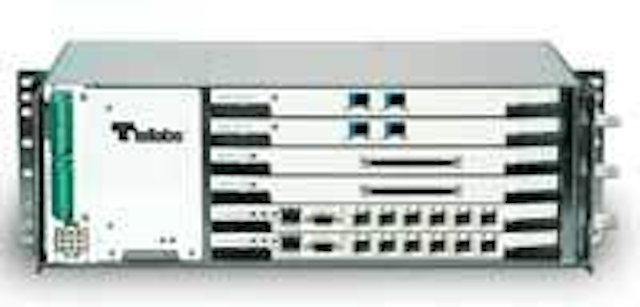 With the Tellabs 1134 multiservice access platform, providers can offer a variety of services, including VDSL2 for high-speed Internet and GPON, which enables movie downloads that take seconds instead of minutes. The platform's small size-it uses only 7 in. of rack space-and low power requirements enable greater flexibility to respond to diverse deployment needs ranging from hundreds to millions of subscribers.
Tellabs, www.tellabs.com
The T-Marc 300 series product line is reportedly the first multiport customer-located demarcation device to provide extensive management and test features for Ethernet, MPLS/VPLS, and IP networks. The T-Marc 300 series supports managed converged services on separate customer interfaces or multiple services on a single customer interface. Because each service is isolated, providers can troubleshoot each individual service without affecting others. Applications are prioritized over different traffic-engineered paths, and multilevel OAM is used to measure and ensure provisioned SLAs are met. AccessMPLS extends a VPLS or MPLS-T domain to the network edge for expanded, integrated multiservice networking. AccessIP provides a managed, provider-provisioned CLE, allowing service providers to administer end-to-end IP services.
Telco Systems, www.telco.com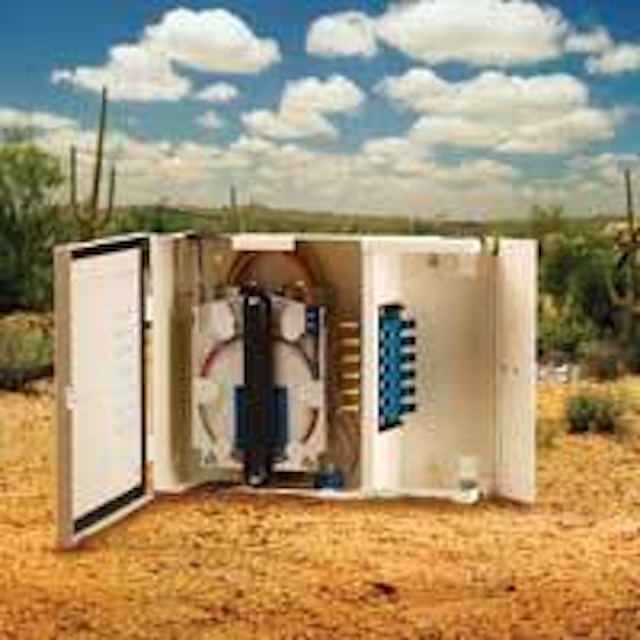 Wall- and rack-mount preterminated cabinets
Customized to each user's specifications, the Axcess Solutions Series features COYOTE wall- and rack-mount preterminated cabinets, designed to reduce installation labor costs. Fiber assemblies are 100% tested and labeled using ISO certified procedures, and each unit is ready for splicing right out of the box. The cabinets provide secure splice protection and interconnection for customer demarcation and remote site applications. For maximum protection, all preterminated cabinets are made from rugged 16-gauge steel, protected with a durable powder-coat finish.
Preformed Line Products, www.preformed.com
Sterlite BEND-LITE (E) singlemode optical fiber, specially designed for FTTX networks and applications, is well suited for triple-play service networks and access network installations that require very small bending radii. The fiber's enhanced bend radius capabilities enable tighter routing, higher fiber density for component design, and deployment of fiber in COs, subscriber equipment, backplane solutions, and premise wiring. It complies with or exceeds the ITU Recommendation G.657B and is designed for high resistance to additional losses due to macro bending at 1,310-, 1,550-, and 1,625-nm wavelength windows.
Sterlite Optical Technologies, www.sterliteoptical.com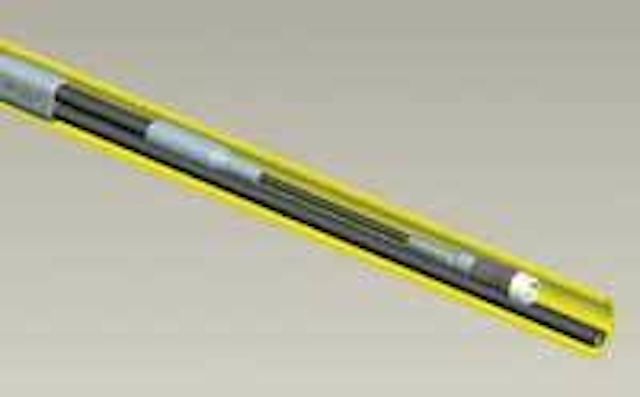 Featuring a rectangular, flat profile and reducing cable preparation time to less than one minute, RPX ribbon cable simplifies the deployment of FTTX networks using the FlexNAP terminal distribution system. The FlexNAP System uses optical fiber cables upon which network access points are pre-installed at customer-specified locations along the length of the cable. The system provides installation speeds up to 85% faster than traditional cable deployment methods. The system is also highly reliable with factory-spliced tap points prepared in a controlled environment and 100% tested. The gel-free ribbon cable is appropriate for both aerial and buried applications, and the slim design allows the distribution cable, tap point, and tether to fit through 1.25-inch innerduct.
Corning Cable Systems, www.corning.com/cablesystems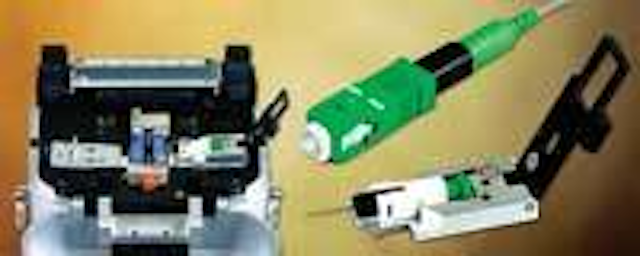 The cross-compatible Lynx CustomFit Splice-On Connector features built-in singlemode fiber, enabling customized field FTTH/FTTP and outside plant terminations. The new method of termination provided by the connector eliminates guesswork in predetermining the length of preterminated jumpers required for a given application, allowing the field technician to customize the termination in the field and ensure quick, accurate, and permanent connectorizations. It also eliminates the necessity and costs of maintaining an inventory of splice trays, matching gels, and varying lengths of preterminated jumpers.
Sumitomo Electric Lightwave, www.sumitomoelectric.com