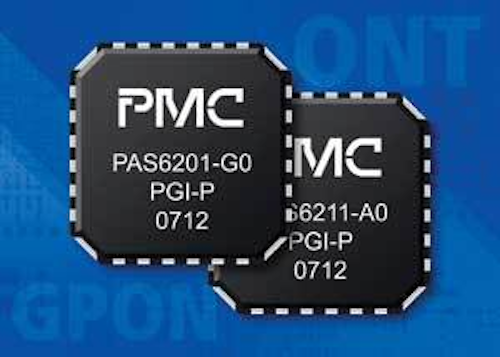 by Stephen Hardy
Verizon's recent rollout of GPON infrastructure, coupled with field trials by Tier 1 carriers in Europe and elsewhere, has firmly established the ITU-T standardized version of PON-based FTTH as a viable market. Chip makers have taken notice; what had once been a niche supported by a pair of vendors suddenly has attracted the attention of a range of companies that are lining up devices based on system-on-a-chip (SoC) approaches. The EPON space hasn't attracted the same number of companies, but the SoC-based competition has been equally fierce. In both cases, differentiation based on features and cost should prove as important as time-to-market.
PONs comprise an optical line terminal (OLT) in the central office that feeds multiple CPE devices (called optical network terminals, or ONTs, in the GPON world and optical network units, or ONUs, in EPON) via passive splitters in between. A single line out of an OLT could serve as many as 64 CPEs, although actual numbers will likely be significantly smaller. Needless to say, that means there's a greater demand for CPE chips than OLT chips.
Thus, it's no surprise that there is also a greater number of chip makers chasing CPE than OLTs as well-or at least looking to provide ONT chips before OLT devices. In the GPON space, that means only a few current alternatives to in-house expertise when it comes to OLT development. BroadLight (www.broadlight.com), which consistently has reached the market first with ITU-T compliant silicon, recently announced a new quad controller SoC for GPON OLTs, the BL3458, that it says will be available next month. The chip consumes approximately 4 W-less than a watt per line, says Dan Parsons, director of marketing at BroadLight-and combines integrated burst-mode CDR (BCDR) and SerDes, a dynamic bandwidth allocation (DBA) engine, an integrated processor, upstream and downstream forward error correction (FEC), and downstream encryption and key exchange. Designed to replace four single-line chip combinations, the IC supports "PON-aware" quality of service (QoS).
BroadLight may be the first to deliver a quad device, but it won't be the last. Iamba Networks (www.iamba.com), which provides technology and IP to companies looking to enter the PON market, announced on May 7 a new family of SoCs that are part of its Iamba GPON Eco-System (iGES). The OLT silicon includes the dual-PON iSL2402 SoC, which is currently available. The iSL2404, a quad-PON SoC, will follow later this year; pin-out and design documentation for the iSL2404 will be released to partners mid-2007. According to Moshe Nattiv, Iamba's chief executive officer, the iSL2404 will feature a power-efficient multicore CPU architecture as well as the entire SerDes and BCDR functionality.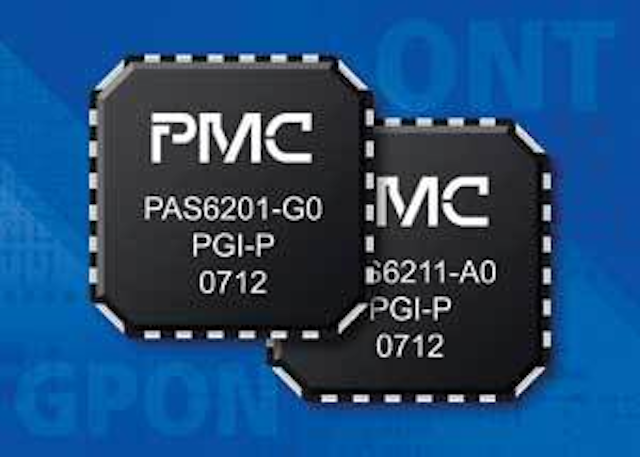 PMC-Sierra's new PAS6201-G0 gives the company a foothold in the GPON market. The chip is paired with the PAS6211.
Other competition looms on the horizon. Dror Sal'ee, director, strategic marketing, Communication Products Division at PMC-Sierra (www.pmc-sierra.com), which entered the PON space through its acquisition of Passavé, touts the PAS5211, which integrates GPON MAC, SerDes, and management functionality, VLAN bridge support, multilevel frame queuing, Ethernet MAC, encryption, DBA hardware engines, and an embedded CPU. It's currently in prototype as an FPGA.
Meanwhile, Cortina Systems (www.cortina-systems.com) has GPON plans for the assets it acquired from ImmenStar. Prior to the acquisition, ImmenStar had announced the Turandot family, which would address GPON OLT and ONT applications. Cortina already had a toehold in the OLT space, thanks to the introduction of a GPON burst-mode SerDes device that vice president of sales and marketing Zino Chair says major system houses are currently evaluating. Cortina plans to integrate the burst-mode SerDes function into the OLT SoC; the resultant quad device will provide superior density, analog integration, and traffic management features when compared with the competition, Chair believes. Cortina has delivered an FPGA version of the device to lead customers. Like the rest of its GPON chip line, the company plans to formally introduce the OLT product either late this year or early next year.
While there's plenty of elbow room in the central office space, things will get significantly more crowded when it comes to the ONT. BroadLight again achieved first-to-market status with the BL2338 for single-family units and the BL2340 for multiple dwelling/tenant units (MDUs/MTUs). The devices feature the "Runner" microcode-based engine for cell/packet service classification, filtering, reassembly, and bridging at speeds necessary to support voice over IP (VoIP) and IPTV. They also include a CPU, two Ethernet MACs, a GPON/BPON MAC, SerDes and CDR functionality, and a GEM interface.
BroadLight will have plenty of competition. Iamba, for example, has been demonstrating interoperability of its iSN1000 in FPGA form for the last 12 months, according to Nattiv. Iamba plans to release the pin-out and design documentation for the ASSP version this summer. The chip features three main modules: a GPON MAC module, the Iamba Triple Play Traffic Pump (iTTP), and the Iamba Multicore CPU Module (iMCM). The iTTP performs QoS and class-of-service functions including queuing, VLAN support, IGMP forwarding, and frame forwarding at full wire speed. The iMCM features several CPUs that handle PON management, voice traffic, DBA, network management, and other functions. The chip also handles all BCDR and SerDes functions on two Gigabit Ethernet ports to accommodate data handoff and interface to MoCA or HPNA devices.
Meanwhile, Freescale Semiconductor (www.freescale.com), BroadLight's primary competitor in the BPON space, has released the SoC it developed with Alcatel-Lucent, the MSC7120. The chip features a CPU designed to deliver 8.5-Gbit/sec peak I/O throughput and a hardwired packet engine for line-rate forwarding of iMix packets, an integrated OMI/CDR, a pair of Ethernet MACs, a GEM MAC, and a 32-bit DDR1/2 memory controller. Unlike the BroadLight and Iamba offerings, the MSC7120 also features an integrated DSP for internal support of four channels of VoIP.
While Alcatel-Lucent enjoyed first crack at the device, other alpha customers also have received samples of the chip, says Suhail Agwani, marketing manager for Freescale's broadband CPE portfolio. General availability will depend on market dynamics, Agwani adds.
PMC-Sierra planted its GPON ONT flag at OFC/NFOEC with a reference design based on the PAS6201-G0. The SoC leverages the design of the company's PAS6201 EPON ONU chips. According to Sal'ee, that means use of the company's GigaPASS architecture, which uses "configurable hardware machines" that perform data processing to support full 1-Gbit/sec line rates. That enables the control processor to handle other functions. The SoC performs QoS queuing, packet classification, VLAN bridging and manipulation, and IPTV filtering and features an internal Ethernet MAC. The GPON SerDes and framer functions reside in a companion chip, the PAS6211. Both the PAS6201-G0 and PAS6211 are sampling now.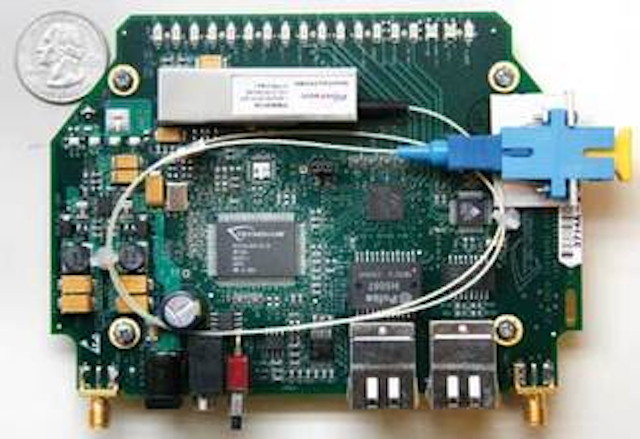 The Teknovus TK3714 ONT chip supports both 1.25- and 2.5-Gbit/sec downstream traffic so carriers can upgrade their downstream speeds without having to change each ONU.
Cortina Systems, as mentioned previously, matches its OLT work with chips for CPE. The company has both single-family and MDU devices on its roadmap. Traffic management capabilities again will prove a significant point of differentiation, Chair believes, as will the devices' integrated switching capabilities. Like the OLT offering, formal announcement is expected either late this year or early in 2008.
Conexant (www.conexant.com) believes it will trump all of these companies with the Xenon IIIG CX95202. The chip, which debuts this month, combines GPON ONT and home gateway functions into a single device, according to Rajiv Dighe, director of PON products at Conexant. Full details of the device were not available at press time; however, Dighe did say that the chip will contain a "deep classification engine," accommodate four voice channels, and support bridging and multicasting at full line rates. It also will provide "complete" Layer 3 capabilities supported by an integrated hardware accelerator "so you can get Layer 3 performance at hundreds of megabits, while the Layer 2 performance is at full line rate," according to Dighe. Conexant expects to have samples of the chip in customers' hands at the time of its announcement, and hopes to have the device in production either late in the third quarter or early in the fourth quarter of this year.
Several other companies also reported having such a device on their product roadmaps; competitors to the CX95202 should emerge quickly. In the meantime, Dighe says the company also plans to introduce a GPON OLT SoC in the future.
Six GPON ONT sources would seem to be enough to give system designers plenty of choice. However, more companies have announced their intention to enter the field. Mindspeed Technologies (www.mindspeed.com) announced this past February that it would collaborate with PON systems supplier Terawave Communications (www.terawave.com) to create an ONT SoC for the general market. The chip will debut later this year; Preet Virk, vice president of marketing for the multiservice access unit at Mindspeed, says the Comcerto 200 will integrate a GPON PMA (SerDes), optical interface, and GPON MAC functions with support for DBA, encryption, and FEC. It also will include an approximately 8-Gbit/sec nonblocking Ethernet/GEM switch, two Gigabit Ethernet MACs, and a processor. The SoC will support IPTV HW-IGMPv3 snooping and proxy.
Meanwhile, several sources have their eye on Infineon (www.infineon.com) as a potential competitor. The company currently remains cagey about its plans. "As a broadband player, we are heavily interested in the PON business," says Imran Hajimusa, vice president for communications access, North America, at Infineon. "There is nothing that has been commercially announced, but we are interestedly watching this market."
With all these companies jumping into the GPON market, it should be noted that at least one has departed. According to Mitch Kahn, AMCC's (www.amcc.com) vice president of marketing for transport products, the company had developed a GPON MAC. But a closer look at the market revealed rapidly declining average selling prices, which made the business case for fully entering the market questionable, particularly considering the number of competitors. Kahn says AMCC has decided to wait and see if the market evolves in a more attractive way.
Compared with the activity on the GPON end of things, the EPON space appears pretty quiet. Most of the activity here involves developing devices compatible with the different versions of Asian EPON-Japan and China have slightly different standards, with much of the differentiation centered around encryption.
PMC-Sierra/Passavé got its start in EPON, where it enjoyed considerable success. The PAS5201 is its flagship EPON OLT device. The chip meets China Telecom's specifications, but can also be used in the Japanese and Korean markets, according to Sal'ee. The single-channel unit integrates an Ethernet MAC, EPON management, packet classification (including support for VLANs, video with IP multicast, IPv4, and IPv6), FEC, encryption, programmable DBA, and an embedded CPU. Sal'ee points to the FEC feature as an important differentiator. PMC-Sierra pairs the device with the PAS6301 ONU chip, an SoC that integrates MAC functionality with SerDes, FEC, Layer 2-4 classification, and an embedded CPU. The aforementioned PAS6201 preceded the PAS6301 to market; like the PAS5201, the PAS6301 meets China Telecom specifications but can be used in a variety of markets.
PMC-Sierra's main competition in EPON has come from Teknovus (www.teknovus.com), which also has seen its chips deployed in Japan, Korea, and China. On the OLT side, the single-port TK3721 MAC controller integrates EPON and Gigabit Ethernet MACs and an ARM processor for bandwidth provisioning, among other duties. The chip provides service policy, security, and authentication management as well as DBA control.
The company provides a variety of devices for CPE. The TK3715 complies with China Telecom's specifications. It derives from the previously released TK3713, which Teknovus has optimized for IPTV. The TK3713 contains an EPON MAC, SerDes, line-rate Layer 2/3/4 classification and filtering, a switch, bidirectional encryption, FEC, integrated packet buffering, two subscriber ports, and an embedded processor. It supports 40 fully configurable queues (20 in each direction) and VLAN services.
The Teknovus TK3714 ONT chip is unique in that it supports both 1.25- and 2.5-Gbit/sec downstream traffic. Designed for carriers who envision upgrading their downstream speeds without having to change each ONU, the "Turbo" device has been deployed in KDDI's network, according to the company.
But the race for design wins in EPON involves more than two competitors. ImmenStar had already released a suite of EPON products, the MuLan line, before Cortina Systems acquired it. The chip family, which has been deployed in Japan, included the IS8020 quad-port and IS8030 single-port OLT chips and the IS8010 and IS8015 ONU chips. The IS8010 was optimized for use with ImmenStar's OLT chips, while the IS8015 was designed to be interoperable with OLT chips from other vendors. Chair says that EPON systems using versions of the chip family for the Chinese market are currently in certification trials with China Telecom.
Conexant, meanwhile, will complement its GPON ONT/gateway chip with an EPON version, the Xenon IIIE CX95203. (EPON OLT SoCs also are in the company's future.) The device is on the same development schedule as the GPON device. Dighe says versions optimized for the major Asian markets will be available. The company also has the CX9520X Xenon II family of EPON ONT chips, which it announced in March 2006. The line supports single-family, MDU/MTU, and FTTN applications. The ICs are designed to provide VoIP and IP multicasting support, among other functions.
Finally, Centillium Communications Inc. (www.centillium.com) recently expanded its EPON offerings to include the Mustang 300 SoC for ONUs. The chip supports traffic management, classification, and filtering for up to 256 multicast groups and up to eight different service types, which Centillium asserts is the highest in the industry. Available now, the Mustang 300 integrates all packet buffer and program memories; the MIPS processor has 192 kbytes of memory, and 1 Mbyte of internal packet buffer memory is included as well.
The Mustang 300 complements Centillium's OLT device, the Colt CE 100. The single-line device integrates an 802.1d bridge, SerDes, CDR, and CPU; it also supports DBA, VLAN, IGMP snooping, and encryption at wire speed.
Stephen Hardy is the editorial director and associate publisher of Lightwave.