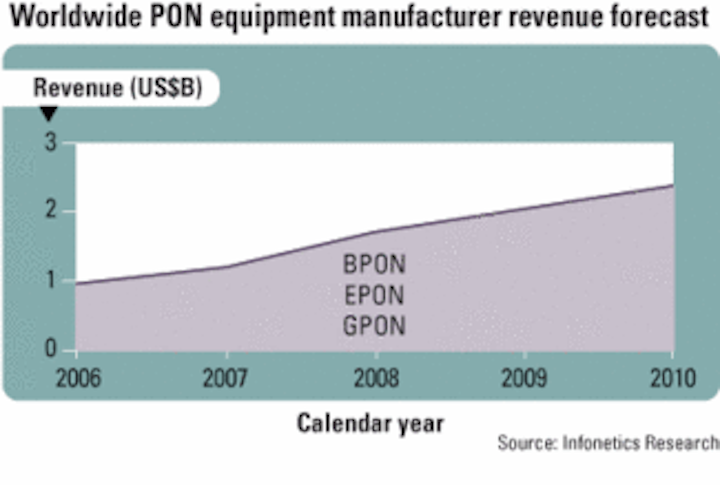 Worldwide passive optical network (PON) equipment sales sequentially grew 12% in the fourth quarter and 71% in 2006, reaching $308 million and $965 million, respectively, says Infonetics Research in its latest "PON and FTTH Equipment and Subscribers" report.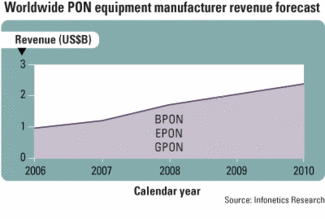 BPON equipment sales are "tanking," says the company, while EPON and GPON sales are growing rapidly. GPON equipment revenue and ports are forecasted to grow at triple-digit five-year compound annual growth rates (CAGR) between 2006 and 2010. Healthy EPON and GPON sales will continue fueling growth in the overall PON market, which is forecasted to reach nearly $2.4 billion in 2010.
"Service providers of all shapes and sizes are pushing fiber deeper into their access networks to support the demand for video, online gaming, P2P networking, and other bandwidth-intensive applications," explains Infonetics Research analyst Jeff Heynen. "GPON and EPON for both FTTH and FTTB [fiber-to-the-business] applications continue to increase, as does Ethernet FTTH, which has become the preferred technology for smaller, North American operators as well as for cities, municipalities, and a growing number of competitive operators in EMEA," he adds.
Worldwide active Ethernet equipment revenue jumped 58% and port shipments jumped 54% in 2006, says the report. Both are expected to grow in the double digits yearly through 2010.
Mitsubishi maintains its strong lead in worldwide EPON revenue and port market share, followed by Sumitomo and Fujitsu. Tellabs, meanwhile, has maintained its commanding lead in worldwide BPON revenue and port market share, followed by Hitachi and Motorola.
For more information about the report, visit Infonetics on the web at www.infonetics.com.