PON chip makers await competition
Aug 1st, 2004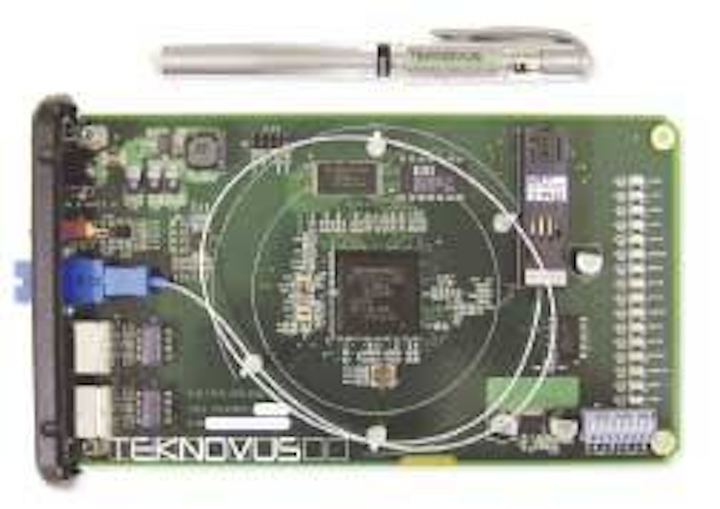 The growing interest in passive optical networks (PONs) among systems vendors has caught the attention of IC providers. Five companies currently provide standard chips, with others expected to join the hunt for design wins.
On the ATM side, BroadLight (Mountain View, CA) finds itself paired against Freescale Semiconductor (the spinoff from Motorola headquartered in Austin, TX). For systems designers interested in Ethernet PON (EPON), the vendor choices currently include Passavé (Santa Clara, CA), Teknovus (Petaluma, CA), and Centillium Communications' Optical Business Unit (Fremont, CA).
BroadLight is the only company of the five to offer ICs, software stacks, and optical transceivers for PON. The company was first to market with a standard media access controller (MAC) for optical-network terminals (ONTs), the systems that reside at the customer premises. It recently added the XL230 controller, aimed at optical-line-terminal (OLT) equipment in the central office.
The new device supports "extended BPON," an ITU-T-approved extension of the basic ATM-based ITU G.983 PON recommendation. The extension boosts downstream bandwidth to 1.25 Gbits/sec, rather than the 622 Mbits/sec common to BPONs—ATM-based "broadband PONs." The device is currently sampling.
BroadLight has several big-name customers, including AFC (which Verizon selected as its PON supplier) and ECI Telecom (which British Telecom will use as a PON supplier for its 21st Century Network initiative). Others include Siemens, Calix, Zhone Technologies, Ciena (via Catena Networks), and Entrisphere (an ONT vendor).
The fact that most of these companies provide a wide range of communications equipment isn't an accident, according to BroadLight chief executive Andrew Vought and products vice president and founder Didi Ivancovsky. The company has focused its efforts on such systems vendors. "While the very earliest installs of FTTP in America come from what I would call relatively small boutique system houses, because they have the knowledge, our belief is that is probably going to change pretty quickly," offers Vought. "In fact, the deal between AFC and Verizon in and of itself means that the center of gravity for BPON installed in North America has gone away from these small boutique companies, which frankly have a relatively high cost structure."
Freescale, meanwhile, has provided both semi-custom and standard products. Its latest offering, the MPC8340 BPON for ONTs, combines the attributes of its MC92701 BPON device announced last year with its e300 core (a PowerPC processor core design), Ethernet MACs, and clock and data recovery. Thus, while most ONT MACs require a communications processor— frequently one of Freescale's PowerQuicc devices—the MPC8340 BPON integrates that function plus several others into a single unit, according to Niket Jindal, business development and marketing manager at Freescale's SemiCustom Operations.
The IC is squarely aimed at the Japanese market, where more BPON lines—or PON lines of any sort—are being deployed than anywhere else in the world. While BroadLight stresses its ability to provide standard devices from one end of the network to the other, Jindal says that Freescale's read on the Japanese market is that such breadth is unnecessary. "Our approach in Japan has been to work together with the OLT providers for interoperability," he explains. "And since there is interoperability in Japan, there is less of a need—almost no need—for a standard product OLT."
Which is not to say that Freescale has no expertise on the OLT end—just that this experience has involved developing semi-custom offerings. Jindal sees this approach continuing. "Equipment providers will be wanting to provide something that can't be replicated by everybody. So we'll continue to offer these semi-custom devices to this type of equipment provider," he says. "When the markets get large enough that the open market needs standard products, we're committed to offering standard products as well."
According to Allan Armstrong, program director of communications semiconductors at market analysis and consulting firm RHK (South San Francisco), Freescale's integrated offering should carry weight in the market. "I think when [Freescale] can reduce the number of chips in a piece of CPE, that is pretty hard for BroadLight to compete against," Armstrong explains. "So I would agree that BroadLight had a headstart—they got here first. So probably they have more account relationships. But in the long term, they've got a pretty serious competitor."
On the Ethernet side, the pattern is much the same. Passavé reached the market first with MACs, and Teknovus and Centillium are offering integrated devices in an effort to cut into Passavé's first-mover advantage.
Passavé clearly leads in market share—it announced in May it had shipped more than 500,000 ports of EPON silicon and had "a base of 20 paying customers," according to a February press release. The company announced a partnership with UTStarcom at SuperComm. It offers devices for both the OLT and ONT: the PAS5001 for the former and PAS6001 for the latter. The two devices comply with the IEEE 802.ah Ethernet in the First Mile standard. The company also offers OLT and ONU reference designs.
While he is aware of his competition, Passavé marketing vice president Dror Sal'ee is comfortable with his company's position. "We are a year ahead of everyone else in this market," he said at SuperComm. "By the time they catch up, we'll be on to something else."
That something else will likely involve additional integration of analog and CPU functions for cost reduction as well as "next-generation" PON functionality, he added.
The integration focus may be necessary to hold off Teknovus and Centillium. Of the two, Teknovus has been in the market longer, with its new TK3721 OLT chip and older TK3701 ONT device; both ICs are shipping. Fiberhome Networks and Salira are among the company's customers.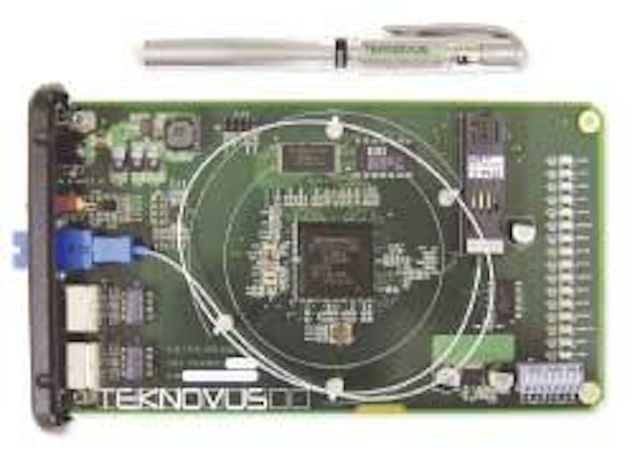 Integrated chipsets reduce cost and footprint, leading to small, economical optical-network terminals. Photo courtesy of Teknovus
According to president and CEO Gerry Pesavento, Teknovus differentiates its offerings based on performance and integration. For example, the ONT device offers integrated PHY, serializer/deserializer, microprocessor, rate-limiting VLAN switch, filtering, shaping, encryption, EPON engines, and other functions. That means customers need little more than the Teknovus chip and an optical transceiver to create an ONT (see Photo). "That's what's needed for success in fiber access—you need a box that has a bill of materials certainly less than $50, because basically you're taking the third step beyond DSL and cable," says Pesavento. He adds that the ability to support quality of service offerings also differentiates Teknovus from the competition.
Centillium is the most recent entrant to the market. Its product family includes the Colt OLT and Mustang ONT systems-on-chip, two transceiver chips (Zeus for burst-mode operation and Apollo for continuous-mode), and the Unicorn broadband services processor. According to Armando Pereira, general manager of Centillium's Optical Business Unit, while Zeus can be applied to BPONs, the company is focused on the EPON market. Pereira says the company has a very close relationship with NTT in Japan—it's supplying dynamic bandwidth allocation technology for use with a competitive chip. The Apollo device is currently available, while the other ICs should be ready for sampling this quarter. OF Networks—a joint venture between Oki Electric Industry and Fujikura—has selected Centillium's devices for its system, which is targeted at the Japanese market.
In Armstrong's view, the EPON side of things is very much up for grabs. "Everyone concedes that Passavé has a ton of design wins. Teknovus's chip is definitely more sophisticated, and if you look at just the two of them, without Centillium in the market, then Passavé has some problems to deal with, because Teknovus has integrated many functions that Passavé hasn't," he says. "But I think Teknovus is at risk of being marginalized by Centillium, because Centillium is doing the integration play; they're also public so there's more certainty in dealing with a public vendor, and they also have, in addition to the MAC chip, a voice over IP processing chip and they've got the PMD ICs for burst-mode modules. So they have a more complete product line. They also have very strong relationships in Japan."
Each of the sources contacted for this article expect more semiconductor companies to enter this space—and their expectations should be met no later than next quarter, when Infineon plans to announce its entrance into FTTX. According to Cyrus K. Namazi, senior director, marketing and application engineering, access products, Infineon hopes to marry a new offering with its DSL products to support fiber to the curb and, in some applications, home. A MAC may make initial sense, but Namazi says an integrated approach represents "an evolutionary step."
The lack of mainstream IC vendors in this space besides Freescale and eventually Infineon derives from a combination of market size and timing, according to Armstrong. "I think partly because of the downturn the IC business has been caught by surprise here. And it's probably a good time for people to start to invest," he says. However, companies shouldn't look for a huge payout in the near-term. "Even now, it's a long time to money. The business isn't huge yet—it's got to grow," Armstrong explains. RHK currently puts the PON IC market at about $165 million by 2009. While that doesn't appear large in comparison with other areas, he points out that the market will still be ramping up at that time, while markets such as DSL will likely have begun to plateau.
The chip vendors currently in the space feel they're in a good position to ward off additional competition. "We feel that the larger players...[are] finding themselves several years behind in the development of these chipsets," says Pesavento of the EPON chip opportunity. "And when you look at that timescale of development, that's a lot of market that you're letting go before you can get to market. The nice thing for companies like Teknovus is that the design windows on equipment are open now."