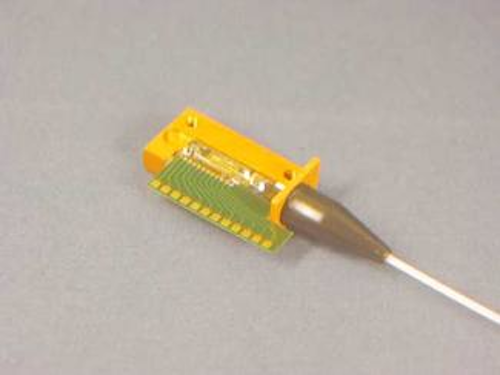 Planar-lightwave-circuit (PLC) technology has become a common element of triplexer and diplexer designs for PON transceivers. As is the case with other applications of the technology, the hope is that PLCs will provide a path for integration of multiple PON optical-transceiver functions into the same wafer. In particular, several vendors have attempted to replace discrete thin-film filters with gratings-based designs implemented within a PLC waveguide. Enablence (Ottawa, Ontario) claims to be the first to succeed in this endeavor in a form that provides both adequate performance and ready manufacturability. The company's new EPON diplexer, now sampling, represents the first of several products on the Enablence roadmap that will use this technology.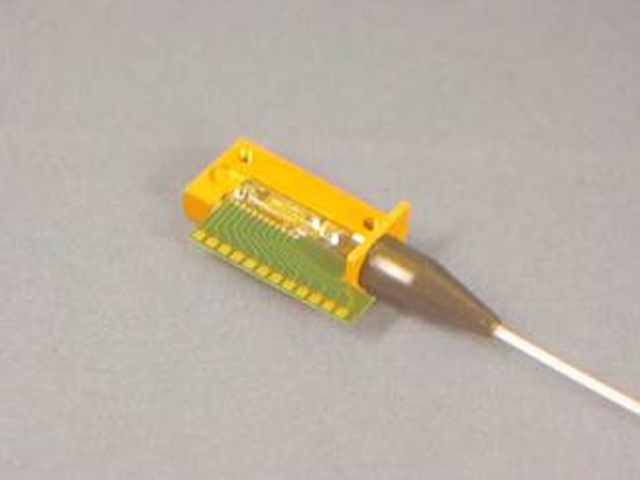 Enablence has begun
sampling an EPON diplexer with the necessary filter functions implemented within a PLC waveguide.
According to CEO Arvind Chhatbar, the company was founded in 2003 and worked closely with NKT Integration, which also was active in the PLC-based PON transceiver space, as well as Samsung. When NKT exited the business last November, Enablence bought NKT's PLC fab in collaboration with Ignis Photonyx, which purchased NKT's PON product line.
The success of Enablence's integration strategy positions the company favorably against such competitors as NeoPhotonics and Xponent, Chhatbar believes. Xponent may have an edge in packaging, Chhatbar concedes, but he asserts that integration ultimately provides a better road to cost reduction in the long term.
That integration highway is paved with the company's Dispersion Bridge grating technology. According to information provided by Matt Pearson, Enablence's director of product development and acting CTO, the reflective grating technology is similar to Eschelle gratings but with changes to the shape of the grating teeth. The length of all nonreflecting structures is kept shorter than incoming light wavelengths; that reduces the polarization-dependent loss to <0.2 dB. At the same time, wide reflecting facets enable the grating to be patterned using standard contact lithography. Higher-order corrections made to the shape of each tooth minimize coma, aberration, and astigmatism. The gratings support a free spectral range of at least 400 nm, Enablence asserts. Pearson says the filter will accommodate wavelengths from 1300 to 1500 nm, a range that encompasess the wavelengths of interest for PON applications.
The company uses a spot-sized converted laser diode and a photodetector with an integrated backside reflector. Both devices can be bonded to the PLC via flip-chip processes and passive alignment. Laser-to-waveguide coupling loss is typically between 2.5 and 3.5 dB. The company is using Fabry-Perots for its initial offerings, but Pearson says DFBs for GPON applications can be readily accommodated.
Enablence has sampled the EPON diplexer optical subassembly to both transceiver vendors and system houses, Chhatbar says. In addition to the Dispersion Bridge filter, the device features an on-chip transimpedance amplifier and capacitor. The diplexer operates from -40° to +85°C, with a module power consumption of 1.5 W. The bending radius of the pigtail currently is 30 mm minimum, although a pigtail with a lower bending radius is under development.
The subassembly supports the full EPON symmetrical 1.25-Gbit/sec rates, with an optical average transmitter power of 4 dBm maximum, 0.5 dBm typical, at -40° to +75°C. The optical-receiver sensitivity for bit-error rate@10-10 is -24 dBm.
A triplexer version of the optical subassembly as well as devices for BPON and GPON are under development. The company has preliminary data sheets for transceivers as well as subassemblies, with photos of an SFF diplexer device and packaged triplexer transceiver under the name "E400 series." Chhatbar says the company currently is focused on optical-network-unit/terminal devices. He adds that TO-can component suppliers have approached him about partnerships, which would provide another avenue to the market.
The company has its eyes on other markets besides the access space. According to Pearson, a CWDM receiver and transmitter are on the drawing board, with the former perhaps ready for market in the first half of next year.