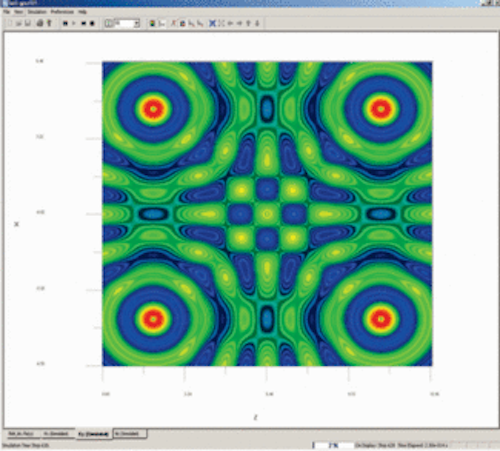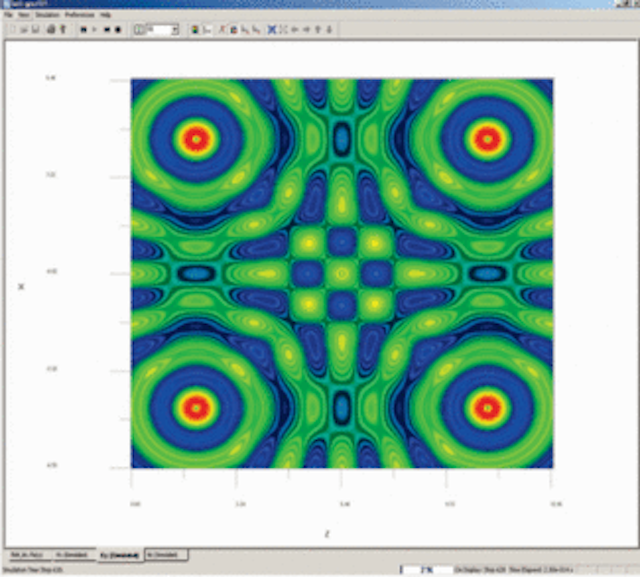 For the design and simulation of advanced passive and nonlinear photonic components, OptiFDTD 6.0 is a robust simulation package providing advanced modeling capabilities to meet the complex design needs of photonics and bio-photonics engineers. Features include the ability to assign point sources in a design environment and facilitate symmetric or periodic layouts using the periodic boundary condition. Powerful automation features allow users to create their own custom scripts and execute time-saving operations to fully optimize their simulations. In light of the growing interest in using the finite-difference time-domain (FDTD) method for the design and application of photonic crystals, components, and nano-devices, research scientists have the flexibility to fully automate complex simulations and dynamically monitor post-simulation data without sacrificing crucial CPU power.
Optiwave Systems, www.optiwave.com
SYSTEMS
The IP-based Multimedia Access Platform allows service providers to deliver high-bandwidth video/IPTV, VoIP, and multimedia services on a mass market scale. It supports DSL services, FTTH/FTTX, and WiMAX wireless broadband in a single frame. Service providers can introduce multimedia or "blended lifestyle" services that combine voice, video, and data capabilities and deliver them to consumers or business customers anytime, anywhere with guaranteed end-to-end QoS. Based on the AdvancedTCA standard and Linux software for service providers to deliver interactive IP multimedia services over a wide variety of networks, the platform supports broadband services over copper, fiber, and wireless. Operators can support ADSL2+, VDSL2, IEEE 802.3ah, EPON, and ITU G.984.x GEPON at varying upstream and downstream line rates, point-to-point, Ethernet, and WiMAX capabilities (based on IEEE 802.16e). Built-in hardware support for IPv6 lays the groundwork for future IP network evolution. The platform's blade architecture also makes it easy for service-provider customers to integrate additional capabilities or expand capacity easily by simply adding new cards.
Lucent Technologies, www.lucent.com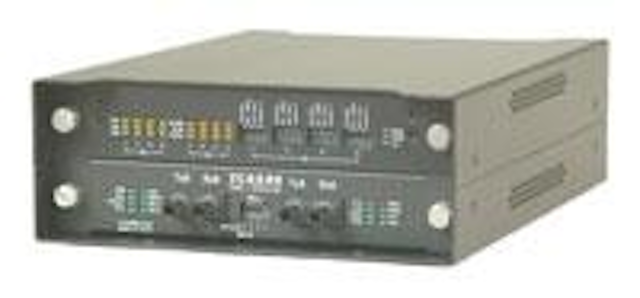 The TC8530 Ethernet and serial data mux multiplexes one 10/100-Mbit/sec Ethernet and four channels of RS-232, RS-422, TTL, or dry contact interfaces over singlemode or multimode fiber. A "one fiber," two-way communication option doubles existing fiber usage. IEEE 802.3/802.3u/802.3x-compliant, the multiplexer supports distances to >100 km and offers redundant power and optics, including automatic switchover features for maximum reliability. It comes in an "industrial-hardened" (-40° to +80°C) version for extreme environments. The Ethernet port auto-negotiates at 10/100 Mbits/sec with full 10-Mbit/sec throughput and enables rate control in increments of 32 kbits/sec. Ethernet rate control is optional. Setup, diagnostics, and control are accessed via serial terminals, Telnet, or SNMP management ports.
TC Communications, www.tccomm.com
For the networking and processing of video programming for delivery to FTTP access networks, the BMR broadband multimedia-service router combines platforms located at super-headend, video hub office, and video serving office facilities. It is designed for control of channel lineups of content from disparate sources, reliable transport between facilities, insertion of local advertising, and performance of network edge processing required for reception by popular analog and digital subscriber devices. The router can finalize lineups at video serving offices typically based in central offices, including accessing public, educational and government programming; switching to emergency alert services when necessary; and geographically targeting advertising. This content can be multiplexed with programming transported from the other telecom facilities, which have their video quality and availability enhanced by network edge de-jittering and reliability automated by redundancy triggered when problems are encountered with particular feeds or transport links. In addition, the edge-based routers are designed to distribute directly to standards-based TVs and set-top boxes by decoding content for analog delivery with modulation and upconversion of both analog and digital programming.
BigBand Networks, www.bigband.com
TEST EQUIPMENT

The N2X performance analyzer validates and debugs EPON implementations and quickly brings EPON services into operation. Incorporating native EPON-specific test capabilities, the analyzer generates realistic end-to-end traffic through an EPON and monitors both data and control protocol traffic directly on the EPON. It isolates the source of EPON performance issues to either the ONU or OLT. Engineers can use the trigger, filter, capture, and decode capabilities on the test system to analyze and isolate the specific causes of performance or protocol conformance issues. The analyzer also inspects Ethernet OAM flows to debug vendor-specific settings, providing fast time-to-insight in finding the source of performance problems. It can also simulate realistic triple play services by generating subscriber and network traffic from end to end; verify dynamic bandwidth algorithm behavior across the EPON by monitoring the MPCP and Ethernet OAM flows in each direction; and measure control protocol and message timing to ensure compliance to the IEEE 802.3ah specification.
Agilent Technologies, www.agilent.com
INSTALLATION
Providing single-action cleaving for handheld and benchtop use, the Fitel S325A fiber cleaver combines all four steps of a proper fiber cleave into a one-step button press that engages all four actions: applying tension to the fiber, scoring the fiber, precisely breaking the fiber, and disposing of waste fiber. The resulting increase in speed and ease of use makes the cleaver suitable for FTTH/FTTX and LAN installations. The cleaver features a wide lid-top for easy fiber loading and an integrated high-capacity waste fiber chamber. It can precisely cleave single fiber with its single-fiber adapter or cleave up to 12-fiber ribbon utilizing fiber holders.
Furukawa America, www.furukawaamerican.com
For long-haul, metro, local access (DSL, HFC, mobile wireless backhaul), and FTTP feeder and distribution networks, the 2178-XSB rugged, compact fiber-optic splice closure can withstand the most severe conditions of moisture, vibration, and extreme temperatures. It is easily re-enterable to allow access to splices as well as the addition of drops or small-diameter cables and can be installed in any outside environment. Specifically designed only for butt-splicing applications, the closure has three cable entry ports (two 1-inch ports and one 1.4-inch port). The multiport grommets, which accommodate flat, round, and various diameters of cable, provide for simple, flexible, and futureproof drop or small-diameter branch cable additions. The maximum single fusion and mass fusion splice capacity is 48 fusion and 144 ribbon fibers.
3M Telecommunications, www.3m.com
Components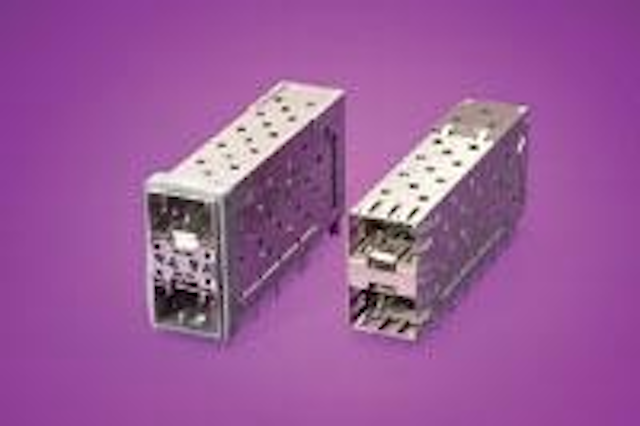 For storage and networking applications, including hubs, routers, servers, and switches, the SFP stacked multiport connectors offer high port density with complete integration of stacked 20-circuit SFP connector ports within a cage. An integrated light-pipe option provides port status indication and activity feedback. High-speed contact design meets 4.25-Gbit/sec SFP requirements and accommodates speeds up to 10 Gbits/sec. The connectors have five port configurations (2×1, 2×2, 2×4, 2×5, and 2×6) and come in two heights. The medium height of 25.5 mm (1.004 inches) meets industry standards and is consistent with the stacked multiport modular jack design. The tall height of 29.3 mm (1.154 inches) is designed for 1U applications and is only available in the 2×1-port configuration. The connector's modules when inserted are oriented belly-to-belly to ease module removal from the port. Integrated light-pipes support mono- and bi-color SMT LEDs. The connectors accept SFP MSA-compliant modules, allowing installers to configure and upgrade high-speed Ethernet and Fibre Channel ports.
Molex, www.molex.com