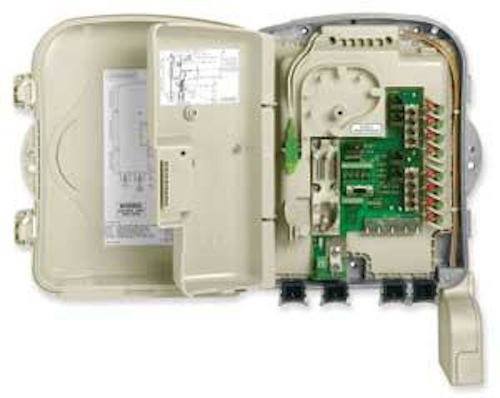 The PON equipment vendors were out en masse at SuperComm 2005 last month, all fighting for a share of what is expected to be a $2.2-billion global market by 2008. Some companies demonstrated BPON interoperability, others touted EPON and GEPON, and still others espoused the benefits of active point-to-point networks. That said, the big story by far was the prevalence of GPON announcements at the show, as Alcatel, FlexLight Networks, Wave7 Optics, Optical Solutions, Terawave Communications, and Tellabs all offered insight into their GPON plans.
Even before SuperComm, the recently standardized ITU-T G.984 GPON technology achieved a key milestone when the RBOC trio of BellSouth, SBC, and Verizon released an RFI on various PON architectures. Its title, "GPON RFI" leaves little to the imagination.
"Although it looks like battles are still occurring, I think the war is already won," contends Michael Howard, principal analyst and co-founder of Infonetics Research (San Jose, CA). "There are already a lot of hints about it, and I believe by this time next year, we will know that SBC, BellSouth, and Verizon are going GPON."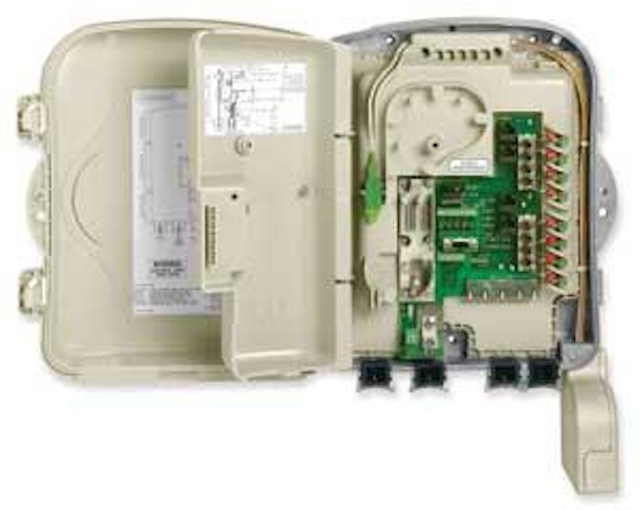 Siemens recently unveiled its BPON line, including the MDU option above. Though carriers likely will begin deploying GPON products next year, BPON technology will continue to be leveraged in carrier networks.
ATM-based BPON accounts for 81% of North American PON revenue, according to Infonetics. But BPON's hold on the market should continue only through next year, at which point the GPON equipment will be more readily available. So why the switch? If the vendors' presentations at SuperComm are any indication, the migration to GPON seems to be driven by two key factors: competition and necessity.
The biggest motivating factor behind the RBOCs' decision to provide GPON is the formidable competition they face from the cable multiple systems operators (MSOs). The RBOCs must offer top-line revenue services, including IPTV and video on demand, to entice customers to sign up for their broadband service offerings. BPON technology tops out at 622 Mbits/sec downstream and 155 Mbits/sec upstream, only enough to carry a few channels of standard-definition TV. Emerging IPTV applications will exhaust this capacity in short order.
GPON, by contrast, provides 2.4 Gbits/sec downstream and 1.2 Gbits/sec upstream at wire speed. "Not only is this twice as much bandwidth as any other PON offering today, but it's done in such a way that customers actually have use of all that bandwidth," explains Matt James, senior marketing manager for Alcatel's access products division. "There's not a situation where there's a certain line-rate bandwidth and then a significantly lower usable bandwidth. So you have a tremendous amount of bandwidth that you can get to subscribers at distance-20 km or roughly 12 miles."
GPON also provides a migration path for carriers looking to leverage their installed base of BPON equipment since GPON supports Ethernet, IP, and ATM traffic. Carriers can use GPON technology to stream video over IP or on a separate analog wavelength.
Necessity also drives the migration to higher-speed GPON; carriers will need the additional capacity to satisfy the bandwidth demands of a new generation of wired Americans. According to Tellabs (Naperville, IL) representatives, the "Echo Boomers"-the children of the Baby Boomers born between the years 1980 and 1995-comprise nearly one-third of the total U.S. population. Eighty million strong, the Echo Boomers are the first to grow up with computers at home in a world where 100-channel TV is the norm.
The folks at Tellabs conducted a survey of SuperComm attendees to gauge the industry's confidence in the service providers' ability to deliver high-speed services like IPTV. According to the survey, 83% of the respondents believe traditional telephony providers will emerge as viable competitors to the cable MSOs for video service delivery. Moreover, 75% of respondents indicate that this competitive gap will close in less than three years.
All of which bodes well for the GPON vendors, which used SuperComm as a showcase to prove they can deliver the goods. For example, Alcatel (Paris) launched its 7342 GPON product as part of its existing Intelligent Services Access Manager (ISAM) family. The 7342 ISAM FTTU shares the same platform as the company's 7302 ISAM DSLAM and 7330 ISAM FTTN platforms. All management and field practices are the same, enabling Alcatel customers to migrate from their current BPON equipment to the standards-based GPON offering as they require the additional bandwidth and scalability.
FlexLight Networks (Kennesaw, GA) continues to tout the benefits of GPON. According to chief marketing officer Gary Lee, FlexLight was instrumental in developing the GPON technology that was eventually standardized by the International Telecommunication Union. "We were GPON before GPON was cool," he says. He confirms that FlexLight will be responding to the RBOCs' RFI. In the interim, the company is working to develop its market share in other regions, particularly China. FlexLight recently received certification from the Ministry of Information Industry (MII) and inked a deal with CNC China, the country's second largest service provider.
Optical Solutions (Minneapolis) used SuperComm to showcase its FiberPath 590 optical line terminal (OLT), which features integrated remote transport and support for legacy systems and services, explains president and CEO Mike Dagenais. Optical Solutions has been shipping its GPON product for the last 18 months, says Dagenais, and continues to make inroads into what he calls the "innovative operating companies" market. According to the most recent numbers from the Fiber to the Home (FTTH) Council, there are 398 fibered communities in the United States; 51% are Optical Solutions customers. Remove the Verizon/Tellabs deployments from the equation, and Optical Solutions controls 61% of the U.S. market. The company is also conducting trials in the Middle East, Europe, and China.
As for the competitors that have recently entered the GPON fray, "they simply legitimize a call we made two years ago that IPTV would drive GPON," notes Dagenais.
Terawave Communications (Hayward, CA) has also thrown its hat into the GPON ring, launching a new GPON family that includes a small-footprint OLT designed to simultaneously aggregate and groom the traffic of several PONs onto core IP and TDM networks. The company also introduced a line of GPON optical-network units targeted at residential and business users.
The folks at Wave7 Optics (Alphretta, GA) aim to remove the guesswork from the PON equation. At SuperComm, they provided a preview of a new product to be unveiled officially during the upcoming FTTH Conference. Now known as the Multi-Gigabit Access Platform, Wave7's new modular OLT chassis will support its existing Last Mile Link (LML) GPON technology and migrates to IEEE 802.3ah-based GEPON. The universality of the platform will enable users to select their desired technology, explains Wave7 chief marketing officer Emmanuel Vella.
Tellabs has not announced a GPON solution per se, though group marketing manager Mike O'Malley confirms the company will unveil a GPON story in the future. "The time for GPON hasn't come yet," he says, noting that the company has won key contracts with its BPON offering, including SBC's Project Lightspeed, and will migrate to GPON as needed.
For now, the company is stressing the benefits of a deep-fiber approach such as Verizon's FTTP architecture, which provides fiber all the way to the home, and BellSouth's FTTC architecture, which brings fiber to within 500 ft of the home. SBC, meanwhile, appears to favor an FTTN topology, which brings fiber to within 4,000-8,000 ft of the home.
The recent RBOC RFI has not dissuaded EPON vendors from trying to increase their visibility in the North American market. Petaluma, CA-based EPON chip vendor Teknovus, for example, plans to partner with an incumbent equipment provider to break into the U.S. market.
SuperComm attendees may have been talking about GPON, "but we're looking to change that mentality," asserts Teknovus senior marketing manager Sridhar Gollapudi. The key difference between EPON/GEPON and GPON is the amount of bandwidth it supports, says Gollapudi. Today, EPON supports 1.25 Gbits/sec downstream, while GPON features 2.5 Gbits/sec. Gollapudi confirms that Teknovus is working to increase the amount of bandwidth EPON supports. Once that hurdle is overcome, he says the business case for EPON should be more compelling to the North American market.
EPON vendor Alloptic (Livermore, CA), meanwhile, remains committed to its Ethernet strategy. "The home is IP-centric," says Mike Serrano, director of product marketing. "Why do something funny in the middle? This will be an IP and Ethernet world."
At SuperComm, the company demonstrated its Edge 200, an environmentally hardened EPON chassis designed to deliver data, IP video, RF video, VoIP, and TDM voice services. The Edge 200 supports Alloptic's existing optical-network terminals, providing flexibility to serve 64-500 subscribers from a single device.
For his part, Infonetics Research's Howard believes the addressable market for EPON/GEPON will focus on smaller opportunities, at least outside the Asia-Pacific region. "One problem for EPON is that the prevalent thinking among the ITU, the FSAN [Full Services Access Network] committee, and apparently among the China carriers is that GPON has more bandwidth. That is the biggest thing," he says. "The other factor at play is that Alcatel is in SBC and BellSouth already, Tellabs is in Verizon, and it's the natural evolution to go from one ITU or FSAN standard [BPON] to the next [GPON]. Even though they might in their test labs look at the other technologies, it is in essence to do due diligence on their choice. They won't make their final choice until they have exhausted their look at the alternatives, but I do think [the carriers' selection of GPON] is a pretty foregone conclusion."