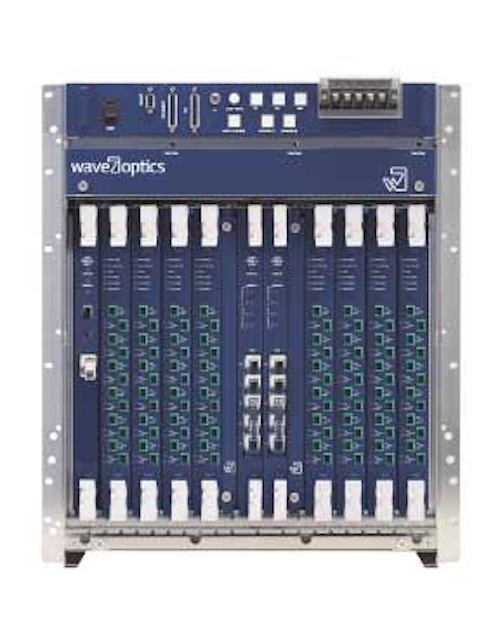 Wave7 Optics (Alpharetta, GA) has introduced an optical line terminal (OLT) and associated optical-network terminals (ONTs) that the company says provide universal support for the FTTP industry's most prevalent standards. The company's Trident7 platform supports both the IEEE 802.3ah Ethernet in the First Mile (EFM) standard for point-to-point connections as well as the ITU-T G.984 GPON standard. The platform is also fully compatible with the company's existing Last Mile Link (LML) EPON systems.
"It's a 'CYA'-the same analogy as, nobody ever got fired for buying from IBM or Cisco," says Michael Wearsch, vice president of business development at Wave7 Optics. "You're not getting a global consensus on the fiber to the premises side on where things need to go."
"I definitely think they're choosing to vastly expand their marketing opportunity, in terms of their target customer base," remarks Teresa Mastrangelo, principal analyst of research firm broadbandtrends.com (Roanoke, VA). "Quite frankly, their current solution with the Last Mile Link has a lot of proprietary aspects associated with it. Now, basically, they can play in all of the markets. They're not stuck with just supporting one flavor of FTTP."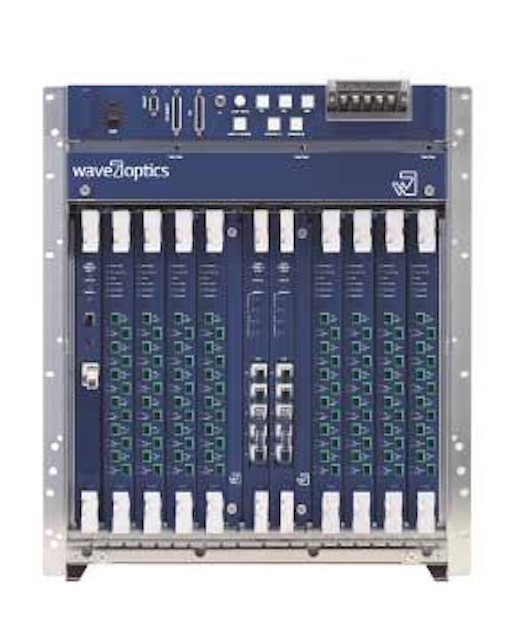 The Trident7 OLT offers simultaneous support for the IEEE 802.3ah Ethernet in the First Mile (EFM) standard, the ITU-T G.984 GPON standard, and Wave7's Last Mile Link (LML) EPON systems.
The platform's modular OLT chassis incorporates a 180-Gbit/sec backplane that provides 10-Gbit/sec bandwidth per PON card. The chassis can hold up to 18 PON cards; initial line-card models support EFM, GPON, and LML interfaces as well as dedicated Gigabit Ethernet (GbE) links. Designed to NEBS Level 3 standards, the chassis can support up to 4,608 ONTs per shelf, or 13,824 ONTs per standard 19- or 23-inch rack, when employing a GPON-standard 1×64 split, according to the company.
"The inclusion of GPON is clearly targeted at the North American market and tier one operators," observes Mastrangelo. "I think that they are hoping to perhaps be in a strong position to go after the GPON business when the RBOCs come out with their GPON RFP at the end of the year."
The OLT chassis features an embedded multi-layer aggregation switch, available in single or dual configurations, to provide wire-speed Layer 2 and Layer 3 switching and GbE port aggregation, with support for full and stacked virtual LAN architectures. The company says the aggregation switch modules can provide up to 10-Gbit/sec redundant network connectivity, using link aggregation, rapid spanning tree, and open shortest path first protocols.
The platform's proprietary FTTP capabilities include multi-layer "per port and per application" quality of service, integrated RF return for interactive video, 128-bit encryption, IGMP support, and stimulated Raman scattering (SRS) immunity for ensuring high-quality video.
Customer premises options for the platform include indoor and outdoor "single-family" ONTs; units optimized for multidwelling/tenant-unit and commercial business applications; options for exclusive support of video, data, or direct broadcast satellite video transmissions; and standards-compliant GPON and EFM models.
"I have to admit that I was a bit surprised at the variety of ONTs that they are choosing to support," says Mastrangelo. "There were some that were clearly targeted toward more emerging markets such as South America and perhaps even in the African continent. They're kind of covering all their bases."
Management of the OLT platform can be handled through use of SNMPv3, secure shell (SSH), and RADIUS protocols; through local craft interfaces; and via the company's Last Mile Sentinel (LMS) element management system. The company says the LMS provides concurrent support for GPON, EFM, and LML standards as well as two-way SNMP support for flow-through provisioning and support for a wide range of OSS/BSS interfaces.
"Wave7 didn't present a roadmap to me, so I'm not clear on what is going to be available in the first phase," concludes Mastrangelo. "Is it just going to be this new chassis or are they really going to have all of it available from day one? That's going to be, I think, the tricky part, is to make sure that they can offer a lot of these capabilities in a fairly short time frame, so that they don't get trumped by maybe a bigger vendor coming out with something similar."