Composed of an 18-slot, 14-RU chassis, Entrisphere's BLM 1500 broadband loop multiplexer is a multiservice access platform (MSAP) that integrates a range of access-network service and transport functions. The platform combines the functions of an FSAN-based PON optical line terminal, next generation digital loop carrier/DSL access multiplexer, and packet voice gateway to support IP and analog video as well as SONET and IP transport.
The company says MSAP is designed to preserve a carrier's investments in copper networks and existing management systems, while enabling the service provider to make paced transitions from circuit-switched to converged packet networks or from copper to FTTP networks.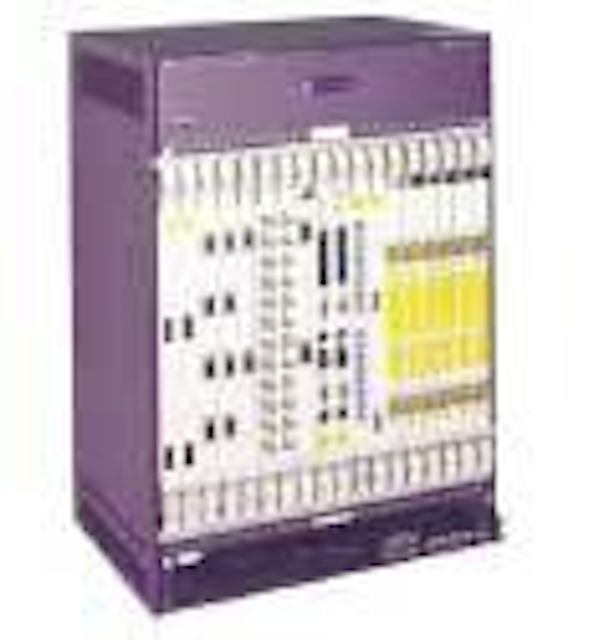 Entrisphere's BLM-1500
is a multiservice access platform that provides a full range of circuit- and packet-based network service and transport functions over fiber and copper infrastructure.
"The theme that you'll hear over and over again here is incremental transition to new networks. [Carriers] know they need to go to a fiber network, they know they need to go to an all-IP network, but they've still got to get business done today," explains Entrisphere marketing director Don McCullough. "We emphasize line-by-line migration. Rather than a 'build it and they will come' kind of mentality, it's, 'When somebody orders service, we turn up that particular customer,' either into the IP world or the fiber world."
Designed for remote-terminal or central office (CO) deployment, the platform's architecture incorporates a 60-Gbit/sec redundant switch fabric with a 300-Gbit/sec backplane, two switch-fabric packs, and 16 universal application slots for network or subscriber interfaces. The 7-ft chassis is GR-487-certified for use in extreme outdoor environments.
For integration into existing carrier operations, the platform is compliant with a comprehensive range of standards, including ITU G.983, GR-303, TR-08 Mode I and II, H.248, TR-57, GR -253, GR-487, and NEBS Level 3. In addition, the platform is OSMINE-certified for TIRKS, LFACS, SWITCH/DLE, TEMS, and NMA Telcordia systems.
The "any service, any slot" platform includes a unified management interface and is suitable for delivering video, high-speed data, packet voice, Ethernet, and transparent LAN services. Specific applications include support for FTTP, RF video, voice over IP and packet voice (H.248), ADSL and ADSL2+, Gigabit Ethernet, Fast Ethernet, OC-48, T1 (HiCap), DS-3, and POTS. According to the company, the platform's most salient features include its FSAN-compliant BPON capability, interoperability with third-party optical-network terminals, its H.248 softswitch interface for POTS and PON, and embedded IGMP support for IPTV over ADSL2+ and PON.
This "forward-looking" mix of functionality is "very important, fundamentally because we're talking about an outside-plant product," notes Michael Kennedy of research group Network Strategy Partners. "That box sitting out there in a remote terminal is probably going to sit there for the next 30 years. They may not sell a lot of those features, but as an outside plant engineer, I wouldn't buy a box that didn't have that support. I may not need it for another 10 years, but I sure want to know that it's going to be there when I do need it."
Describing the platform's embedded IGMP functionality, McCullough says, "IP multicast is one of the areas that provides a differentiation for us. We've pushed that functionality out to the service cards; then you're serving a few dozen customers. Telephone companies like that because it ensures their performance of IP channel change. It also improves the network's economics, because you aren't having to reinforce IGMP functionality as penetration grows-you're actually slotting it in as you turn up customers. It also improves security, because if you had some sort of denial-of-service attack, if you take out that centralized router, you're taking out tens of thousands of customers. If you take out our service card, you're only taking out a few dozen customers."
"They've taken pains to make the CO side of the system fully compatible with traditional telephony," concurs Kennedy. "That's a source of quite a bit of savings, in that functions of digital-crossconnect systems, of SONET [add/drop multiplexers], of some ATM functionality is built-in, so you can eliminate quite a bit of legacy equipment."
"As you are delivering more bandwidth out into the loop, it becomes important not to have a separate add/drop multiplexer," adds McCullough, "Really, OC-48 is the critical bandwidth limit."