PON hardware revenue up 15%
Feb 1st, 2005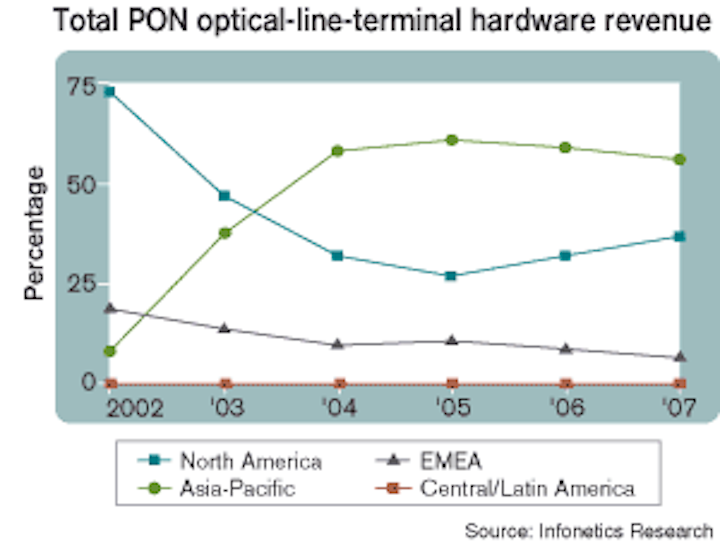 Worldwide revenue for PON optical-line-terminal (OLT) hardware increased 15% to $52 million between the second and third quarters of last year, according to Infonetics Research's (San Jose, CA) quarterly worldwide market share and forecast report, "PON OLT Hardware." PON OLT revenue is projected to perform at a high double-digit CAGR between 2003 and '07, led by early adopters Verizon, NTT, and Yahoo Softbank.
PON is in the early stages of deployment but is already growing rapidly in Asia, especially Japan, where tens of thousands of subscribers are using broadband PON (BPON) and Ethernet PON (EPON). With a new round of less expensive products expected this year and next, explosive growth is projected in all regions. In the United States, RBOCs began rolling out fiber to the premises last year and will continue to do so over the next 10 years, fueling further growth. Verizon has committed to brownfield and greenfield deployments, aiming to pass 1.5 million residences in 2004 and three million this year, mostly in new home builds and in neighborhoods where the copper plant is being rehabilitated.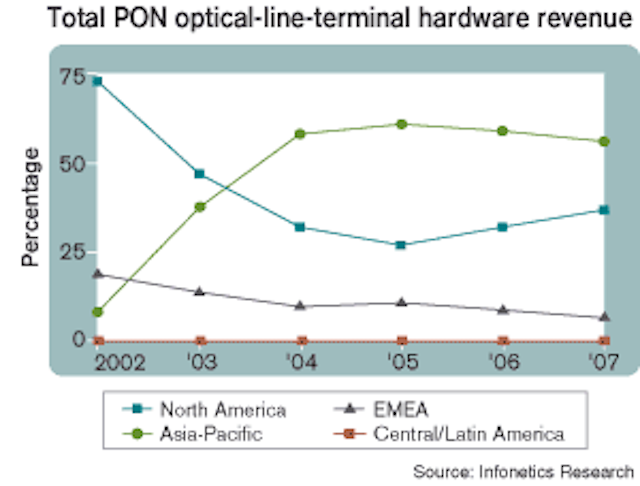 ATM PON/BPON accounts for 77% of all North American metro PON OLT revenue today, while EPON makes up 72% of all Asia-Pacific PON OLT revenue, says Michael Howard, principal analyst of Infonetics Research and author of the report. "[Gigabit] PON [GPON] is a flexible option for providers because it's designed for Ethernet, IP, and ATM and can stream video over IP or a separate analog wavelength. EPON offers roughly twice the capacity of GPON, but all traffic, including video, must ride on a single wavelength. EPON is firmly entrenched in most of Asia, but it looks like GPON could slip into China, where analog video is an issue and will likely dominate in North America and EMEA [Europe, Middle East, Africa]."
For more information on the report, visit the company's Website, www.infonetics.com.