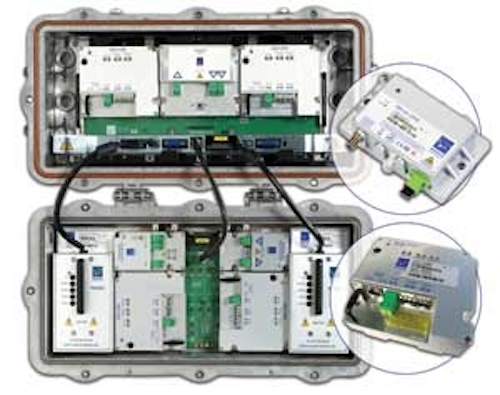 By Paul Whittlesey and Shridhar Kulkarni
Whether from home offices, Main Street businesses, or other commercial establishments, cable operators are encountering strong demand for commercial services within the lucrative and growing small- and medium-sized business (SMB) market.
Cable operators can choose among several approaches to exploit SMB potential, including the connection of fiber directly to businesses. In deploying fiber to a single business or adding multiple customers to a network, operators can leverage the same network used for delivering residential offerings to supply a comprehensive set of commercial services to SMBs. This strategy saves the cable operator money and enables speedy deployment of commercial services to these customers.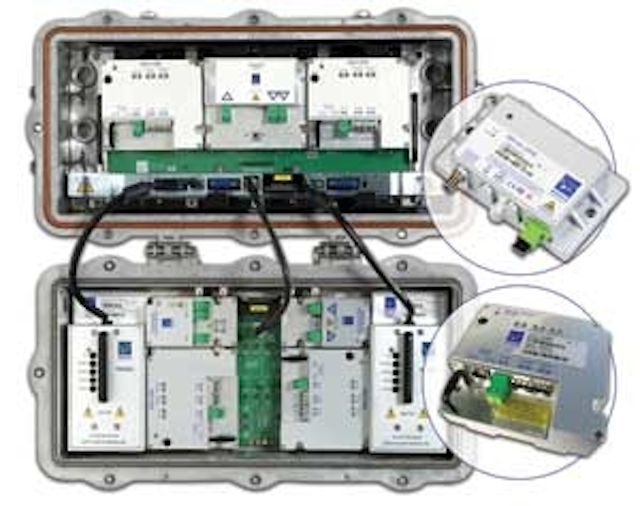 Node/virtual hub-based RFoG and GEPON are ideal for delivering fiber-supported commercial services to SMBs. These technologies provide super-fast broadband speeds and robust bandwidth to commercial services customers.
The SMB market potential is enormous
U.S. Small Business Administration (SBA) research indicates small businesses create most of the new jobs in the United States, employ about half the country's private sector workforce, and provide half the nation's non-farm, private real gross domestic product (GDP). The SBA research also suggests small businesses are responsible for a significant share of new innovations that spur economic growth.
And despite ongoing worries about the economy, SMBs are optimistic about their future prospects.
Small business owners are projecting a net increase in employment for the first time in more than a year, with 24 percent expecting job growth in 2010, according to a National Small Business Association survey. Also, 57 percent of small business owners expect revenue growth this year, compared to 30 percent projecting revenue increases in 2009, the study indicates.
With most small businesses predicting growth in the coming year, cable operators have a stellar opportunity to support SMBs as they expand operations and demand data, voice, and often video service.
Commercial services start at the node
Like other cable services, a well-built, fiber-focused commercial services platform starts at the node (see figure).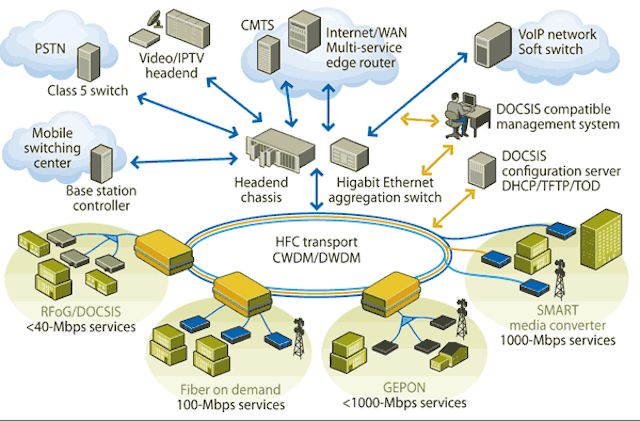 Cable operators have a variety of ways to leverage their existing node-based architecture to deliver fiber-based commercial services to SMBs. With the right technologies in place, cable operators can offer business customers of any size robust commercial services that deliver Gigabit Ethernet speeds and carrier-class reliability.
When cable operators need to connect fiber to a business, in most cases they only need to drop a few hundred feet of fiber between the customer and a node. This approach enables cable operators to deploy fiber to SMBs quickly and on an as-needed basis while maximizing the use of existing network infrastructure.
Strategically placed nodes incorporating advanced Gigabit Ethernet and 10-Gigabit Ethernet capabilities give cable operators a significant advantage over telco competitors vying for the same SMB opportunity. Typically, telco nodes are based upon T1, DSL, or ATM technologies that only support lower bandwidth services. Cable operators have a technology and capex lead compared to these competitors, with the ability to respond swiftly to prospective business customers.
As cable operators grow their commercial services strategy, they can evolve their nodes to become active commercial services point-of-presence (PoP) platforms for delivering complex, highly demanding services, such as 1-Gbps high-speed data and digital voice to end-users.
Cable traditionally has taken an all-passive approach for delivering commercial services, using optical point-to-point technology that requires fewer active components within a network. By turning the node into an active commercial services PoP at the edge of the network, cable operators gain a reliable, robust, and cost-effective tool for rapidly expanding and enhancing commercial services. This approach supports a cable operator's strategy of bringing fiber directly to business customers while, at the same time, delivering fast broadband speeds.
A node-based commercial services PoP supports numerous optical access technologies, including PON and Active Carrier Ethernet. The node PoP can supply services to multiple SMB customers, such as tenants in a business park or office building, or a single entity accessing the node through a dedicated or PON fiber connection.
The role of RF over glass and GEPON
RF over glass (RFoG) networks give cable operators a unique ability to sell and market services suited for SMBs, which may not require the same bandwidth as large enterprises, but still desire robust fiber-based connections. RFoG architectures consist of fiber extensions from existing cable networks, operating from the same headend equipment and interfacing with the same DOCSIS back-office technology that serves traditional hybrid fiber/coax (HFC) plant. RFoG networks also enable a cable operator to continue using existing set-top boxes, cable modems, and embedded multimedia terminal adapters (eMTAs).
Through a node PON module and RFoG virtual hub topology, cable operators can offer reliable, high-bandwidth services to business customers tapped into an RFoG network. This approach also enables cable operators to migrate an RFoG network to pure PON capabilities (see photo).
In addition, node PON and virtual hub technologies support GEPON, a platform that provides a quick, easy, and cost-effective launch of broadband speeds of up to 1 Gbps to several commercial services customers located in a concentrated area. GEPON networks deliver very cost-effective fiber connectivity, while offering Ethernet services with stringent quality of service (QoS) to SMBs located within office buildings or business parks.
With a GEPON architecture, a cable operator lays new fiber from an existing node to the businesses' doorsteps. The use of remotely deployed virtual hubs offers several advantages when using GEPON, such as overcoming the traditional PON distance limitations and preserving fiber by efficiently using WDM techniques in the backhaul portion of the network.
One other critical benefit of using a node-based GEPON architecture, particularly for business services, is the ease of implementing network resiliency. A significant reduction in trunk fiber count coupled with very short distances from a GEPON OLT to the business premises facilitate redundancy architectures that are both efficient and very cost-effective to implement. Moreover, the availability of sophisticated remote diagnostic tools and the latest Carrier Ethernet features, such as service operations, administration, and maintenance (OAM), make node PON approaches well suited for business subscribers that demand 24x7 network availability and reliability.
The node PON approach also offers the ability to use DOCSIS provisioning to maintain the same back-office models used today for businesses served by cable modems.
Cable operators also can use "fiber-on-demand" technology to quickly and cost-effectively take fiber directly to SMBs. Fiber-on-demand enables cable operators to use existing nodes to bring fiber-supported, high-bandwidth services to business users on a point-to-point basis. The technology supplies dedicated, symmetrical broadband speeds as high as 100 Mbps. With the right technology in place, fiber-on-demand also supports dedicated Ethernet services.
Additional options
Cable operators who can't justify fiber all the way to SMB customers can still benefit by pushing fiber deeper into existing networks to provide more bandwidth for advanced broadband business services. Such a "fiber deep" approach supports the need for more bandwidth, while reducing the number of actives and power supplies located within network infrastructure. This enables cable operators to save on maintenance and reduce energy consumption.
And as cable operators roll out DOCSIS 3.0 services, which provide businesses with faster and more robust Internet access, they can use digital return technology to address return path issues. Digital return technology helps support upstream channel bonding requirements associated with DOCSIS 3.0 deployments.
An eye on the bottom line
As cable operators aggressively target SMBs with a compelling slate of commercial services, they should determine how they can best serve this opportunity with their current network infrastructure. Such a strategy minimizes capital expenditures and keeps operating costs low, while delivering wide-ranging services to the SMB market.
The right mix of technologies and architectures enables this approach–and enables cable operators to pass the savings to customers, providing a compelling value proposition to budget-conscious SMBs today and tomorrow.
Paul Whittlesey is director, product management, access network solutions, and Shridhar Kulkarni is product manager, access network solutions, at Aurora Networks.