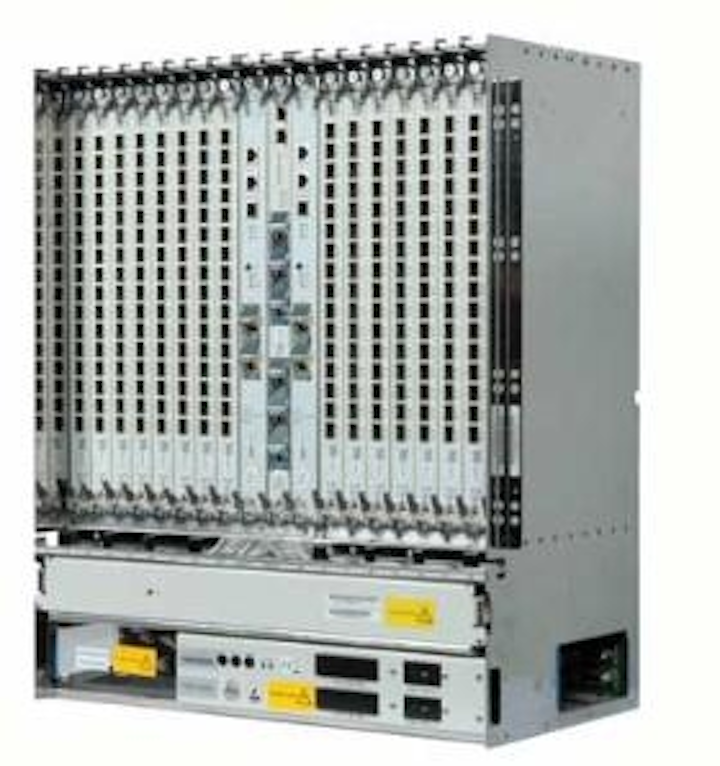 The FTTH Council Europe's FTTH Conference in Milan February 9-10 naturally sparked a few salient technology announcements, including a pair about 10G PON. Alcatel-Lucent made the more highly visible announcement with the news that it would make XG-PON1 technology available on both its existing ISAM platforms in Europe and a new set of globally marketed systems next year. Meanwhile, on the EPON side, Atheros Communications announced the first 10G EPON ASSP chipset for both the optical line terminal and the optical networking unit. Conversations with Alcatel-Lucent's Stefaan Vanhastel, marketing director, wireline access, and Dong Liu, marketing manager with the Access Business Unit of Atheros, offered the opportunity to compare expectations for the different technologies. And like the specifications for both 10G PON approaches, the way these suppliers expect carriers to use their wares displayed significant similarities.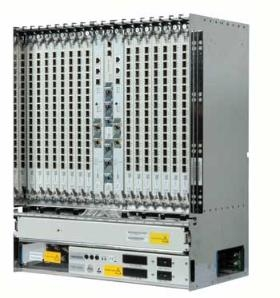 Alcatel-Lucent announced XG-PON1 capabilities for its ISAM line. (Alcatel-Lucent photo)
For example, the fact that the first generation of both versions of 10G PON will be asymmetrical–10 Gbps downstream and 2.5 Gbps upstream in the case of XG-PON1 and 10 Gbps downstream and 1 Gbps upstream for 10G EPON–would appear to be just fine with carriers, both vendor sources believe. While Alcatel-Lucent has announced at least two trials of symmetrical XG-PON2 (with Verizon and Portugal Telecom), Vanhastel says the company has no plans to release such a product before the FSAN and ITU finish the associated standards development process. But he expects "select customers" to begin to roll out XG-PON1 by the end of this year, before Alcatel-Lucent makes its technology generally available. Similarly, Atheros's Liu said that while his company should have chips to support symmetrical services in the relatively near future, he expects deployments using these asymmetrical devices to dominate roll outs for the next two or three years.
Both also agreed that while 10-Gbps capability will prove useful in fiber-to-the-building applications and to support business services delivery and mobile backhaul, the increased split ratios both new standards will support will prove a compelling deployment catalyst as well. And the areas of the world in which the technologies will see the greatest deployment appear fairly well defined, they asserted: China, Japan, and South Korea for 10G EPON, and more or less the rest of the world for 10G GPON. The cable operators in North America represent a caveat to this neat arrangement: Vanhastel and Liu agreed that 10G EPON should establish a North American beach head to support wireless backhaul and business services via DOCSIS Provisioning of EPON (DPoE; see our story in our previous issue).
Finally, neither expects 10G PON to sweep away the current generation of EPON and GPON. Vanhastel offered data from Infonetics Research that suggested mass deployments of XG-PON won't begin until 2013 while GPON deployments continue to grow. While new EPON deployments should begin to decline this year, according to the Infonetics data, the technology's large existing base should keep its market viable for several years to come. – Stephen Hardy
Tunable evolves toward fixed
JDSU's announcement that its sales of tunable XFPs exceeded that of its 300-pin transponders in the second fiscal quarter of 2011 (which closed at the end of 2010) is as significant as it is unsurprising. The milestone heralds the approach of an era where tunability will become table stakes in a wide variety of applications.
It, of course, means that JDSU's competitors better start scrambling to narrow the company's first-to-market lead. Oclaro unveiled its tunable XFP roadmap at last fall's ECOC. The company's plans called for availability in limited volume by the end of 2010 and full production right around now.
Meanwhile, at the same show, a source at the Opnext stand labeled his employer's lack of a tunable XFP "a disappointment." Interim President and CEO Harry Bosco told Lightwave he expects that cloud to lift in the very near future. "The XFP tunable is coming; we have our own tunable laser coming out," he said last December. "So we have the right pieces coming together." We wouldn't be surprised to see a product announcement at OFC/NFOEC in Los Angeles.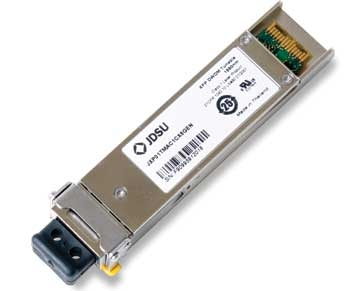 JDSU brought the first tunable XFP to market and has enjoyed tremendous success. (JDSU photo)
We also expect Finisar to follow up on the tunable XFP demonstration at its OFC/NFOEC booth in 2010; the company is shipping qualified samples of the device, according to a source there. Meanwhile, Menara Networks has touted a tunable OTN XFP. And Emcore is shipping preproduction/prequalification versions of a tunable XFP aimed at long-haul and regional applications. The module is designed to support both negative and zero chirp and should be released and deployed in the second half of this year, a company source reveals. And, of course, suppliers such as Fujitsu, NEC, and Sumitomo should be heard from, as well.
If nothing else, JDSU has proven the demand for tunable XFPs. Now it's up to the rest of the supplier community to help the company fill it. – SH
---
The other 100G
While most 100-Gbps initiatives have focused on coherent detection, several technology developers continue to work on lower-cost, lower-latency direct detection offerings for metro and regional networks. Ciena, of course, gained its first 100G customer in NYSE Euronext using such technology, and ADVA Optical Networking (among others) has kept the community apprised of its progress toward such a product.
The increasing interest in cloud computing and other cloud-based services should drive demand for 100G for shorter distances than the long haul. Lightwave believes that full-fledged product announcements directed at such applications are near at hand, not only from ADVA Optical Networks–which recently completed a trial of its DPSK-3ASK modulation technology–but other companies as well. – Stephen Hardy