Calix adds Active Ethernet support to GPON ONT
Nov 1st, 2008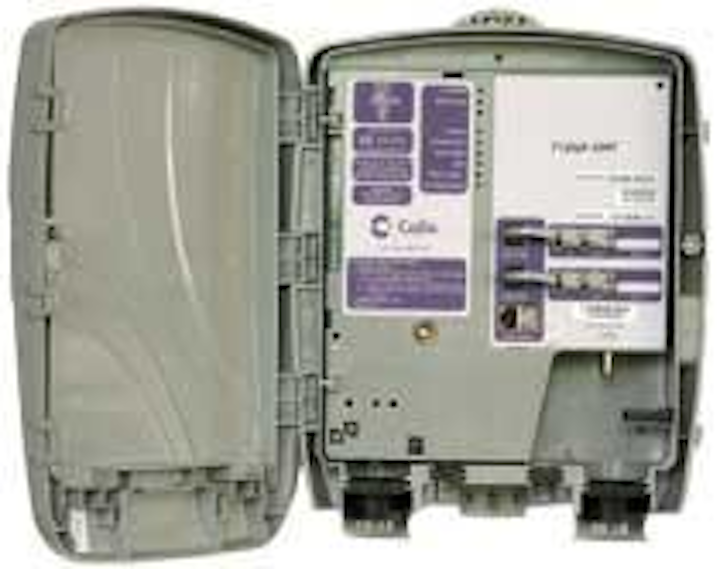 by Meghan Fuller Hanna
To say that Calix (www.calix.com) has made a name for itself in the GPON market is an understatement. The Dell'Oro Group (www.delloro.com) recently ranked Calix number one worldwide in GPON equipment revenue—even though it only sells into the North American market. So why is Calix suddenly talking about Active Ethernet technology?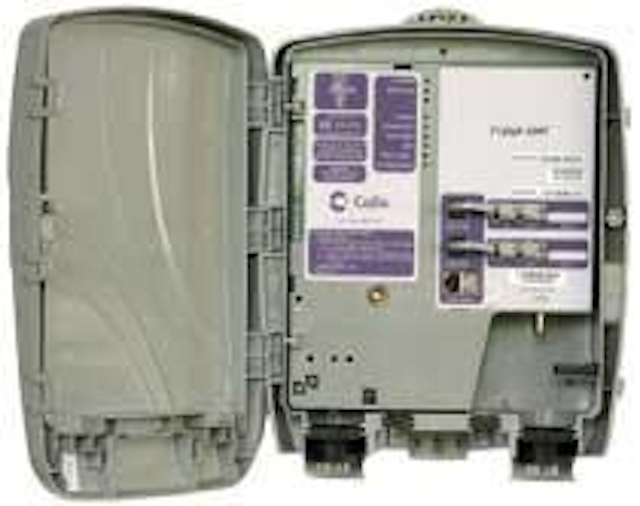 The 700GX Series of ONTs from Calix supports both GPON and Active Ethernet, enabling an operator to tailor its service offerings to residential and more demanding business customers on the same network.
The company is discussing this technology because it believes GPON and Active Ethernet are not competing technologies, as they are often portrayed, but, in fact, complementary ones. At the recent Fiber-to-the-Home (FTTH) Conference in Nashville, TN, Calix unveiled its 700GX Series of optical network terminals (ONTs), which, through additional software and processing functionality, support GPON and Active Ethernet standards.
Geoff Burke, director of field marketing for Calix, is quick to note that "GPON is today and will continue to be the mass deployed technology in North America...[but] there are situations in your network, undeniably, that require and demand dedicated Gigabit Ethernet drops," he says. "It's very conceivable that, given a set of 50 business customers, a significant percentage will not want the services that GPON offers. They will require symmetrical Gigabit Ethernet services."
In 2007, Calix introduced "autodetect" technology to help service providers mitigate the investment risk inherent in the migration from BPON to GPON. Autodetection enabled operators to remotely provision and convert any subscriber from BPON to GPON without truck rolls or upgrades at the customer premises. Now the same technology can be used to support Active Ethernet; the 700GX ONT automatically detects whether the optical line terminal (OLT) at the central office is sending a GPON signal or an Active Ethernet signal, rendering the transition between the two "a non-event for customers," says Burke.
Historically, an operator had to deploy two separate networks—one to support GPON for residential service delivery and the other to support Active Ethernet for commercial service delivery—but the 700GX enables "a unified access infrastructure," says Burke.
The 700GX Series' first announced customer, SCTelecom (www.sctelecom.net), of Medicine Lodge, KS, is currently using the equipment to support a single, converged network. In the past, SCTelecom's Ethernet network was fed by a Cisco 2950 switch, and the operator placed expensive transceivers at both the central office and customer premises. While SCTelecom still requires the Cisco switch to feed the network, it no longer needs the transceivers. As a result, its network deployment "goes from something that is thousands of dollars to something that is a couple hundred dollars," says Burke, who notes that SCTelecom achieves additional operational simplicity from using the same ONTs to support both business and residential service delivery.
"Not only does this greatly simplify our network and inventory management, but also the integrated Active Ethernet support saves us thousands of dollars per business site relative to how we historically had to implement dedicated, symmetrical, fiber-based Ethernet services," says Zack Odell, director of operations at SCTelecom.
Moreover, says Calix, Active Ethernet supports longer distances than GPON; an operator can now use Active Ethernet to reach customers up to 40 km away, thereby cost-effectively extending its addressable subscriber base.
While Calix is bullish on the benefits of Active Ethernet, the company says it is still a GPON vendor, although Burke confirms there is nothing to preclude Calix from using its equipment to deliver an end-to-end Active Ethernet network now. And he acknowledges that there is a subset of the market that may opt for an Active Ethernet network to support an open access business model or simply for increased bandwidth flexibility going forward. "We will be actively pursuing those opportunities," he says. "That said, I do think those opportunities are going to be finite and a niche component of the market relative to GPON."
The 700GX Series optical network terminals are currently available.