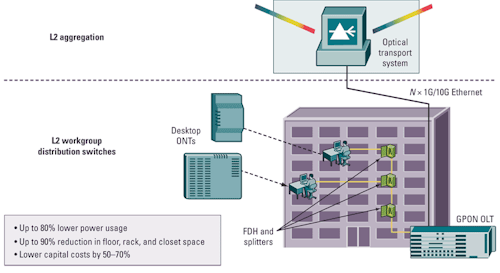 By Dan Kelly
---
Overview
Copper-based LANs have kept pace with most enterprise requirements so far. But decreasing technology costs and increasing bandwidth and service demands combine to make optical LANs a smarter choice.
---
The iPhone's popularity made smart phones a must-have for tech-savvy consumers. Dramatic technology realignments are seldom so apparent. Usually, they sneak up on us virtually unnoticed until years pass and we discover the landscape has transformed.
Such a game changer is now underway in enterprise information technology. The mainstay of modern business communications, the LAN, is ripe for transition. It's time for enterprises to consider optics as the preferred medium to bring voice and data to the desktop or workstation.
Currently, many enterprises have traditional copper networks that use electronic Layer 2 access switches to transport traffic. This technology, often referred to as "active Ethernet" is an entrenched workhorse that generally meets current needs. But as the electronics industry continues to follow Moore's Law, providing ever more computing power at declining cost, the equation evolves. Several technology advances have quietly brought us to the point where it makes more sense to bring optics to the desktop rather than electronics.
Optics provide numerous advantages over electronics. Optical equipment occupies less space, consumes less energy, generates less heat, is more secure, and costs less. So why haven't enterprises made the switch already?
Optics are great for carrying vast amounts of data over long distances, but no one believes they need a fiber connection to make a simple phone call, send an e-mail, or open a spreadsheet. That's like buying a fire hose to water the lawn when a garden hose (which has already been purchased and has worked fine so far) will do.
But a technology realignment is underway that's changing everything.
Technology applications change the landscape
Because of falling costs to acquire the equipment, businesses may have dozens or even hundreds of video cameras on their premises, carrying video on the LAN. The combination of lower prices and technology advancements enhances security and enables fewer people to keep track of assets that may be scattered far and wide.
Telepresence, the latest generation of video conferencing that uses large flat screens and high-definition video to replicate face-to-face meetings, is gaining traction.
As these trends grow, new bandwidth-hungry applications appear. Enterprise bandwidth demand escalates month after month and requires upgrades in electronic apparatus and larger copper cables. Information technology (IT) managers scratch their heads wondering how to accommodate these requirements. The garden hose is struggling to get the job done. The fire hose is looking better and better.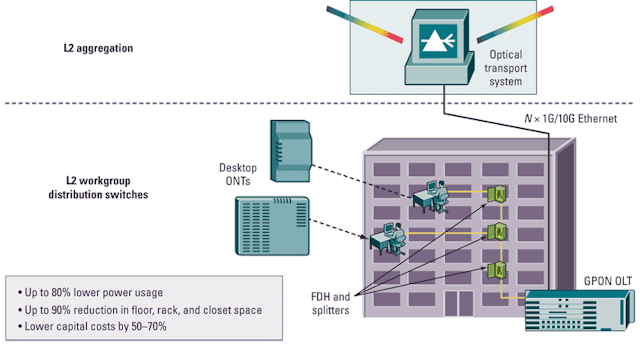 FIGURE 1. GPON-based LANs offer network simplicity, which results in significant savings.
In the consumer world, something similar is underway as service providers competing with cable TV operators must upgrade voice and data networks to deliver video-on-demand and high-definition TV. Most telecom carriers are pushing optical fiber closer to their customers, and some are taking fiber all the way to homes.
Verizon is the largest U.S. example. The carrier uses optical technology to "futureproof" its network against growing demands for more bandwidth as new applications become popular. And customers are responding by signing up by the millions for very high-speed services up to 50 Mbps, plus video.
This change is good news for Verizon and its customers as well as other telecom carriers, and the benefits are spilling over beyond the consumer market. Information technology systems at a business campus, an army base, a university, leisure markets, or any other large enterprise can enjoy the fruits of falling optics prices.
However, providing optics to the desktop in a business environment must be carefully considered, because it is not as simple as repurposing a residential GPON system to enterprise customers. Known as local optical networks or optical LANs, an optical enterprise network based on GPON requires such features as Layer 2 switching, routing, and security to enable efficient and secure communications for enterprise customers.
Lower upfront and ongoing costs
Both capital expenses and operating costs for a LAN that brings optics to the desktop are significantly lower than an active Ethernet system. Cost savings vary according to customer needs, and we estimate that GPON instead of an active Ethernet network can cost 50% to 70% less to build.
Reductions in operating costs are also significant. Power use can be reduced up to 80%, with less than 1 W per end user in certain configurations, compared to 5 W per end user with active Ethernet. One customer found that optics to the desktop reduced electricity consumption so much, it would enable them to achieve better energy efficiency than if they installed solar panels to reduce utility load.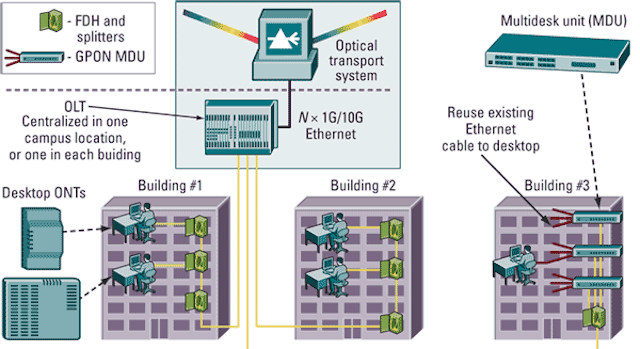 FIGURE 2. In a campus application, a single OLT can serve multiple buildings. The FDHs and splitters can be positioned where necessary. Interface devices that enable the optical LAN to support existing Ethernet cabling are also available
By reducing a LAN's need for traditional Layer 2 access switches, optics to the desktop also slashes administrative costs. Provisioning of an optical LAN occurs at a single location in the main data center. With active Ethernet there are often five or six more devices between the main data center and the user that need attention.
Lower costs stem in part from a higher-density, smaller, passive architecture designed to optimize the packetized Internet Protocol architecture used in the computer world. Older copper-based technology runs on less dense and power-hungry systems.
Advances in the ability to manipulate photons enable far more efficient operation. Information in a GPON system carried by a single fiber can be passively split into up to 64 separate fiber paths. This advancement greatly reduces the deployment cost associated with the fiber distribution network, while extending the reach to 20 km compared to 100 m for all current copper-based systems.
Instead of using numerous pieces of equipment, each tied to another with point-to-point connections, GPON uses point-to-multipoint technology, sending information en masse to be delivered to intended receivers much as a letter carrier delivers mail to individual residences in a neighborhood.
New optical LANs use increased computing power to duplicate the quality of service and reliability in the network that once relied upon multiple interconnections and added layers of electronics. An integrated circuit card now does the work that formerly required one or more boxes of electronics gear.
Because this technology was designed for telecoms that require 99.999% reliability, or only five minutes of downtime per year, high reliability is built in. It more than meets the increasing demands of IT departments for high availability of network assets.
Optics outlast active Ethernet LANs
Another advantage for optics to the desktop is in lifecycle time. While active Ethernet systems typically have an expected life of five to seven years, optical networks designed for service providers are required to last a decade or more. So an optics-to-the-desktop system has a lifecycle that's more than double that of active Ethernet. It greatly reduces the total cost of ownership (TCO).
Beyond the lifecycle bonus, the versatility of optical fiber can also be important for customers such as universities that may have ancient and architecturally significant facilities. Pulling thicker and thicker copper cable through those old walls is not only impractical in many cases but also simply replaces one bandwidth-limited copper cable for a new bandwidth-limited copper cable. Fiber takes very little physical space and can handle all bandwidth requirements for the foreseeable future.
In addition, the equipment to light up the fiber has increased density and distance advantages over its copper brethren, and can reduce space consumption in existing utility closets by up to 90%. Given this information, it seems clear that any cable replacement should always be done with fiber rather than another bandwidth-limited copper cable.
Flexibility seals the deal
The latest generation of optical fiber is easy to work with and does not cause signal attenuation when pulled around corners, as was once the case. This change is another example of how technology advances have made fiber-to-the-desktop possible by making it more economical.
By integrating the latest optical technology with earlier optical and electronic systems, network managers can enjoy a compatible system that operates old and new networks side-by-side using familiar interfaces. Apart from faster response from the equipment, users may never otherwise notice that fiber has come to their desktops.
The technology also provides a platform for future upgrades. For example, customers who want to convert their voice service to VoIP in the future can do so without replacing the phone that once brought voice calls on a separate circuit-switched network.
Optics to the desktop offers a wide range of options for implementation, and that is one reason it attracts scant attention. Although plenty of smart phones, notably RIM's BlackBerry, were available before the iPhone arrived, the unique styling and applications that Apple brought to the market called attention to this segment in a glitzy fashion.
That's unlikely to happen for optics to the desktop. In some greenfield settings, it might make a small splash, but mostly optics are being integrated into existing operations a little at a time. Just give it a few years and the experts will discover a revolution has occurred.
Dan Kelly is executive vice president, global products, at Tellabs (www.tellabs.com).
Links to more information
LIGHTWAVE: Bend-insensitive Multimode Fiber Improves Enterprise Networks
LIGHTWAVE: FTTE Battles for Enterprise/SAN Acceptance