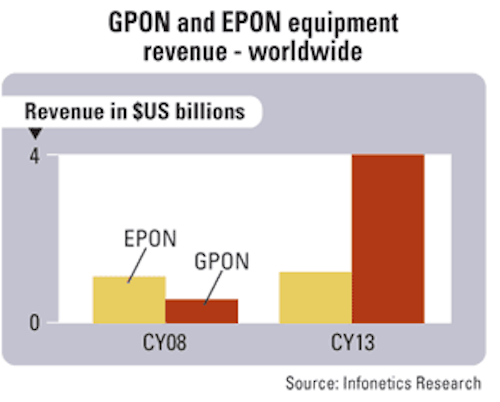 Infonetics Research (www.infonetics.com) says in the 4Q08 edition of its PON and FTTH Equipment and Subscribers report that Alcatel-Lucent's domination of the GPON space has begun to erode.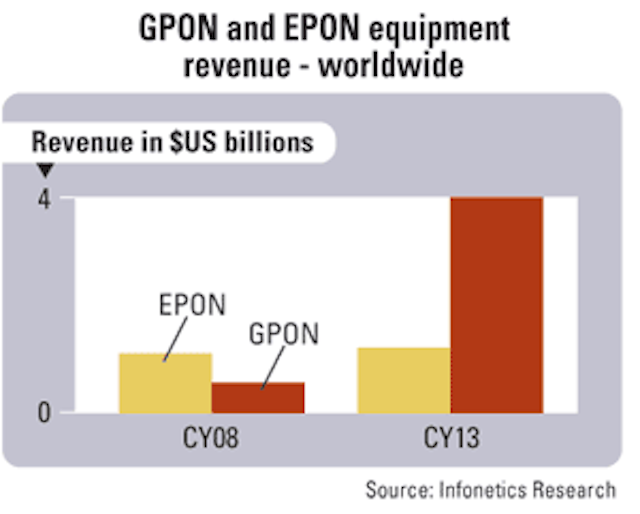 "The PON vendor landscape got interesting in the fourth quarter of 2008, with Alcatel-Lucent, Motorola, and Tellabs each grabbing 10% of worldwide revenue share, behind perennial leader Mitsubishi and the now number-two player, Fiberhome," says Jeff Heynen, directing analyst, broadband and video, at Infonetics. "In the fast-growing GPON segment, front-runner Alcatel-Lucent is being seriously challenged by Motorola, which increased its quarterly GPON revenue share five points in 4Q08."
Year-over-year worldwide PON optical line terminal and optical network terminal manufacturer revenue was up 38% in 2008, led by the GPON and EPON segments. Despite the current economic slowdown, Infonetics forecasts a CAGR for manufacturer revenue of 23% between 2008 and 2013.
Ofcom, the independent regulator and competition authority for the UK communications industry, says it has cleared the way for companies and organizations to invest in "super-fast" broadband services for UK homes and businesses. The regulator released a 66-page statement detailing its approach to the future regulation of super-fast broadband, including the elements needed to promote private sector investment and competition.
"There are no regulatory barriers in the way of investment in super-fast broadband; we want to promote investment but also ensure that there is fair and effective competition for the future," said Ofcom chief executive Ed Richards.
Huawei Technologies Co. Ltd. (www.huawei.com) says it has successfully completed the first phase of its FTTH network deployment project for Slovak Telekom and its business brand T-COM, a subsidiary of Deutsche Telekom. Comprising 34 sites and 90,000 FTTH subscriber lines, the first phase of the nationwide commercial project was completed in five months and represented one of the largest GPON deployments across Eastern Europe, assert Huawei representatives.