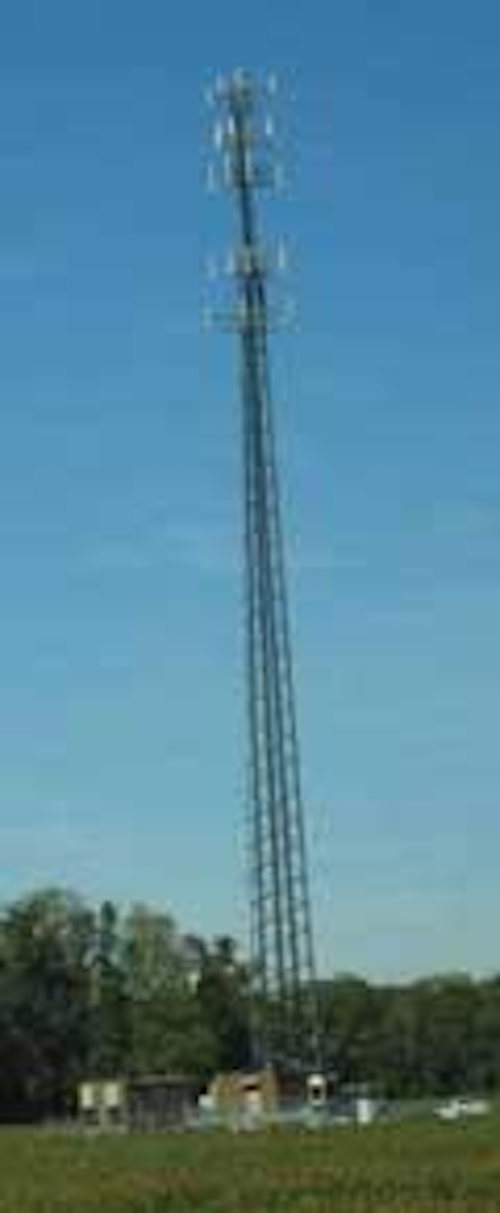 by Meghan Fuller Hanna
OVERVIEW: PONs may provide a cost–efficient, higher–bandwidth "tweener" option for wireless operators that need more bandwidth to support emerging 3G and 4G services but cannot afford the cost of deploying a separate fiber network expressly for backhaul purposes.
Faced with escalating bandwidth needs but an average revenue per user (ARPU) that is flat or only slightly up, today's wireless operators need to achieve higher bit rates without dramatically increasing their backhaul costs. PONs certainly fit that criterion, providing greater bandwidth than existing copper and microwave options in a cost–effective manner. Even so, most believe wireless backhaul will continue to be a niche market for PON in the near term.
While fiber is obviously attractive to wireless operators that need to get enough bandwidth to their cell sites to support multimedia services, they face a significant financial disincentive: In the U.S., it is not uncommon to see T1s offered for around $100. Most wireless operators currently employ a mix of on–net or leased–line T1s and microwave technology to support their backhaul needs.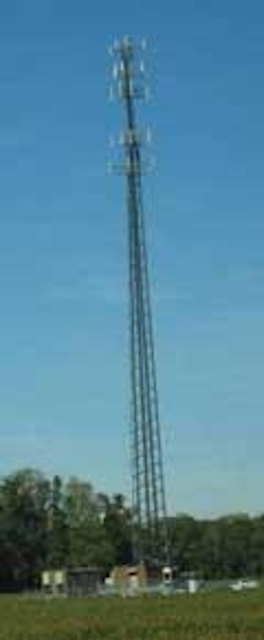 By some estimates, Tier 1 carriers in the U.S. require between 40,000 and 50,000 cell towers to achieve ubiquitous coverage, while European incumbents require 10,000 to 20,000 sites.
Stu Benington, director of global portfolio marketing at Tellabs (www.tellabs.com), reports seeing "decent" interest in the use of DSL technologies, with which many operators are comfortable and familiar, to prolong the lifecycle of the embedded copper plant. But, he says, "that's a finite timeframe because DSL will never be able to do what you can ultimately do with fiber.
"So the question is, through total cost of ownership and the opportunity to get new revenue, can you justify the incremental expense of putting fiber out there?" Benington muses.
And here is the sweet spot for the pro–PON argument: It is a cost–effective way to deliver fiber to a central hub or, ideally, all the way to the base station. "PON is nice because just like on the consumer side, it gives you a little bit of a 'tweener' application, if you will, where you can use passive splitters to bring bandwidth fairly cost–effectively out to end points. And those end points can be base stations just like they are consumer sites," notes Benington.
"I would say the key benefit of PON for cellular backhaul is really the fact that you have a point–to–multipoint efficient utilization of fiber, which fits nicely whenever you have a hierarchical–type structure, which is really what wireless has," adds Shane Eleniak, vice president of marketing and business development for Alloptic (www.alloptic.com). "You've got control stations going to base stations, and you really want the connectivity between the two."
Architecturally, a PON for mobile backhaul can be configured much in the same way as a residential PON; an OLT is placed in the central office or control station, and an ONT is dropped at each cell tower or base station. If a particular tower is serving more than one mobile operator, which is often the case in North America, a separate ONT can be used to serve each operator.
"What we've found in our customer base is they particularly like to have a separate PON ONT for each cellular carrier at a particular tower," reports David Russell, solutions marketing director at Calix (www.calix.com). "Because then if the cellular carriers ever say, 'Where's my circuit? I'm Verizon, and I don't want to see my circuit on AT&T's link,' you can specifically show them, 'Okay, here's your card. And that card is dedicated.'
Leveraging existing infrastructure
While the PON vendors certainly tout the use of PON for mobile backhaul, they also admit that customers today are not deploying PON architectures solely for that purpose. The operators who are using PON for mobile backhaul have typically put those networks in place to deliver residential services. Essentially, they are leveraging an existing investment to tap into the mobile backhaul market. Of course, they still need to drop a splitter somewhere near the base station and run fiber from that splitter to the tower or base station, but mobile backhaul is a high–margin business so the ROI is often justifiable.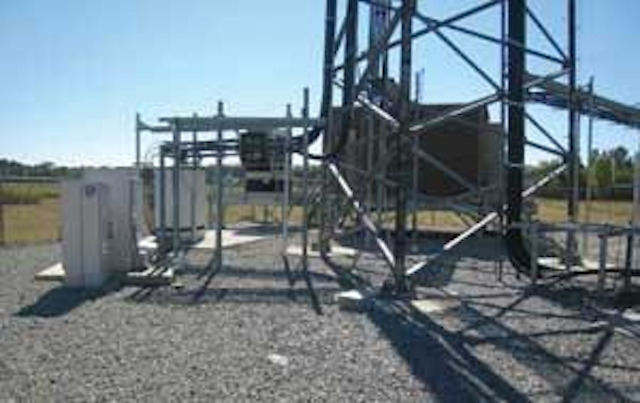 Many cell towers in the U.S. are home to a handful of wireless providers, each of which often get their own ONT to ensure separation of service.
"If I'm already deploying PON for residential services, and I want to leverage that infrastructure and use a couple of the splits for cell sites that are right in that neighborhood or right nearby that neighborhood, that's the lowest barrier to entry for a PON–type architecture," Benington reports.
Other likely candidates include operators that may be deploying fiber to deliver, say, business services to an office park, and a cell tower happens to be located nearby. The cable MSOs, for example, are aggressively pursuing alternative markets on the wholesale side, says Benington, "and if they're going out to a strip mall with PON and there's a cell tower not far away, they may decide, 'Hey, as long as we're digging up the streets, let's do that split also.' That's absolutely a scenario worth watching," he believes.
In fact, many cell towers are actually located on the rooftops or in buildings that may already be served with a PON infrastructure, particularly in more urban environments. In that case, it's practically a no–brainer, say the PON vendors.
"Because you can share that same infrastructure for other services, it's a nice way to cost–justify your fiber usage and PON generically," Eleniak maintains.
An added benefit of GPON in particular is its support of both TDM and Ethernet, as wireless operators today must support such a mix. Alloptic's Eleniak is quick to note that his company provides support for native TDM, even though it sells EPON equipment. "It really comes down to a particular vendor's implementation," he says.
Russell says he's seen wireless operators that are supporting their voice traffic on T1s today, and moving some of their multimedia traffic over to Ethernet. In the future, everything will be Ethernet, but that's still several years away.
"Everywhere these base stations are deployed, the cellular operators essentially have to do a transition of access protocol or access technology from TDM to Ethernet, and there's going to be a long period of time when they have to support both over that infrastructure," notes Russell. GPON enables an operator to deploy the same physical ONT to provide a seamless migration from concentrated T1s to a mix of TDM and Ethernet to, eventually, an entirely Ethernet–based service delivery.
For the folks at ADVA Optical Networking (www.advaoptical.com), who are championing the use of WDM–PON for what they call "a ubiquitous, universal backhaul infrastructure," this traffic mix is a non–issue. "One of the benefits of wavelength transparency is that it really doesn't matter what you are carrying over it," explains Paul Morkel, ADVA's senior director of business management, carrier WDM. "There's a degree of separation between each and every end–user application [i.e., wireless backhaul, commercial service delivery, or even residential backhaul from DSLAMs] because they are all carried on different wavelengths."
Morkel believes WDM–PON makes sense because it is highly scalable; it can support Gigabit Ethernet bandwidth on day one and migrate to even higher capacity in the future. Plus, he says, "it's also more fiber efficient than just doing homeruns of fiber from each and every cell site into the nearest mobile switching center."
That said, Morkel also admits that most discussions around WDM–PON today are still in the evaluation stage. "Whenever we talk about WDM–PON in general, it has significant architectural impact on access and aggregation networks," he notes. But he confirms that ADVA has been talking to many of its existing European incumbent customers—which include BT, Deutsche Telekom, and Telecom Italia—about the technology.
For now, the use of PON—be it GPON, EPON, or WDM–PON—for wireless backhaul continues to be a niche application, and though it may experience some growth, that growth will be from a fairly small addressable base relative to other technologies. No one is expecting PON to leapfrog microwave or copper–based technologies in the near term.
And in perhaps the clearest sign that the technology may always be relegated to niche status, Verizon (www.verizon.com), the most aggressive installer of PON in the U.S., says it will not leverage its FiOS network to support wireless backhaul. "Verizon has considered using FiOS for Ethernet backhaul, but has ruled it out based on the limited bandwidth a PON can provide (10–50 Mbps symmetric)," writes Stu Elby, vice president of network architecture, in an email to Lightwave. "As Verizon Wireless and AT&T Wireless are migrating to LTE in North America, cell sites will require 300 Mbps to 1 Gbps, well beyond what GPON or GEPON can support.
"What is being done is a better job of planning our Ethernet backhaul builds with our FiOS builds so that fiber placed during a FiOS build can be pulled aside and used in a dedicated fashion to a cell site," he concludes.
Meghan Fuller Hanna is senior editor at Lightwave.
ON THE LIGHTWAVE CHANNEL:"An interview with Geoff Burke, Calix"