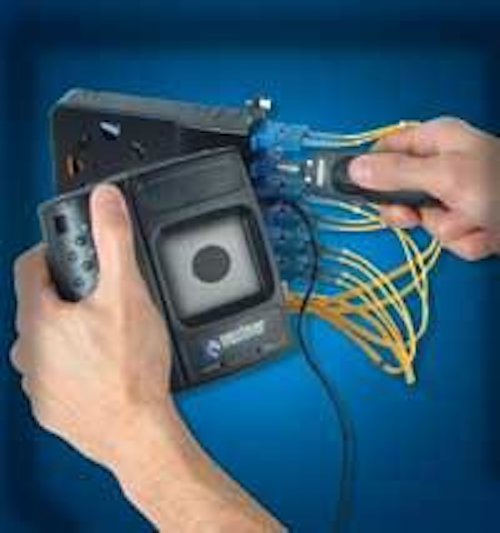 INSTALLATIONS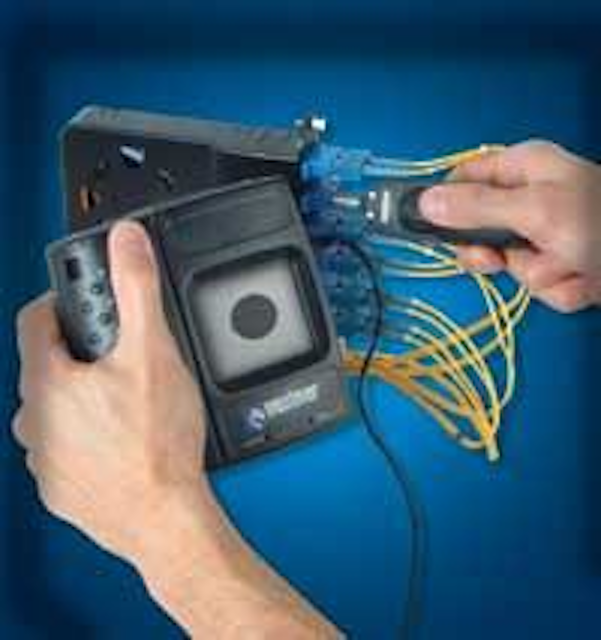 The FBE probe microscope and HD2 handheld display can be packaged into three combinations for optical connector inspection. The microscope is available in 200x and 400x magnifications, with common application tips included. The display can be operated in GripSwitch mode for battery-power savings and features a high-contrast 3.5-inch LCD. The two products can be combined into three versions of the Access Solution kit for the access market: the FBE-S, the basic version; the FBP-SE Precision Solution kit with P1 (200x) or P5 (200/400x) probe microscopes; or the FBP-S Premier Solution kit, which includes the P1 or P5 probe and the HD1 display with an integrated lithium-ion battery. All kits include precision stainless steel tips.
Westover Scientific,
www.westoverfiber.com
For fiber-optic transmitters or small-form-factor modules, the PSI-0204-11 provides bias control of lithium niobate, polymer Mach-Zehnder, and other modulators, and is suited for signal applications such as RF over fiber, pulse generation, and high-speed data transmission. The user can select operating parameters such as dither amplitude and frequency in the standard 2.5×1-inch, 24-pin DIP controller; smaller packages can be adapted for customized applications. The device offers quad-point bias control accuracy better than 1° with dither amplitude of 1% Vπ, pin-selectable settings, and operating temperatures from 0° to 50°C.
Photonic Systems Inc.,
www.photonicsinc.com
The single-chip 13750DE/13751DE differential encoder can be assembled on a single system to accommodate NRZ, RZ, differential phase-shift keying (DPSK), or duobinary transmission for telecom systems and transponders from 1 to 12.5 Gbits/sec. The encoder complies with JESD 47 and Telcordia GR-357-Core standards. Single-ended or differential inputs for the clock and data, as well as a <300° input phase margin, allow design flexibility. An output swingof 1.1 V allows the encoder to interface with various drivers, and fast rise and fall times maintain signal integrity.
Inphi Corp.,
www.inphi-corp.com
The fiber-to-the-home (FTTH) series 6200 radio-frequency (RF) ICs are designed to reduce unwanted noise in the optical network terminal (ONT) to as low as 2.5 pA/rtHz (root Hertz). The high-sensitivity technology improves noise without performance degradation in regard to distortion. Emerging applications for use include 64-way splits to accommodate users connected to an optical line terminal port at the central service location, doubling capacity from 32 users and expected to reduce cost, to enable triple-play services.
TriAccess Technologies Inc.,
www.triaccesstech.com
SYSTEMS
Dual-speed, 24-port fiber modules for the FastIron SuperX and BigIron RX chassis systems and an all-fiber version of the FastIron Edge X series switch allow metro and Internet service providers and cable network operators to deliver Ethernet-to-the-business and Ethernet-to-the-home. The fiber modules support 24 SFP ports, each configurable with 100-Mbit/sec or 1,000-Mbit/sec transceivers. The FES X424HF fixed-configuration aggregation switch also supports 24 SFP ports and can support one or two 10-Gigabit Ethernet ports as well. Available optics designed for Ethernet in the First Mile (EFM) allow transport over one strand of singlemode fiber up to 10 km and over multimode fiber up to 2 km; long-reach SFP optics can be used for Gigabit Ethernet transport over singlemode fiber up to 120 km.
Foundry Networks Inc.,
www.foundrynetworks.com
Combined with the VLX2006 OC-48 SONET-based optical access platform, the VLX840 multiplexer can terminate up to 84 T1s (63 E1s) on OC-3 (STM-1 or OC-3) for T1/E1 site expansion, intra­office transport, wireless cell-site interconnect, or legacy digital-loop-carrier backhaul. Configurations for 1+1 or unidirectional path switched ring applications are possible. The combined package supplies both electrical (DS1/DS3) and optical (OC-3/OC-12 and Fast Ethernet/Gigabit Ethernet) networking services.
White Rock Networks,
www.whiterock.com
Based on GPON encapsulation mode (GEM) framing, allowing TDM services to be handled in their native formats, the AMN1220 family of GPON optical access products provides 2.488-Gbit/sec downstream and 1.244-Gbit/sec upstream data rates. A central optical line terminal (OLT), with a hybrid Layer 2/3 + TDM switch fabric, connects to optical network terminals (ONTs) at the subscriber premises. ONTs include the SFU, a single family/small business unit, and the MXU, a multidwelling/multibusiness unit; both offer a Gigabit Ethernet line rate. The system supports video, data, and integrated VoIP services, with the option of RF video. The GPON complies with all ITU-T 6.984 standards and FSAN recommendations.
Hitachi Telecom USA Inc.,
www.hitachitelecom.com
The third generation of 10-Gbit/sec submarine line-terminating equipment (G3 SLTE) is targeted to undersea cable markets such as emerging long-haul and regional systems, existing systems requiring upgrades, and nonrepeatered networks. The SLTE uses a card plug-in for line monitoring rather than separate equipment, with optical loopback monitoring of the cable and repeaters. An element management system provides visibility for performance and alarm monitoring of all undersea equipment. The equipment requires only 50 W per full-duplex wavelength, reducing power consumption from previous generations by about a factor of two, and higher packaging density reduces the footprint by a factor of four. Greater distances between undersea repeaters decrease the number of required repeaters.
Tyco Telecommunications,
www.tycotelecom.com
The XPAK SR and LR modules provide high port density for high-volume server-to-switch and storage-to-switch 10-Gbit links. Both products follow the multisource agreement for XPAK with a small form factor and low profile, meet IEEE 802-3ae and Fibre Channel 10GFG Draft 3.5 specifications, and comply with EU restriction of hazardous substances (RoHS) requirements. The modules are compatible with PCI card applications such as 10-Gbit Ethernet and 10-Gbit Fibre Channel network interface cards. Over multimode fiber, the XPAK SR module can transmit over distances up to 82 m, or up to 300 m over high-bandwidth multimode fiber. The LR module is designed for singlemode fiber links up to 10 km.
MergeOptics GmbH,
www.mergeoptics.com
TEST EQUIPMENT
The Fast Measurement Test System for PON components (FMTS-PON) has an increased operating frequency between 155 Mbits/sec and 1.25 Gbits/sec, and provides two optical network unit interfaces and one optical line terminal (OLT) interface that replace the existing DUTs of the TRX optical transmission module. The system can be used to integrate and upgrade an existing Anritsu bit-error-rate testing system to an FTTH PON testing system. The PON platform utilizes and controls the 1/8 channel of the Anritsu MP1763C pulse-pattern generator to provide necessary timing sequences for simulating the real-time burst-mode signal transmission. The Anritsu MP1764C or MP1632C error detector can be applied to the bit-error-rate testing depending on the OLT reception rate so existing users can immediately upgrade those error detectors through the test platform.
Faztec Optronics,
www.faztec.com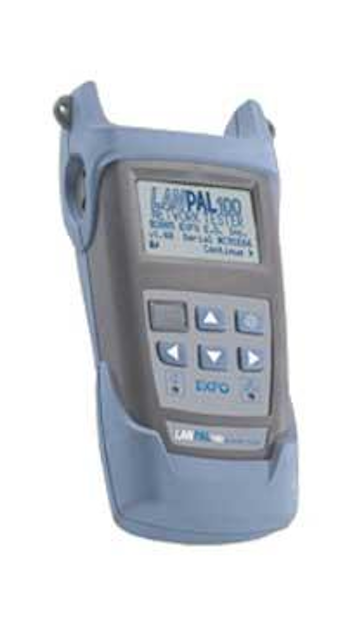 The LANPAL100 handheld TCP/IP network tester is designed for technicians deploying residential broadband Internet services. The device provides capabilities such as ping, upload/download speed, and cable testing, as well as display cable/xDSL modem status to aid in installation and troubleshooting of modems, Internet availability, and possible connectivity problems. The compact, portable instrument features LCD backlighting and a rechargeable lithium-ion battery for ease of use in the field. Software upgrades can be performed in the field by PC interface via RS-232 connection or another LANPAL unit.
EXFO Electro-Optical Engineering Inc., www.exfo.com
Intended for development, manufacture, exhibition, and testing applications, the Fiber Lab 800 is a color-coded (clear, blue, yellow, orange, or green) polycarbonate case for clearer identification of fiber-optic cable types; both ends are terminated on the front panel with user-specified connectors and panel mount adapters. Cases can be supplied with or without cable, which is available in 5-, 10‑, 15-, or 25-km lengths or attenuations at 1310 or 1550 nm, with standard SMF-28E or other singlemode or multimode fiber types.
M2 Optics Inc.,
www.m2optics.com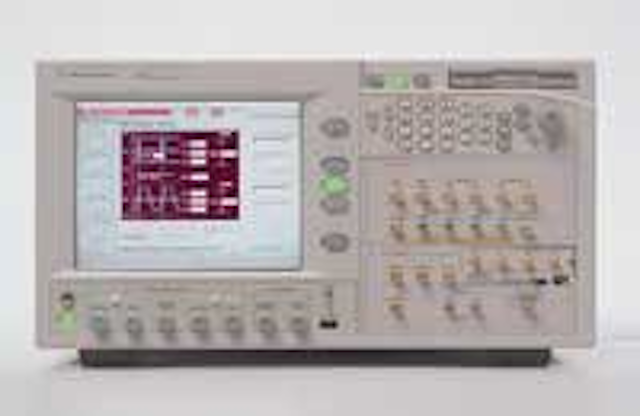 With available versions demonstrating data rates of 7 Gbit/sec and 12.5 Gbit/sec, the N4903A serial bit-error-ratio tester provides calibrated jitter composition and automated jitter characterization in a single unit, and is compliant with the latest serial bus standards such as PCI Express, SATA, Fibre Channel, FB-DIMM, CEI, Gigabit Ethernet, and XFP. It offers stressed eye testing with more than 50% eye closure, 20-psec transition times, and 50-mV analyzer sensitivity for the computer, storage, and networking markets.
Agilent Technologies Inc.,
www.agilent.com