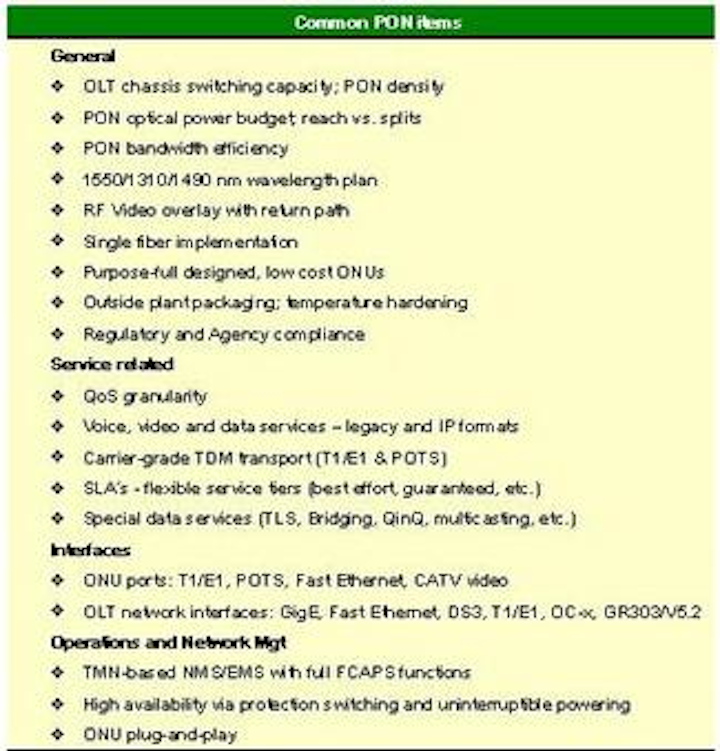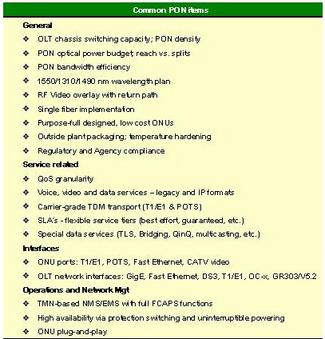 Figure 1. Common features
Ethernet-based PONs provide greater bandwidth and more flexibility for emerging services such as IP telephony and video than ATM-based alternatives.
The 2003 fiber-to-the-premises (FTTP) RFP from the U.S. RBOC consortium of BellSouth, SBC Communications, and Verizon jolted the passive optical networking (PON) industry. It called for an ATM-based broadband PON (BPON) system, one of the three contending PON options, targeting multi-regional deployments serving up to approximately 2 million homes per year.
Unlike their U.S. counterparts, Asian carriers are surging ahead with Gigabit Ethernet PON (GE-PON), even after reasonably successful deployments of more than 100,000 BPON lines in Japan. Meanwhile, U.S. operators are coming to realize that a commitment to BPON precludes them from future large-scale IP video deployment, which works significantly better over true Gigabit Ethernet networks. IP video is far more efficient than traditional RF video; uses more powerful, low-cost peripherals; and opens the door to advanced next-generation TV services.
The wavelength-overlay alternative in a PON offers a viable alternative to the aging hybrid fiber/coax-based video services of cable operators today. Looking forward, however, a system's ability to support IP video services will provide the greatest opportunities for new revenues.
A PON uses passive splitters to deliver signals between one optical line terminal (OLT) and multiple optical network units (ONUs). By requiring electronics only at the edges of the network, costly powered components on street corners or in neighborhood cabinets are eliminated. Through a variety of ONUs, "triple-play" services can be delivered to residential (single-family or multi-dwelling units) as well as business customers.
Since voice, video, and data services are transported over one consolidated platform, a PON must include a complex array of features to be considered for carrier-class deployment (Figure 1). Not too many systems available today can offer the required feature combination.
A PON is typically identified by its Layer 2 transport technology. Originally, ATM enjoyed an edge over Ethernet, due to its support of quality of service (QoS). This is no longer the case, however, as ATM and Ethernet switches now equally feature essential QoS functions.
Based on fixed sized cells, ATM efficiently transports TDM traffic. Ethernet, inherently bursty in nature, has traditionally been less adequate for this task. However, thanks to advanced techniques developed in recent years, commercial deployments carrying TDM traffic over Ethernet are now commonplace.
Continuously growing demands for Internet traffic, as well as the global convergence toward all-IP services (voice over IP, TDM over IP, and IP Video), are causing a sharp increase in the volumes of IP traffic throughout the access network. When it comes to transporting this traffic, ATM increasingly falls short in efficiency due to its required fragmentation and compounding cell tax. Ethernet, on the other hand, handles IP packets with scalable efficiency through encapsulation.
Unlike ATM, Ethernet is very simple to provision, with bandwidth that can be configured with fine granularity. Ethernet also scales in flexible increments (100 Mbits/sec, 1 Gbit/sec, 10 Gbits/sec, etc.), compared to the rigid scheme of ATM networks (155 Mbits/sec, 622 Mbits/sec, 1.2 Gbits/sec, 2.4 Gbits/sec, etc.).
Finally, Ethernet is more cost-effective than ATM, since it has the advantage of massive volumes of deployed components. A recent study by Instat/MDR estimates that well over 750 million Ethernet ports are deployed worldwide today.
Three approaches
Initiated in 1995, the first formal PON was specified by the ITU G.983 series as a 155-Mbit/sec upstream/155-Mbit/sec downstream ATM PON (APON). As user demands grew and gigabit switches became mainstream, standards evolved into a new generation of "triple-play" PONs. These are:
Broadband PON (BPON) - ITU G.983 series: An expansion of the APON definition, BPON includes 622-Mbit/sec downstream/155-Mbit/sec upstream rates as well as a third wavelength for RF video support.
Gigabit Ethernet PON (GE-PON) -- IEEE 802.3ah: Considering the shortcomings of BPON and the state-of-the-art of Ethernet switches, GE-PON represents a natural evolution, as affirmed by the IEEE's recent ratification of the GE-PON standard. Ethernet is, after all, the natural transport for IP frames in their native format.
Gigabit-capable PON (GPON) - ITU G.984 series: Not to be outdone, the ITU responded with yet another alternative, GPON. With rates up to 2.4 Gbits/sec, it is designed to support both Ethernet and ATM packets.
The layering model in Figure 2 illustrates the key differences between the three PON approaches.
The purpose of the gigabit encapsulation mode (GEM) frame in the GPON model is to provide a framework for isochronous transport, and at the same time carry variable-sized Ethernet frames without fragmentation.
As can be seen, the GE-PON model is the simplest, eliminating the need for ATM/AAL or GEM layers.
A few key points:



The vast majority of access traffic originates and terminates as IP/Ethernet frames.

Services are rapidly converging to IP, but the need for transporting legacy TDM remains for the foreseeable future.

GE-PON is capable of transporting carrier-grade TDM traffic.

The GPON GEM "wrapper" only applies to the PON segment, and adaptation is required at both ends.

As a new architecture, GEM switches clearly do not have the economic advantage of large volumes, as do Ethernet switches.

IP video distribution relies on IGMP, which works best via Ethernet switches.

BPON and GPON are based on incompatible technologies, and hence any future upgrade to GPON would mean a "forklift" replacement.

We can safely conclude that the added value of GPON as a standard is actually very limited when compared to the increasingly popular GE-PON. The GPON standard in reality is replicating GE-PON, with the added complication of "legacy" ATM support.
GE-PON is the only PON standard that utilizes true Ethernet switches, taking full advantage of the ongoing success of IP/Ethernet.
GE-PON deployments today
At a recent meeting of FTTH experts, one speaker observed that there are "as many Ethernet ports deployed each week worldwide as the total number of existing ATM ports." This is a powerful statement, indicating the direction that future communications services are taking.
GE-PON systems are serving hundreds of thousands of ports today worldwide, and the numbers are rapidly increasing. For example, bandwidth utility providers, such as New England Broadband, are deploying them in new home developments as well as municipality-wide networks. And forward-thinking multiple systems operators (MSOs), such as Knology Inc. in Georgia, have deployed GE-PON to capture business customers with innovative service offerings.
Even traditional telephone service providers acknowledge the value of GE-PON as a way to grow their portfolio of services to residential customers. For example, Hargray Telephone in South Carolina provides triple-play services to its customers in new neighborhoods throughout its service territory over a GE-PON network.
Finally, telcos, MSOs, and others on all continents are deploying Ethernet-based systems to address their customers' bandwidth needs because of the inherent service benefits and cost-effectiveness of the technology.
Vincent Bemmel is the director of systems engineering at Alloptic (Livermore, CA), a provider of next-generation Gigabit Ethernet access products. His expertise includes standards development and network management.



Figure 2. PON alternatives