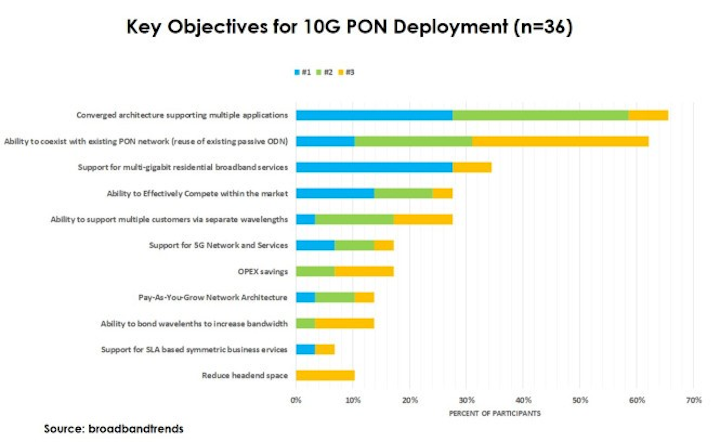 Initial deployments of 10G PON technology will target business services support, with residential services not a target until 2020, said most respondents to a study Broadbandtrends recently conducted. Overall, the ability to support converged architectures will prove the major reason for 10G PON roll outs, says the market research firm in its new "Global Service Provider 10G PON Deployment Strategies" survey report.
Operators currently prefer XGS-PON over such alternatives as 10G-EPON, XG-PON, and NG-PON2, reports Broadbandtrends. Survey respondents indicated that they don't plan to deploy NG-PON2 until at least 2020, if not later, the company added.
The cost of 10G PON remains the greatest concern among operators, the survey revealed. Therefore, business services support as well as the opportunity to converge other services on the network, such as 5G mobile, offer the best opportunity for return on investment, Broadbandtrends points out. The addition of residential services on such infrastructures may be feasible, as operators only plan to offer 2- to 5-Gbps services to residents using 10G PON infrastructures, the survey indicates.
The survey indicates that operators plan to evolve toward next-generation PON architectures in a step-wise fashion, with NG-PON2 being the current highest capacity offering. Standards for even greater capacity are in development (see, for example, "IEEE ponders WDM-PON, 25G PON for next generation EPON"); however, the survey indicates that such technology will not be needed until at least 2024.
The "Global Service Provider 10G PON Deployment Strategies" survey included interviews with 36 incumbent and competitive operators in all major regions. Broadbandtrends' report on the survey results, available for $2495, provides an overview of the survey results as well as commentary on notable regional differences found in them. It can be ordered online.
For related articles, visit the Business Topic Center.
For more information on FTTx technology and suppliers, visit the Lightwave Buyer's Guide.