Premier Products
Nov 1st, 2004

The 1310-nm 50-ohm 3029 and 75-ohm 3034 L-band satellite intra-facility-link transmitters are for short-distance applications up to 2 km. They incorporate manual gain control on the front panel, which allows for optimized RF gain. The links transport in the 850-2500-MHz frequency range over one singlemode optical fiber. Indicator LEDs on the front panels allow for a quick assessment of the link's operational status. In the 3-RU configuration, the chassis will accommodate eight transmitters and/or receivers as well as redundant power supplies to ensure system reliability.
Force, Christiansburg, VA, www.forceinc.com
For building flexible metro reconfigurable add/drop multiplexers (ROADMs) in a different form factor, the WSS 5400 10-port 100-GHz wavelength-selective switch directs each input wavelength to any one of nine output ports and integrates in a single compact module the core ROADM functions of demultiplexing, hitless switching, wavelength blocking, attenuation, and multiplexing. The any-to-any switching offered by the 1×9 module can form the basis of colored or colorless ROADMs and provides a hardware-ready solution for multi-degree ROADMs used in ring interconnect and mesh applications. The module's hybrid integration of waveguides and MEMS minimizes its parts count and leverages the economics of semiconductor fabrication processes. This integration produces excellent optical performance with wide, flat passbands and low loss, dispersion, and power consumption.
Metconnex, Ottawa, Ontario, www.metconnex.com
The Glassic FLTT-ULH 10-Gbit/sec 300-pin widely tunable transponder with an integrated optical dispersion compensator yields more than ±2,500-psec/nm dispersion tolerance and exhibits a mild optical signal-to-noise-ratio penalty over distances of ≥135 km at transmission rates of 9.953-12.5 Gbits/sec. Based on Solid Free Space technology, the multiservice-agreement-compliant transponder covers the full C- or L-band windows with narrow channel spacing (25 GHz or higher), exhibits <2 dB insertion loss, and is characterized by low power consumption.
Civcom, Reston, VA, and Petach-Tikva, Israel, www.civcom.com
Now able to "pre-groom" both packet and TDM broadband and wideband traffic at the edge, the VLX2020 OC-48/192 SONET transport platform provides both a small-office digital-crossconnect system and an edge Ethernet aggregation platform in a single package. It offers a nonblocking broadband STS-n matrix and optional wideband (VT1.5) matrices together with integrated Ethernet Layer 2 aggregation plus support for multiple subtended UPSRs and BLSRs. The platform comes with fully integrated metallic test access on every DS-1 and DS-3 interface module, providing carriers full replication of the circuit access functions (both in-service monitor and intrusive) typically provided by manual crossconnect panels. It allows multiple remote Ethernet-based data streams to be aggregated into a single Gigabit Ethernet pipe. Flexible VLAN tagging and switching allow independent Ethernet over virtually concatenated SONET streams to be groomed (and switched if required) before handoff to the central-office edge router.
White Rock Networks, Richardson, TX, www.whiterock.com
For delivering intelligent Ethernet over ­fiber, the CC-411 system converts optical Ethernet to electrical Ethernet at the customer premises and serves as a demarcation point or interface between the service-provider network and customer network. With the system's built-in Etherjack functionality, service providers can remotely manage and monitor Ethernet services and limit truck rolls by determining the exact location of a problem. The converter can be used in standalone or back-to-back configurations or combined with an aggregation platform at the central office to deliver service to multiple sites of the same enterprise via fiber, DS-3, and copper.
Covaro Networks, Richardson, TX, www.covaro.com
For FTTX powering applications, the PMR-S2 pole-mount enclosure with 14 RUs in a 19-inch rack and GMR-S2 ground-mount enclosure system with 13 RUs in a 19-inch rack can house rack-mount last mile core processors, a 300-W power supply, and GXL batteries, providing more than 10 hours of standby runtime. Also available are thermostatically controlled 48- or 120-V dc fan and heater options, adjustable 19-inch EIA equipment racks, and an ac service entrance. The enclosures are made from durable aluminum, have a powder coat finish to provide protection from the elements, and have been thermally engineered for the field. They use stainless steel hardware for optimum service life.
Alpha Technologies, Bellingham, WA, www.alpha.com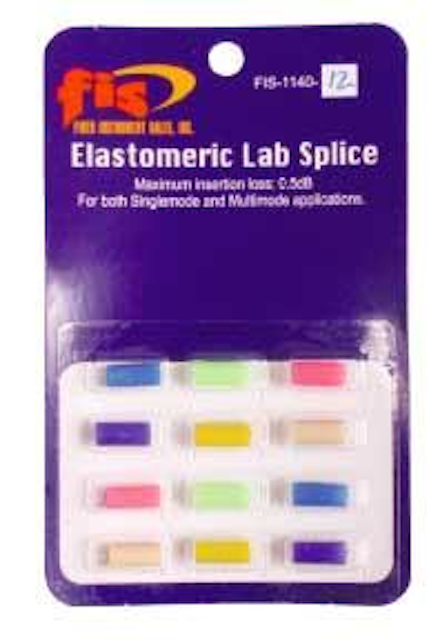 Color-coded versions of the Elastomeric Lab Splice provide a convenient identification system when splicing multiple fiber-optic cables as well as a quick, easy way to connect bare fiber. The splice can be disassembled and reused hundreds of times, making it especially useful in testing environments where equipment is changed frequently. To install the splice for instrument testing, simply insert a cleaved pigtail from an OTDR or power meter to the cleaved unconnectorized fiber. It is suitable for multimode and singlemode fibers and 125-140-µm cladding diameters. Available in new 6- and 12-splice blister packages, the splice comes in six colors. Instructions are ­included.
Fiber Instrument Sales, Oriskany, NY, www.fiberinstrumentsales.com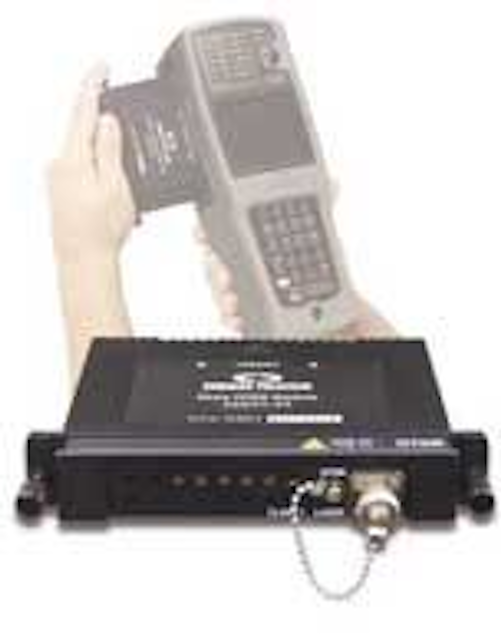 For metro and fiber to the home deployments, the Micro OTDR module allows service providers to verify fiber networks during construction or troubleshoot during the maintenance phase. With the evolution of FTTX and metro/access networks toward fiber optics, the portable OTDR addresses a new set of requirements in which technicians can no longer share OTDR units because of the amount of the fiber to test.
Sunrise Telecom, San Jose, CA, www.sunrise.com
The portable ConnTech 2000 FC2 Fibre Channel (FC) link and bit-error-ratio tester operates at 2.125 Gbits/sec and provides point-to-point physical layer testing of double-rate FC circuits supporting SANs. FC frame generation and primitive sequences can be created and transmitted onto circuits under test. User-selected data patterns from dropdown menus are placed within the frame's payload field that can be industry-standard PRBS test patterns, fixed patterns, or user-defined 32-bit words. When users specify data rate, frame size, and test patterns, the tester generates the patterns that can contain intentional errors and continuously monitors the link for LoL, LoF, CRC, 8B/10B bipolar code violations, minimum idles between frames, and bit errors. The generator mode provides unframed test patterns to be used for jitter testing. Time-delay circuit measurements can also be made with a one-button command from the Windows-based GUI interface.
Connecticut Technology Products, Woodbury, CT, www.c2p.com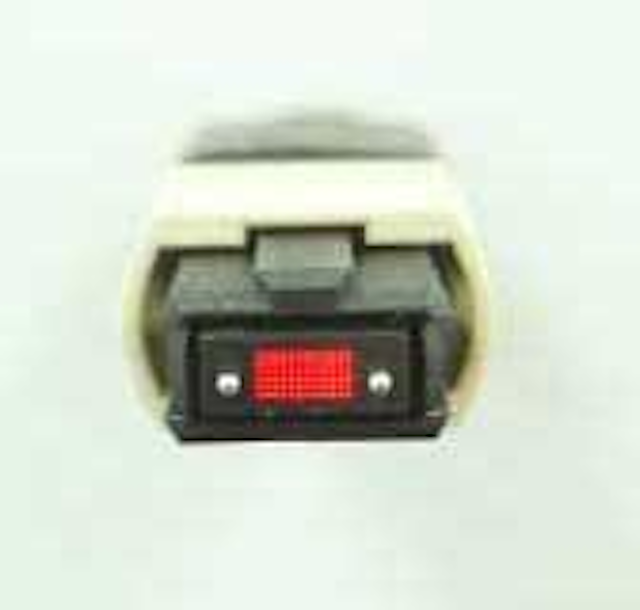 The MT polymer ferrule terminates up to 72 fibers configured by stacking six 12-fiber ribbons and provides 4.5 fibers/mm2 of interconnect space, nearly quadrupling the density of the 24-fiber ferrule. The greater packaging density allows new applications for switching systems, SANs, and optical backplanes to be smaller per fiber connection. Precision molding of the fiber-hole position provides <0.2-dB typical loss using multimode fiber. The ferrule footprint is TIA 604-5- and IEC 1754-7-compatible, which allows use in all MT-style connectors that can accommodate multiple ribbons. For specific applications, ferrule versions with fewer than 72 fibers can be created.
US Conec, Hickory, NC, www.usconec.com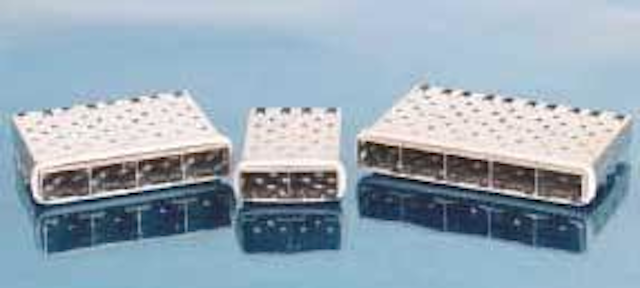 For switches, routers, high-end servers, and storage, the small-form-factor-pluggable (SFP) Ganged Cages save more printed-circuit-board real estate in belly-to-belly configurations and come in four press-fit versions: 1×2, 1×4, 1×5, and 1×6. Their rugged metal-cage design is based on the small-form-factor multisource agreement. The cages also incorporate a press-fit pin design for ease of use and have a compliant elastomer 360-degree gasket and multiple ground pin locations for electromagnetic interference containment. The versatile cages accept copper and optical SFP modules for Fibre Channel and Gigabit Ethernet applications.
Molex, Lisle, IL, www.molex.com
For BPON, GPON, and EPON FTTX passive optical networks, the planar-lightwave-circuit (PLC)-based triplexer transceiver supports ITU-T FSAN and IEEE 802.ah applicable standards for triple-play applications. Developed in cooperation with Samsung Electronics, the transceiver is based on a PLC chip with embedded PLC filter. The integrated approach taken to hybridize the active devices on a silicon platform, together with the wavelength filter being intrinsic to the platform, reduces the number of assembly steps. The PLC filter's design allows compact size without compromising performance. The transceiver package includes an analog video amplifier for the analog video channel. Engineering samples will be available this month.
NKT Integration, Birkerød, Denmark, www.nktintegration.com