Service providers are driving US FTTP growth
Nov 1st, 2004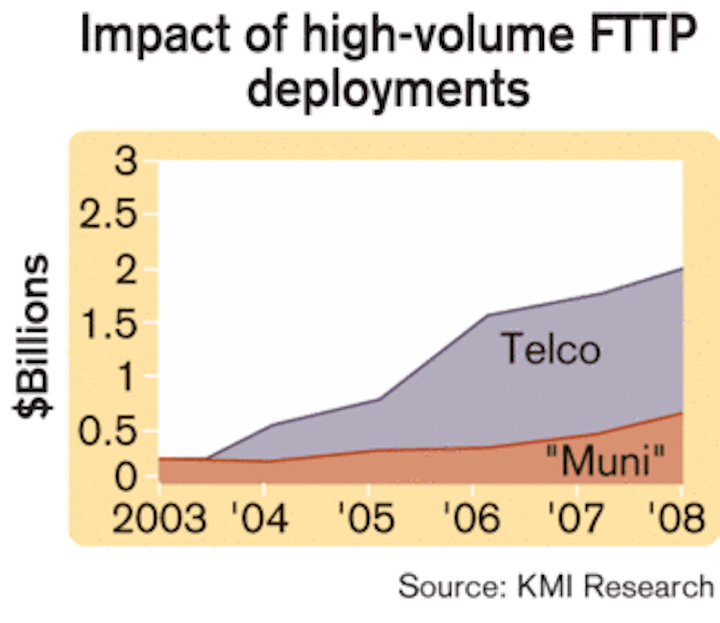 In its new report, "Fiber to the Premises in the United States: The Promise of Universal Broadband Access," KMI Research (Providence) forecasts that the total FTTP market for equipment, cable, and apparatus will net $3.2 billion in 2009 and enjoy a 54% CAGR over the forecast period.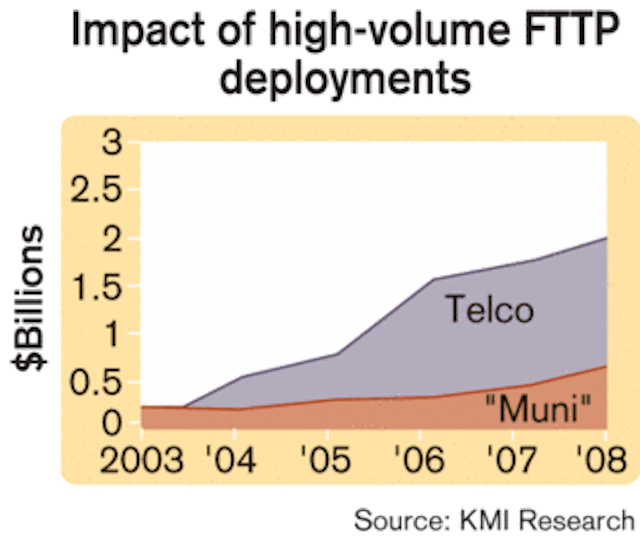 The amount of cabled-fiber demand used in FTTP and fiber in the loop (FITL) applications in the United States will contribute to a 19% CAGR for the total U.S. singlemode-fiber-cable market from 2003 through '09. FITL-related fiber deployments last year were less than 10% of total U.S. singlemode cabled-fiber demand but will account for more than 40% in '09.
Last year, the fledgling FTTP market consisted of about 100 different projects, the majority of which were undertaken by municipalities, utilities, real estate developers, and other non-telco organizations. In '03, the service providers contributed only 3% to the FTTP market for cable and equipment, but with the ramp up in KMI's forecast, service-provider deployments will grow much faster than non-service-provider deployments; the service providers will capture 70% of the market by '09.
A key factor affecting the FTTP market's development is the distinction between homes passed and homes subscribing. KMI's report discusses the "take rate"-the percentage of homes passed that become subscribers-with the understanding that FTTP is one of several competing technologies. Cable TV and DSL also compete for broadband access services. KMI's forecast is based on a conservative take rate in the initial years, but the rate increases to higher levels toward the end of the five-year forecast period.
For more details on the report, visit www.kmiresearch.com.