Photonic layer systems address connectivity issues
Dec 1st, 2004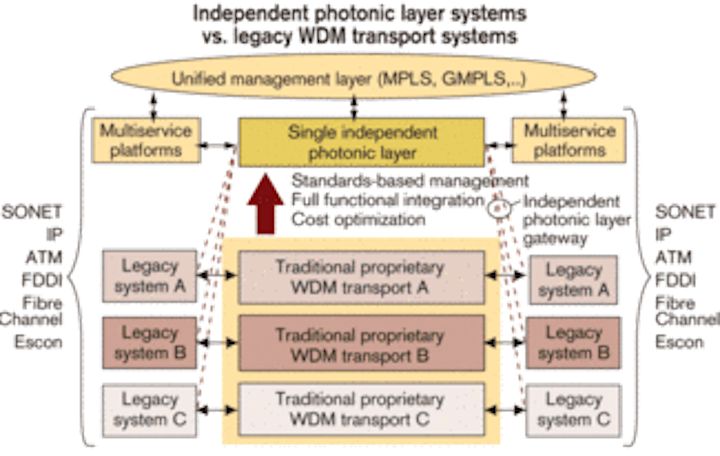 As the momentum behind network convergence grows, interoperability among networking equipment and increased flexibility within the transport layer become more critical than ever. Traditionally, voice-, video-, and data-service delivery required independent parallel transport networks, a costly approach since each network required its own equipment and optical componentry. Usually, this transport gear came from multiple vendors, and the equipment was largely incompatible from vendor to vendor. Thus, converging such networks poses a substantial, time-consuming engineering challenge.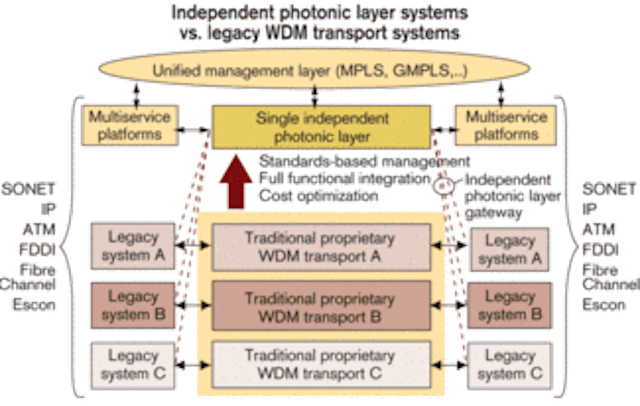 Figure 1.
Photonic layer systems integrate seamlessly with legacy equipment and provide increased flexibility and simplified network management.
The current patchwork approach also drives high cost. Routers, WDM equipment, SONET/SDH products, optical components, and subsystems have to be procured, managed, and evolved within the transport plan of the carrier. In addition, the commoditization of subsystems and other equipment compounds the connectivity challenge. In short, service providers face a tangled and complex transport web that is costly to deploy and operate and difficult to engineer and manage.
To address this connectivity challenge, service providers-and now, increasingly, network-system vendors-need alternatives that not only reduce the amount of equipment required to deliver multiple services, but also integrate easily with equipment and functionality that is either already installed or planned, independent of vendor. A new category of transport architecture-photonic layer systems-meets this challenge.
A photonic layer system is a standalone all-optical platform independent of the terminal, or services equipment, and compatible with the optical interfaces of all variants of service platforms. These photonic layer systems provide a single managed delivery platform for all the key transport functionality, including amplification, dispersion compensation, performance monitoring, multiplexing, signal conditioning, wavelength "color" management, and optical add/drop capability.
Photonic layer systems overlay seamlessly on existing networks without disruption to existing network services, thereby allowing gradual migration to new services in line with customer demand (see Figure 1). These systems are more cost-effective than other connectivity approaches by an order of magnitude and pave the way for significantly enhanced transport-network functionality and flexibility. Photonic layer systems enable service providers to optimize their transport infrastructure from regional through metro into access areas, including fiber-connected large customer premises. Because these systems are based on WDM, the ability to support any optical service and the ease of transitioning from existing network infrastructures are maintained.
Increasingly, service providers are taking greater control over their network architectures by designing, planning, and even deploying networks themselves. For these carriers, a photonic layer system eliminates the need for a multitude of vendor-dependent transport components.
Today, each service network may require discrete amplifiers, dispersion compensation modules, and multiplexer/demultiplexer equipment that are proprietary to each vendor-in effect doubling or tripling the amount of equipment and the related spares inventory required, depending on the number of vendors. An independent photonic layer system, by contrast, provides a single managed delivery platform. The single-platform approach enables a standardized optical impairment characterization model (optical-signal-to-noise ratio, dispersion, etc.) and thus facilitates multivendor integration and network planning.
Also, since photonic layer systems openly support different interfaces, they can dramatically reduce the number of required components as well as streamline the management of spares inventory. Rather than forcing a service provider to stock spares for each component from each vendor, a photonic layer system requires just one portfolio of link components that can be plugged in when they are needed on any transport link, regardless of the terminal equipment type or vendor (see Figure 2).
That adds another benefit over time. If a service provider adds a new equipment vendor, then there is no need for a forklift upgrade of all the transport elements in the existing network. A photonic layer system can simply bridge the new equipment into the existing infrastructure to link legacy and next generation components seamlessly.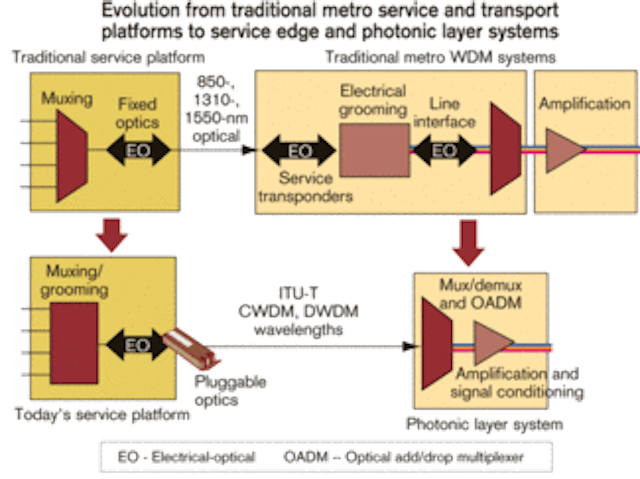 Figure 2.
The use of pluggable optics enables rapid, as-needed link deployment, reducing spares count and simplifying inventory management.
Because the photonic layer system is vendor independent, it enables intelligence to be decoupled from the terminal equipment, helping the service provider to move away from prior dependency on specific vendors' transport products. This minimizes the need to engineer the entire transport network in advance and allows drop-in deployment as new services equipment and sites need to be added over time. Service providers no longer need to place bets in advance on the type of service equipment they will need or the vendors they will choose. Instead, they can incorporate new technology and capabilities as they become available and are required by their customers.
Link management is also simplified and unified in a photonic layer system. In legacy transport networks, management and control intelligence resides in the services equipment, and the optical link simply transports signals from one end to the other. That often leaves a variety of passive optical components in the network without any management-system visibility, making troubleshooting or failure analysis more difficult and costly. With photonic layer systems, providers have a single point of management access to take inventory, monitor performance, and adjust parameters for all the components and functions within the link on a dynamic and as-needed basis. The photonic layer adapts to new equipment additions, at any point on the link. As a result, service can be turned up quickly, eliminating the need to conduct the time-consuming integration efforts required today.
With the "drop-in" service capability of photonic layer systems designed to support SONET/SDH, CWDM, and DWDM network technologies, service providers now have the choice of selecting the optimal solution for both cost and scale and migrating to other technologies as required.
These benefits enable service providers to minimize capital investment and reengineering costs plus leverage existing network assets, all while generating a better return on a lower-cost infrastructure. Service providers will be able to ensure that their multiservice networks have the necessary flexibility to accommodate future geographical, capacity, and service growth.
The benefits for network-system vendors are equally compelling. Many system vendors want to meet the demands of their service-provider customers for greater interoperability and flexibility. As a result, many of them are incorporating photonic layer systems into their overall portfolios.
Of prime benefit is the ability to consolidate the components of several different product lines onto a common transport system. Often, different products/services equipment within a vendor's portfolio requires separate connectivity solutions, each with its own equipment optimized for a particular product line, technology, or network topology.
With a standard photonic layer system, vendors can consolidate their multiple lines of products easily and seamlessly onto a single connectivity infrastructure. As the network-system vendor releases new transport product lines, the products can be easily supported on the same connectivity platform. This consolidation enables vendors to address customers' demands for systems that can be integrated into existing networks more easily and seamlessly-an advantage that becomes particularly important when the vendor is not the incumbent and must integrate quickly into an established network environment.
Supporting this interoperability and moving away from a proprietary model are quickly becoming a coveted competitive differentiator among network-system vendors.
The ability of a photonic layer system to serve up unprecedented levels of interoperability and simplicity-for both service providers and network-system vendors-makes this emerging transport approach the ideal underpinning for evolving efficiently and cost-effectively to converged broadband networks. Additionally, the promise of photonic layer systems to generate significant capital and operational savings makes this emerging transport architecture an economically compelling way to support the full suite of emerging triple-play services with minimal cost and the greatest transport-network flexibility.
Chris Egneris executive vice president of corporate development and sales and Glenn Thurston is vice president of marketing at BTI Photonic Systems (Ottawa, Ontario). They can be reached at cegner@btiphotonics.com and gthurston@btiphotonics.com.