For network applications involving a high concentration of people and equipment, the riser-rated (OFNR) indoor/outdoor cable improves flammability and safety performance in low-smoke zero-halogen (LSZH). OFNR standards compliance means the transition from the outside backbone into the building's riser is simplified since the cable does not have to be terminated within 50 ft of the demarcation. The cable's loose-tube construction, comprised of gel-filled tubes, accommodates up to 36 fibers (singlemode or multimode) for extreme temperatures. Available with dry-blocked tape for an added water penetration barrier, the cable is made with a single PVC jacket, double jacket, or added corrugated steel armoring and can be produced with laser-optimized 50-µm multimode fiber for high-speed 10-Gbit/sec backbone applications.
Draka Comteq USA, Franklin, MA, www.drakacomteq.us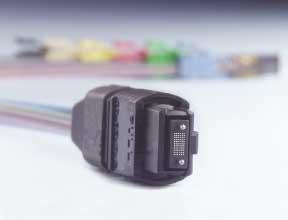 With the high-density MT cable assemblies, it's possible to create multiple space-saving options on the front panel by making configurations up to 72 fibers, while reducing installation time. By using the 72-fiber MT ferrule with MTP connectors and high-density panel-mount array connectors, the optical capabilities of traditional MT-style connectors can be extended. The cable assemblies are well-suited for use with parallel optical-transceiver interconnections as well as a variety of high-density interconnects such as optical-electrical modules, PC cards and patch panels, optical backplanes, optical switches and routers, and data communications centers. With proper termination and polishing, insertion loss levels are comparable to those of 24-fiber terminations: <1 dB across all 72 channels. MPO/MTP connector interfaces are offered to ensure industry compatibility.
Molex, Lisle, IL, www.molex.com
The TriBox fiber management cabinet provides an alternative to large and unsightly outside plant optical splitter and fiber management systems for PONs. Measuring 2 ft long by 1 ft high and deep, it is specifically designed for FTTH deployments and minimizes operational access issues by offering straightforward access to the splitters and optical fibers, while enabling discrete placement virtually anywhere within the community. Capable of 144-fiber crossconnects, or 96 optical splits, a single cabinet can serve the more modest FTTH undertakings while multiple units can provide for larger communities. It's 1×32 splitter module encompasses low loss multifiber connectors, providing for incremental growth and clean fiber management.
OFS, Norcross, GA, www.ofsoptics.com
The FTTX Service Pack is a bundle of professional services that helps carriers determine whether their central offices (COs) are FTTX-ready. If not ready, the service pack's readiness assessment assesses what modifications are needed to ensure the CO can properly and efficiently handle the higher-capacity demands created by FTTX deployments, so carriers can improve and enhance their services on regional or national levels.
ADC, Minneapolis, www.adc.com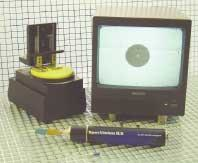 For applications requiring demanding visual inspection, the handheld SpecVision ILS is designed with ultra-long working-distance optics and uses interchangeable adapters to view connectors residing in bulkheads and polishing fixtures. Its flexible interface platform permits analysis of cable assemblies, optical bundles, multifiber components, and medical specimens. High-resolution magnified images can be displayed on a tabletop CRT, handheld LCD, or PC monitor. The probe can be powered via AC or a battery.
krell technologies, Morganville, NJ, www.krelltech.com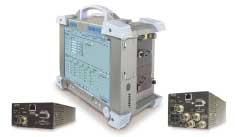 For field, central office, and lab testing applications, the FTB-8100 analyzer combines in a single platform advanced DS-n/PDH, SONET/SDH, and next generation SONET/SDH test functions, including generic framing procedure and virtual concatenation. It supports test interfaces ranging from DS-1/E1 to OC-48/STM-16 with field-expandability to OC-192/STM-64 rates. Each test module includes a native Ethernet interface for interworking with an FTB-8510 Packet Blazer Ethernet module or external Ethernet device for advanced Ethernet over SONET service emulation and analysis. In addition, the analyzer's modular and scalable architecture ensures additional interfaces and features can be easily introduced in the field without retrofits. Its modules are housed inside the FTB-400 universal test system, which combines next-generation SONET/SDH functions with Ethernet, Fibre Channel, and optical-testing capabilities.
EXFO Electro-Optical Engineering, Quebec City, www.exfo.com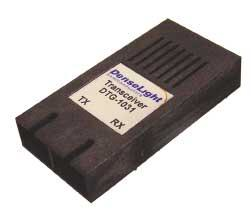 The DTG-1031 G.984-compliant GPON-ONU transceiver can reach 2.5-Gbit/sec downstream and 1.25-Gbit/sec (burst mode) upstream transmissions. It comes in a standard 2×9 package and is designed to operate at the optical-network-unit (ONU) side, supporting fiber to the building/curb/cabinet network configurations. The transceiver's G.984-defined power-leveling function has been implemented to enable a reliable burst mode operation between the ONU and optical line terminal side operating in a Class B optical-distribution-network environment. The transceiver has shown very fast burst on and off transient times (<8 nsec) through high-speed-circuit technology to meet the stringent requirements of the GPON system specifications.
DenseLight Semiconductors Private, Singapore, China, www.denselight.com
The NET-Ready all-in-one plug-and-play subsystem integrates various hardware and software functionalities into a standard user-friendly interface. Featuring a 1-RU 19- or 23-inch rack-mount chassis, the open platform architecture supports a wide range of network applications. SNMP and TL1 management protocols are implemented for remote OAM&P. An embedded Web server further increases ease of use while requiring minimal setup. The platform can host a variety of modules ranging from wavelength multiplexing and amplification to dispersion management and signal switching, routing, conditioning, monitoring, and transmission.
Oplink, San Jose, CA, www.oplink.com
For ILECs, utilities, and municipalities, the EdgeGate CPE GW-482 FTTH triple-play media gateway supports various combinations of zero, two, or four analog voice lines and up to 16 10/100Base-TX Ethernet ports. The optical uplink can be configured with a Fast or Gigabit Ethernet transceiver and supports a single bidirectional fiber or traditional fiber pair. The media gateway has full-wire-speed Layer 2 switching and Layer 3 IP routing capabilities, allowing for better quality of service (QoS), better service-type differentiation, and improved services for video streaming and VoIP. It provides high-quality voice using enhanced Layer 3 QoS mechanisms such as TOS, rate limiting, and traffic shaping as well as 802.1p for voice priority, 802.1q VLAN tagging. The gateway supports all major VoIP protocols and has gone through interoperability certification with leading softswitch providers. It comes as either an outdoor unit or indoor customer premises device. The outdoor model is pre-configured in an environmentally controlled enclosure for mounting on the outside of a building or home for service-provider access. Modular architecture simplifies the outdoor unit's field maintenance, virtually eliminating the need to haul the unit away if repair is needed. Battery backup with recharging system and lifeline POTS support guarantee that telephone service will stay up in emergency situations when external power fails. The gateway also provides mass upgrade and configuration tools using a TFTP server, so that upgrade and configuration changes can be done automatically in mass deployment. It supports spanning tree protocol, which provides high redundancy and availability in a ring-network architecture.
Telco Systems, Foxboro, MA, www.telco.com