Tinkering works well for FTTXcellence Award winner
Dec 1st, 2004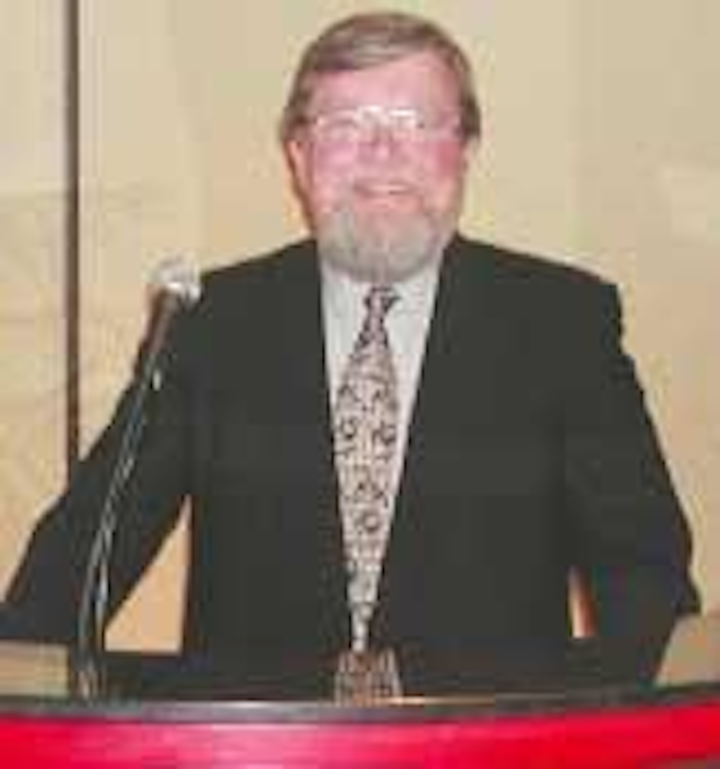 George Bell has been with Verizon Communications (New York City) for about 35 years. While he currently serves as senior staff consultant, fiber to the premises (FTTP)-and thus is one of the primary forces in Verizon's current FTTP effort-he began his career as a splicer's helper, then a splicer in the field.
"I was on a truck for close to 15 years," he recalls. "That truck got rearranged at least once a week because I thought I had found a more efficient way to work."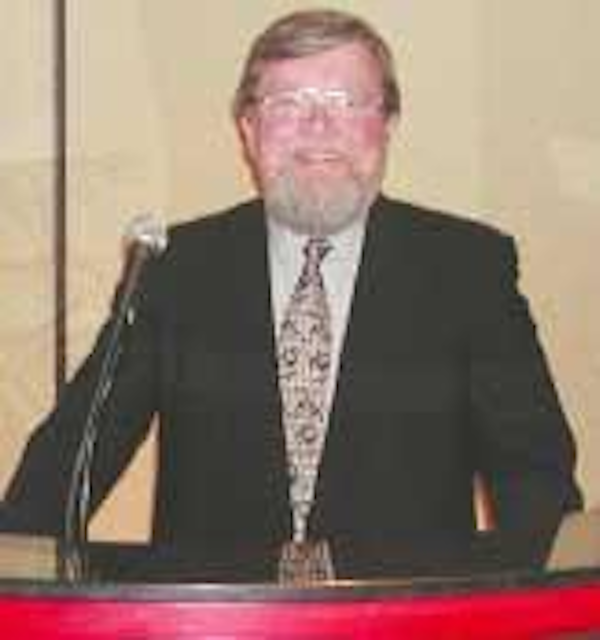 George Bell
offers his acceptance speech after winning the inaugural FTTXcellence Award.
Bell's penchant for tinkering in an effort to improve processes and drive down costs is perhaps the trait that most earned him recognition as the winner of the inaugural FTTXcellence Award. The annual award, co-sponsored by Corning (Corning, NY) and Lightwave, recognizes an individual who has significantly contributed to the deployment of optical technology in access networks throughout North America (see "Award recognizes optical access excellence," page 36).
"By those who work with him, he is called an FTTP pioneer," said Larry Aiello, president and CEO of Corning Cable Systems, in introducing Bell as the award winner before a gathering of about 100 attendees of KMI Research's 27th Annual Newport Conference on Fiberoptic Markets in Newport, RI, in October. "His years of experience are invaluable to Verizon's FTTP deployment efforts. His work has been instrumental in allowing Verizon to establish and maintain a deployment velocity that will ensure Verizon meets its objective to pass one million homes in 2004 and two million homes in 2005. Finally, his leadership and 'can do' attitude also positively impact those who work together with Verizon in this initiative."
Bell takes a grounded view of his exploits. "You wonder how anyone got wind of what you were doing," he responds when asked how he felt about winning the award. He says his boss, Lee Hicks, executive director, FTTP, as well as Keiko Harvey, senior vice president, FTTP, have created an atmosphere in which he can flourish. "Keiko and Lee are terrific to work for," he says. "They give you a lot of leeway to get things done."
What he needs to get done generally revolves around the nuts and bolts of FTTP deployment. "My charge, really, is to be innovative," he explains, "to find faster, cheaper, more cost-effective ways of building the network."
That effort presents plenty of challenges. "It's like this roller coaster-you struggle to get over one hump, then you slide to the bottom and you start all over again," he says with a grin.
Bell says he finds the most enjoyment in getting people to ride that roller coaster with him, particularly vendors who are used to working with copper technologies. "When you look at fiber, you've got this little strand that you want to terminate someplace in the network and have it protected. But at the same time, you don't want to spend $8 million building a Sherman tank around it. So when you sit and talk with a vendor and try to get your idea distilled down to the size, shape, and dimensions of what you're looking for and they recognize it-and they recognize it because you've explained it well enough-that's a big moment," he explains.
Since many of the things Bell wants to implement haven't been done before or require changes to technology that vendors have yet to attempt, sometimes arriving at that "big moment" requires a bit of creativity. "A lot of times I do cardboard mockups, cutouts of what I want," he explains. "We wanted a dust cap for something, and I took an empty coffee creamer cup and said, 'This works. Turn it like this and stick it like that.'"
Not surprisingly, Bell sees one of his greatest challenges as reducing the overall cost of network installation. While he jokes that what he'd really like is "a magic shovel to dig a ditch that would bury the cable right behind it-sort of like a magic wand shovel that would give me a path point to point," he believes that the real key to making FTTP deployment more economical lies in shrinking the size of enclosures, pedestals, and terminals. "I think a lot of it has to do with downsizing-downsizing the hand hole, downsizing the pedestal, downsizing the terminal, remembering that we're talking about a fiber that's the size of a human hair and there'll only be four of them or five of them that might be terminated in one location," he says.
Bell believes this kind of progress will remain necessary for several years. "How do you keep a connector clean in West Texas when the wind is blowing?" he asks. "Those types of issues are the issues that you need to address or find ways to address. I don't think we've come to the end of the line on that. That's why I think there's a lot of opportunity in the next four to five years where, as we refine fiber to the premises in an outside plant environment, you'll see more and more innovative products come along."
Whatever comes along, Bell hopes to remain a part of the FTTP revolution. "I'm having a good time doing it; I really enjoy my job," he says of his efforts. "It's a lot of fun. It's a lot of work at times; there's a lot of running around. Sometimes it's a lot of agita. But for the most part, I learn something new every day, and I enjoy it almost every day. Almost-there have been a couple of days...."
---
As mentioned in the accompanying article, the FTTXcellence Award recognizes an individual's contribution to the deployment of optical access technology in North America. Though choosing someone from Verizon may appear an obvious choice for the award, the process through which George Bell's name rose to the top reveals that innovation and entrepreneurship in optical access technology is flourishing throughout the continent.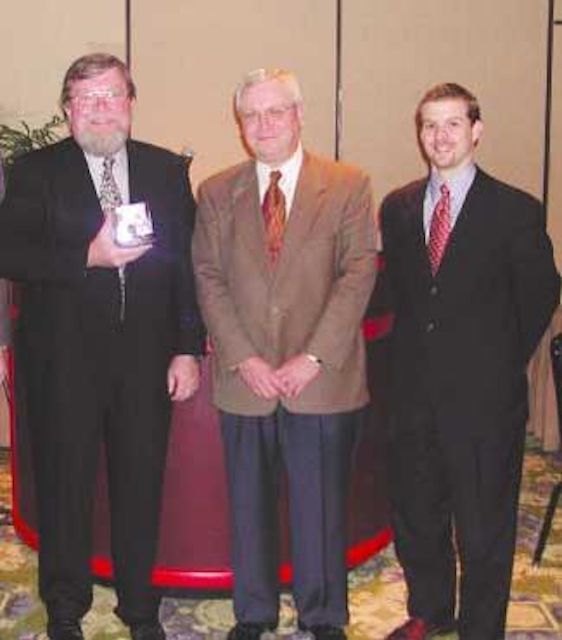 Award winner George Bell, Corning Cable Systems' Larry Aiello, and Alec Ross of One Economy Corp. pose after the award ceremony.
"While Corning and Lightwave sponsor the award and determine the winner, the FTTXcellence Award in reality reflects the esteem in which the people who are actually deploying this technology hold for both this year's winner and the other candidates considered for this honor," said Stephen Hardy, Lightwave's editorial director and associate publisher, during the award ceremony. "That's because neither Corning nor Lightwave chose the nominees; similarly, people were not allowed to nominate themselves. Candidates for this award had to be nominated by their peers, who not only offered each candidate's name for consideration, but also wrote a brief essay that described each nominee's achievements."
When Bernhard Deutsch of Corning Cable Systems, Robert Whitman of Corning Fiber, and Hardy convened to review the nomination forms, they discovered a wide range of forward-thinking individuals and creative projects. The choice of Bell therefore proved more difficult than it might appear.
Larry Aiello, president and CEO of Corning Cable Systems, underscored the difficulty in choosing a single award winner in his introduction of Bell at the KMI Research conference. "A few years ago, FTTX was largely a promise waiting to become reality. Today, we stand at a point in history where things are poised to change dramatically. Because FTTX has become reality and is the gold standard by which broadband is measured," he said.
Bell took home a piece of Steuben glass art and the accolades that go with winning the first FTTXcellence Award. In addition, a $5,000 donation was made in his name to One Economy Corp., a nonprofit group dedicated to bringing affordable Internet access to low-income housing.
"At One Economy, we believe that the technologies that are being advanced by the companies who are represented here today represent really the best hope for the United States in terms of how we develop our workforce, in terms of how we're able to communicate and transact business-faster, more efficiently," said Alec Ross, senior vice president, corporate and business development, at One Economy, in accepting the donation. "And we believe these technologies have an ability to help transcend the barriers of race and place. And so we're dedicated to getting your technologies deployed into the homes of low-income people around the country."
Corning and Lightwave will again sponsor the FTTXcellence Award in 2005. Check the Lightwave Website at www.lightwaveonline.com for more information as it becomes available.