Storage networks live up to enterprise requirements
May 1st, 2004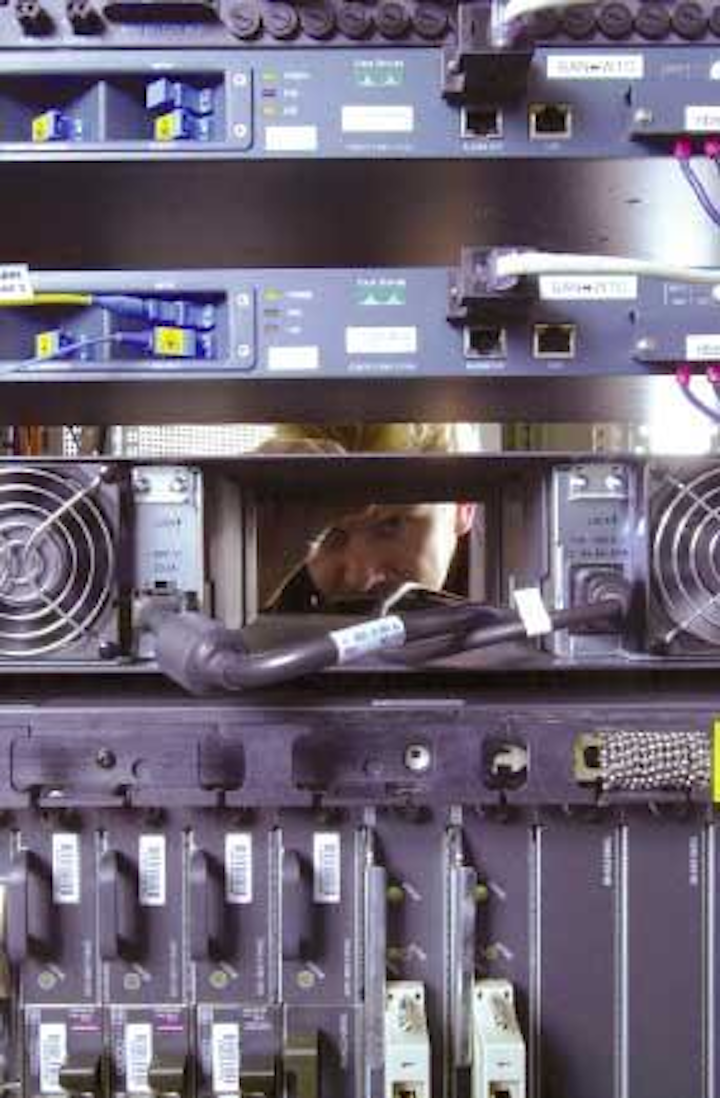 The amount of digital data stored in Europe has escalated three-fold in the past three years, according to one analyst report. Corporations are generating ever-increasing amounts of data each day, and this information must be backed up to ensure business continuity and disaster recovery. What's more, much of this data needs to be readily available for high-speed always-on access.
Add to that the growing requirements of various regulatory bodies, particularly in the financial sector, and one thing is certain: Enterprises today have a big task at hand managing and organizing their data storage. And while smaller companies can make do with traditional direct-attached storage (DAS), many larger firms are implementing networked storage to meet the capacity pressures.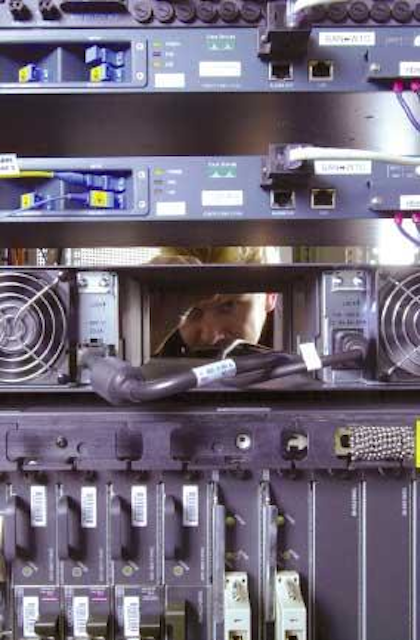 Rack it up. The world's largest building society, Nationwide, deployed a range of Cisco Systems products to set up its next-generation SAN.
"Whether it's for legal requirements to archive particular types of information or industry-focused needs for a particular business, the need to store information has never been greater," says Tony Lock, chief analyst for IT consultancy Bloor Research in the United Kingdom. "In essence, it's becoming almost impossible to throw information away."
DAS, in which each enterprise server is directly linked to a dedicated storage device, has limited abilities to cope with increasing capacity requirements. "DAS starts to run into problems with its scalability," explains Ian Bond, consulting engineer at U.S. networking vendor Cisco Systems. "And what's more of a problem is that big enterprises started to find that [DAS] was very inefficient in its use of storage capacity."
A company with a large bank of directly attached servers may encounter a situation where some servers run out of storage capacity while others hardly use any. Spare capacity cannot be shared in a practical manner since the servers are attached directly to their storage devices. To solve this dilemma, more and more corporates are turning to networked storage, which offers far greater flexibility and also helps enhance utilization rates.
Lock explains: "It's not unknown with DAS to have one server with its storage 5% full, while another might have its storage capacity up at 80 or 90%. This means that the average capacity usage for DAS is somewhere between 10 and 30%. With networked storage, the target for most organizations is to push that closer to 70 or 80%."
Bond reckons that moving from DAS to a SAN architecture can reduce the cost of storage ownership by 50%. "It's all about the economics," he notes. "That's what drives any enterprise that makes the decision to change to a SAN. If they buy a pool of networked storage, then there's total flexibility to allocate it to any server as required."
Another method for distributing storage capacity is to use so-called network-attached storage (NAS). Like SAN, NAS connects storage arrays over a network, but it retrieves complete files instead of the data blocks that SANs can access. In general terms, SANs provide greater scalability and a more extensive feature set, while NAS is easier to install and often used to offload file-serving from general-purpose servers.
"Most large organizations will have NAS and SAN," says Lock. "It's much cheaper and simpler to implement a NAS system on a small scale than a SAN, but it depends what you're looking to do. Different businesses have different storage requirements, and both SAN and NAS are growing [in popularity]."
Stewart Buchanan, systems integration consultant at U.K.-based data management specialist Sagitta, reckons that "for the majority of cases, a SAN is by far the best solution for an enterprise," although he points out that limited budgets may spur firms to use solutions such as NAS instead.
Enterprises today are looking for a lot more than just increased storage capacity, however. They also have strict requirements in terms of the quality and availability of their stored data. Storage facilities must offer features such as low latency, high-speed connections, reliability, scalability, security, and manageable running costs.
Storage regulations, too, are becoming more stringent. "The FSA [Financial Services Authority] in the U.K., for example, has rules in place stating that firms need to demonstrate business continuity and some sort of disaster recovery plan," says John Murray, technical director at
InTechnology, a U.K.-based firm specializing in the design and distribution of data storage, management, and security solutions. "But in the future, these regulatory requirements will be defined much more strictly."
The exact storage priorities vary according to the nature of the business. For a legal firm, the information stored in its database effectively is its business. If that data is lost, the firm has no business. If that data is inaccessible for a few hours, however, it is not the end of the world, as long as it eventually can be retrieved.
Firms such as credit-card companies, on the other hand, rely on 24/7 access to their data. They require transaction-synchronized replicated data offsite in a secure location, since any downtime will prove costly. "That data has got to be available; if it's not, then your business doesn't work," says Murray.
Financial institution Nationwide recently set up just such a storage network in the U.K. to serve 13,000 employees across nearly 700 branch offices and six administration centers. Nationwide deployed Cisco's MDS 9000 family of multilayer director and fabric-class SAN switches, along with the Cisco ONS 15540 extended services platform, to set up a next-generation SAN infrastructure.
The SAN comprises more than 2,000 ports across two data centers in Wiltshire and Northamptonshire in the south of England. It manages about 800 servers and offers a total storage capacity of 40 Tbytes (1012 bytes). Specifically, the MDS 9000 switches enable any of Nationwide's application servers to access a centralized pool of storage, using Fibre Channel to transmit the data.
The ONS 15540 platform links the two data centers using DWDM, giving Nationwide business continuity and disaster recovery capability. Larger enterprises are under pressure to set up offsite storage centers holding at least one copy of all their business data at a remote location. Owning a mirrored data center is now a "must-have" in the financial world, where firms must comply with Basel II, the latest risk management recommendations submitted by the Basel Committee on Banking Supervision.
The ONS 15540 provides connectivity at up to 200 km, and Bond says other Cisco platforms can be used for greater distances. "We have customers that use links over thousands of kilometers to connect data centers for storage replication," he says. "In that instance, we use the TCP/IP [transmission control protocol/Internet protocol] network between the sites using Fibre Channel over IP."
Nationwide, meanwhile, needs to access its data at high speed, so connections between the remote data centers require low-latency, high-performance optical links. "Our latest-generation products offer extremely high performance, but on top of that, we have built in some unique intelligent network services," claims Bond. "These give a company like Nationwide a high utilization rate on the ports, so there's virtually no wastage."
Arthur Amos, head of technology support for Nationwide says, "We need storage solutions to be cost-effective for the business, reduce management complexity, improve utilization of resources, and demonstrate a return on investment. Increased reliability, availability, data integrity, and security are key to our business operation success."
Amos explains that Nationwide initially used the SAN to pool tape resources and now applies the same infrastructure to interconnect multiple hosts to high-performance storage. "The integration with our existing Cisco infrastructure and support is key to our requirements," he adds. "Next-generation storage-networking technology gives us the scalability, performance, and flexibility required for our enterprise class environment."
While large enterprises like Nationwide have the resources to manage and run their own data centers and storage networks, smaller firms with less in-house expertise often look to managed services for their storage requirements. Although pharmaceutical companies or large banks, for example, may be reluctant to hand over their mission-critical data, small and mid-sized companies often find that a service-provisioning environment suits them.
At this point, enterprises may look to firms such as InTechnology and Sagitta to provide varying levels of storage planning, installation, implementation, and management. "Many enterprises want to do it themselves," says InTechnology's Murray. "However, there are more and more companies nowadays that are willing to outsource their data storage."
Murray also points out larger firms that run their own storage networks may well still outsource their mirror sites. "This is a halfway house between outsourcing and giving protection for business continuity," he explains. "In the U.K., banks are subjected to regulatory requirements from the Bank of England and the Financial Services Authority, saying that they must have contingency plans for their data." Some enterprises also exploit their second data center not just for disaster recovery, but also to load-balance between the two sites.
InTechnology's storage distribution and integration business offers services such as planning, installation, and configuration of storage networks, reselling and integrating hardware for the likes of IBM, Hewlett-Packard, and Sun Microsystems. Four years ago, the company also set up a service-provider business. "We now offer things like storage on demand, remote backup and restoration, and outsourced data storage over a wide-area SAN into our data center," Murray explains.
He says sales of DAS hardware still represent a healthy business but that SANs are becoming increasingly popular, with the services side of InTechnology's business registering rapid growth. Three years ago, the sales split between direct-attached hardware and networked storage services was about 90/10; last year, it was 70/30; and this year Murray expects it to be 50/50.
Last year, InTechnology acquired Allasso, a security specialist offering services such as firewalls, intrusion detection, and protection of information assets. Having gained this additional expertise, InTechnology is now developing security services that wrap around its storage offerings.
Until recently, security was not a big issue for SANs, which tended to be set up in physically secure data centers. But once enterprises start to link the SANs together, their storage data is being sent over metro and wide-area networks. In addition, the data may be managed from a central location, with management data and configuration and access passwords sent over an IP network. In this scenario, high levels of security become critical.
"The MDS 9000 family has a large number of features added-in to bring security into the SAN arena," says Cisco's Bond. "We use a very strong authentication mechanism before allowing an operator to get into the switches. We encrypt the management data that's traveling across the network, and we've just introduced an authentication access-control mechanism for adding new switches to a SAN. In the next release of code, users will be able to build a secure SAN that will ensure that a device authenticates itself, and then lets users decide whether it can join the SAN. Over the last year, a lot of standardization work has been done on security requirements in SANs."
So what does the future hold for the vendors of SAN equipment and services? "Over the next few years, we will see the market for storage networking going absolutely berserk," notes InTechnology's Murray. And Bond concurs: "It's still a relatively young market, with most people only starting to implement SANs in the past two or three years. Like all new marketplaces, I expect it to grow in a pretty healthy way." ..
Tami Freeman is deputy editor at Fibre Systems Europe in Association with Lightwave Europe, where this article first appeared in its March issue, p. 16.
---
When the U.K. Home Office decided to digitize the identity parades that police forces use to pick out crime suspects, it called on the help of U.K.-based data management specialist Sagitta to put in place the massive database required to support such an undertaking. The digitized parades rely on a database of more than 9,200 video images, each at least 25 Mbits in size, which poses challenges with data-access speed and file-sharing capabilities.
"Sagitta had been working with IBM to investigate commercial opportunities for its parallel file system technology [multiple servers linked to form a supercomputer], particularly in the broadcast and video markets that require a lot of storage bandwidth and capacity," explains Stewart Buchanan, systems integration consultant at Sagitta. "When the government put this project out to tender, we saw an ideal commercial application."
Sagitta offers a range of services to enterprise customers, from initial storage assessment to defining the scope of a project, supplying and installing storage equipment, and managing and monitoring services, if the customer requires. Along with IBM, the firm worked with the West Yorkshire
Police to provide the IT infrastructurefor the VIPER (Video Identity Parade Electronically Recorded) National Bureau.
The final setup offers 1.4 Tbytes of storage space and uses IBM's General Parallel File System for easy and rapid access to individual image files. VIPER simply searches the database of video images of volunteers to select appropriate candidates. Replacing live identity parades with this electronic version increases the speed (from several weeks to an hour or two) and reduces the cost (by as much as 88%) of running successful parades.
Sagitta also manages the day-to-day running of VIPER's storage infrastructure through its eXpert Support Service, which provides ongoing access to a team of storage experts, supported by proactive 24/7 monitoring to reduce problem resolution times by up to 50%. "We have discreet and secure monitoring equipment at the VIPER site that allows us simply to alert people when there's a storage problem that requires intervention," reports Buchanan.
The VIPER National Bureau now undertakes an average of 115 parades a day, with 91 identity suites online across 25 police forces.