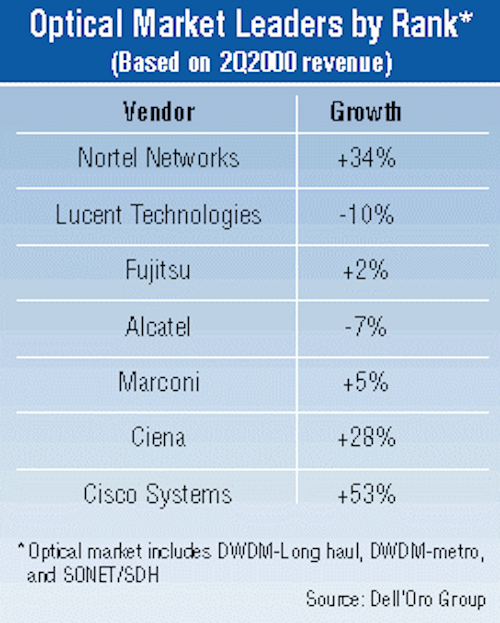 The metro DWDM market grew 40% in the second quarter of this year, for a total of $80.9 million, according to market-research firm Dell'Oro Group (Portola Valley, CA). Nortel Networks maintains its domination of the market, capturing more than twice the revenue of its nearest competitor. Ciena and ONI experienced huge quarter-to-quarter growth, with 73% and 160% increases, respectively. Sorrento rounds out the top four, despite seeing a 4% decrease in revenue in the second quarter. According to the study, OC-48 continues to be the most popular speed shipped.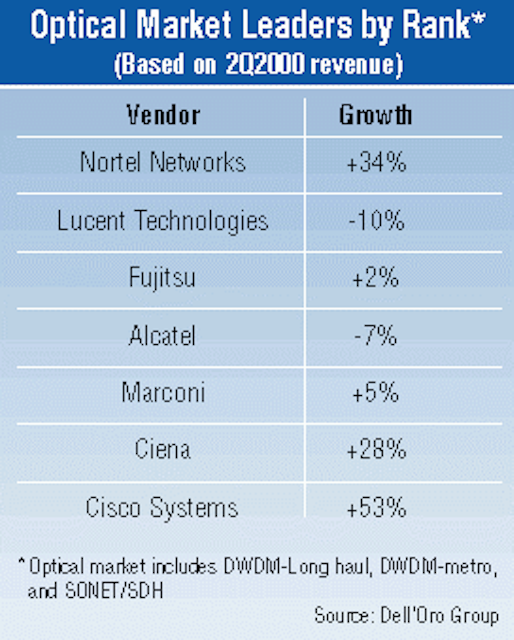 In a concurrently released study, the Dell'Oro Group also found that the total optical market experienced a 14% growth from the first quarter, to reach $5.937 billion in the second quarter. Nortel maintains its lead in this segment, propelled by its Optera LH product (see Table).
Lucent captured the number two spot, despite a 10% decrease in growth from the previous quarter, while Fujitsu, Alcatel, and Marconi held the third, fourth, and fifth spots. Sixth-ranked Ciena and seventh-ranked Cisco saw considerable quarter-to-quarter growth, improving 28% and 53% respectively.
For more information about the Metro DWDM market or the total optical market, visit the Dell'Oro Group's Website at www.delloro. com or call (650) 529-2787. Information is also available for the following technologies: long-haul DWDM, SONET/SDH, multiservice WAN switching, WAN routers-core, and WAN routers-broadband aggregation.