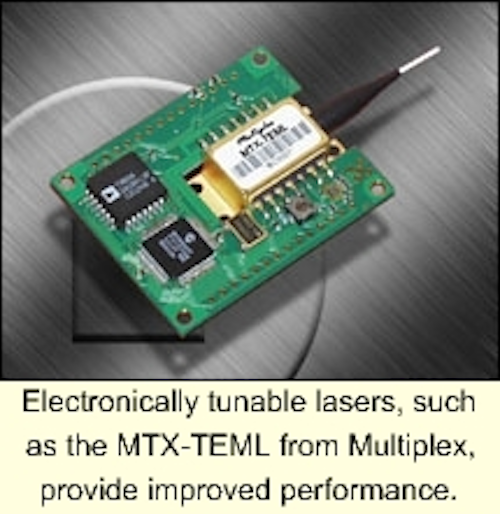 By STEPHEN HARDY
TECHNOLOGY
With interest in tunable lasers continuing to expand beyond sparing applications, three companies have announced products that offer electronic tuning. Such tuning can provide significantly better efficiency than the temperature-based tuning typical of the initial generation of tunable devices that have been offered earlier this year.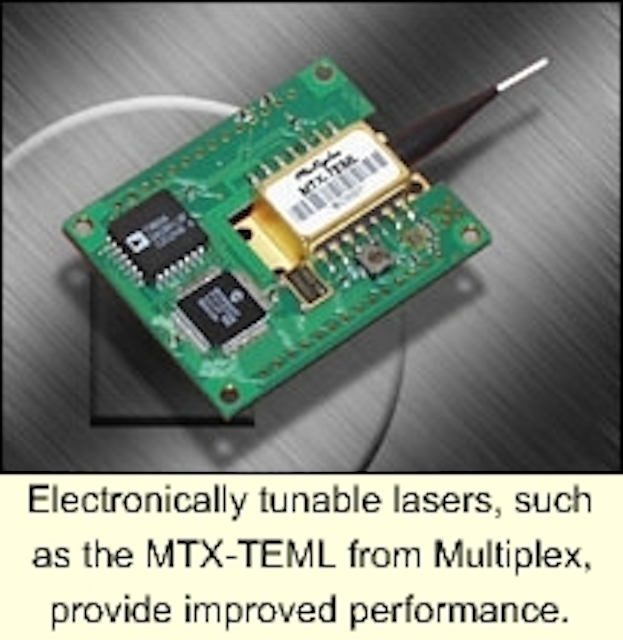 Electronically tunable lasers, such as the MTX-TEML from Multiplex, provide improved performance.
For example, Multiplex Inc. (South Plainfield, NJ) demonstrated its MTX-TEML device at the recent European Conference on Optical Communication (ECOC) early in September. The electro-absorption modulated laser comprises three sections-gain, phase, and Bragg. It offers quasi-continuous tuning by injecting current into the phase and Bragg sections. The device will tune across 16 channels with a switching time of less than 10 microsec, according to the company.
The device comes in a module that measures 5.1x4.3 cm. The module contains a microcontroller with wavelength-controller algorithms, a temperature controller, current sources, the modulator driver, wavelength references, and monitoring functions.
The initial product will operate at 2.5 Gbits/sec over distances of 360 km, although the company plans to have a 10-Gbit/sec device available within the next six months. The company will target the device at DWDM sparing applications, as well as optical routing, wavelength conversion, optical add/drop multiplexing, and other uses.
Meanwhile, Bandwidth9 (Fremont, CA) has announced an electronically tunable device of its own. The company announced an integrated evaluation card that will incorporate a broadly tuned, directly modulated laser source, an erbium-doped fiber amplifier, and the necessary control capability to provide tunable wavelength functions and power control. It too will operate at OC-48/STM-16 (2.5 Gbit/sec) rates.
According to Tim Richardson, the company's executive vice president of business development, the modules will cover either the C- or L-band, thus potentially replacing as many as 60 fixed-wavelength sources.
The ability to directly modulate the device electronically provides significant benefits, he says. "External modulators are expensive," he says. "They are $1,000-plus devices in their cheapest form, and they can cost several thousand dollars in their more advanced forms."
For its part, Iolon (San Jose, CA) plans to offer beta samples of an external-cavity tunable laser based on micro-electromechanical system (MEMS) technology late this year. The device will offer a tuning range greater than 40 nm and a CW output power up to 20 mW using a "standard" Fabry-Perot laser source. It will also provide wavelength stabilization without thermal tuning in a 14-pin butterfly package. The device will tune to the International Telecommunication Union grid; the company is currently developing a wavelength locker.
The company's deep reactive ion etching process provides the foundation for the MEMS at the heart of the device. The mirror device is attached to the actuator in a separate process. The mirror then functions under electronic servo control.
The company plans to use the MEMS technology for a variety of devices besides tunable lasers, including 1x4 optical switches. The company has been delivering engineering samples of its MEMS technology since March of this year.