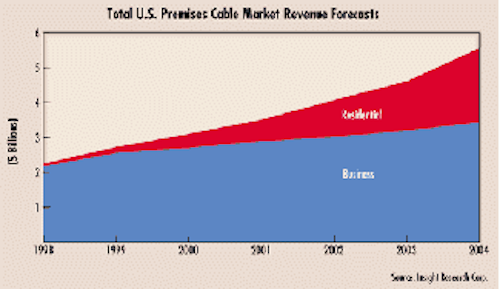 The market for premises cabling systems can be divided into two major segments: the commercial or business market and the residential or home market. In the commercial segment, premises cable includes voice and data intrabuilding communications as well as connections to external services such as those provided by telephone companies and ISPs. The commercial market is experiencing a decline in copper and fiber installations, as most large companies have their LANs in place and have slowed their rate of new installations. According to a new report from Insight Research Corp. (Parsippany, NJ), the commercial segment of the premises cable market will grow at an average rate of 8.1% per year, to increase from $2.2 billion in 1998 to $3.5 billion by 2004.
In the early 1990s, Category 5 unshielded twisted-pair copper cable usage consistently experienced double-digit growth, but by 1999, that growth had slowed to the low single digits per year, and analysts expect the market to experience only a 1-3% growth per year through the forecast period.
While the commercial market is on the decline, the residential market, which supports the distribution of voice and video communications throughout the home, is experiencing a major upswing. More and more homes require data-communications support that will allow multiple users in the household to share one high-speed Internet access line and one ISP service. The premises cable shipments for residential applications are projected to experience a compound annual growth rate of 79.4% per year through the forecast period, increasing from its $63.4-million mark in 1998 to over $2 billion by 2004 (see Figure). According to Insight Research analysts, the residential market offers structured cable manufacturers a "new frontier," and they expect the double-digit growth rates to attract a host of new entrants into the market.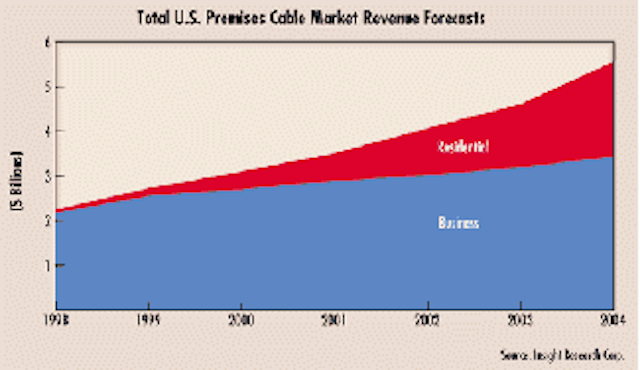 Though the commercial segment is and will continue to be the largest segment throughout the forecast period, the residential market is expected to capture a significant portion of the market by 2004. In 1998, this segment accounted for less than 3% of the total market but will increase to 37.7% by 2004.
The total market for premises cable used in both business and residential environments is expected to increase from its $2.2-billion mark in 1998 to $5.6 billion by 2004, which represents a CAGR of 16.4% per year. The total market for the fiber-cable segment will also see significant growth, improving from $417.4 million in 1998 to $939.7 million in 2004.
For more information about the report, "Customer Premises Fiber: the Business and Residential Inside Wiring Revolution, 2000-2004," call Insight Research Corp. at (973) 605-1400 or visit www.insight-corp.com.