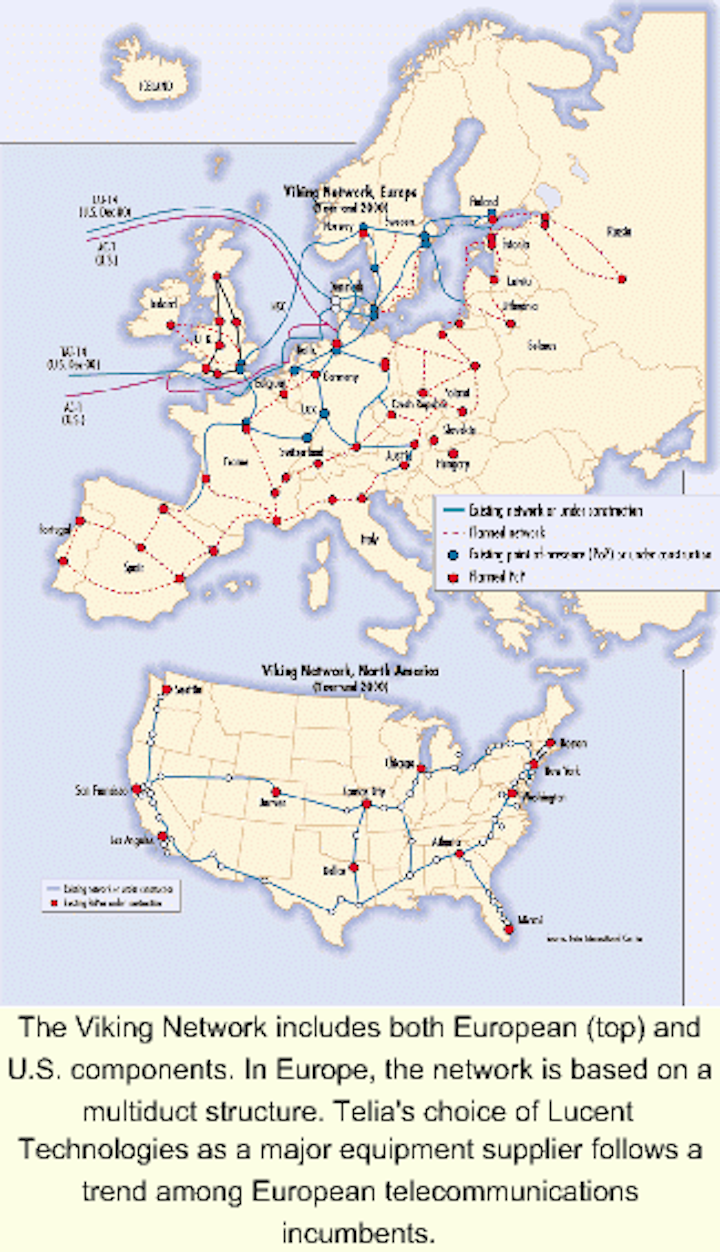 By EDWARD HARROFF
NETWORKS
Telia International Carrier (TIC) has selected Lucent Technologies' WaveStar 400G optical-networking system to equip the Viking Network. This three-year agreement will exceed 1.8 billion SEK (US $200 million). TIC is the division of Sweden's former incumbent telecommunications carrier that has developed Telia beyond the national boundaries. Many of TIC's services are based on the Viking Network.
This wholly owned fiber-optic network offers end-to-end connectivity from California to Russia (see Figure on page 48). At the end of 1999, the Viking Network spanned 4,000 km and linked 10 major cities. TIC plans to expand this coverage to 30,000 km throughout Europe and the United States to connect 40 cities.
"Spanning two continents, this network will give Telia's customers an extensive and competitive portfolio of Internet and data services," says Eric van Amerongen, president and CEO for Lucent Technologies in Europe, Middle East, and Africa.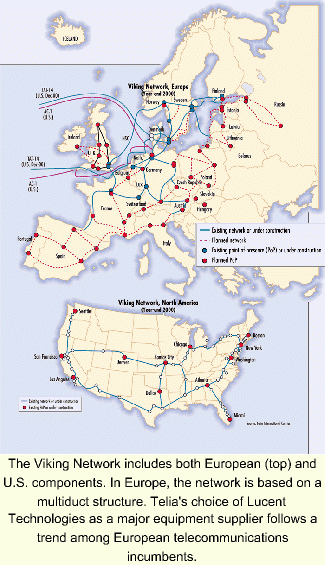 The Viking Network includes both European (top) and U.S. components. In Europe, the network is based on a multiduct structure. Telia's choice of Lucent Technologies as a major equipment supplier follows a trend among European telecommunications incumbents.
TIC's current 2000 build plan will equip the Viking Network with Lucent's WaveStar OLS 400G optical-networking system. The 400G delivers a per-fiber capacity of up to 400 Gbits/sec. Lucent will also provide end-to-end network integration and consulting services using its NetworkCare Professional Services portfolio, including planning, installation, integration, and network-management services.
"We recognize our customers' needs for more capacity and higher speed, as well as for new IP [Internet Protocol] services. By combining our telecommunications experience with Lucent's state-of-the-art technical solutions, we can build a global network to meet and exceed our customers' expectations," says Marianne Nivert, vice president of Telia. "With our rapidly expanding global presence, Telia will be able to provide better and more competitive services to consumers, carriers, and Internet service providers alike."
Telia has recently opened its company's ownership, as the Swedish government sold off the majority shareholder's position. This move was a reaction to cancellation of the proposed merger with Telnor, Norway's former incumbent carrier. "By floating our shares, we will be able to access the capital markets and act quickly on the same terms as other players, for example, in mergers and acquisitions. The outlook for the year 2000 is bright. I expect ongoing growth in our established operations," reports Jan-Åke Kark, president and CEO of Telia. Clearly, Telia's strategy is to remain the leading Scandinavian Internet and communications company through bold moves in TIC international network expansion.
The announcement from Telia follows a fiber-optic networking trend in Europe that has seen most of the former telecom incumbents calling on Lucent Technologies for advanced DWDM technology. Lucent has already reported Wave- Star deals with BT, Telefonica, KPN, and Deutsche Telekom. Mean while, France Telecom's DWDM decision was expected as this issue went to press.
The rollout of pan-European fiber-optic networks is creating fierce competition that could leave some operators "bleeding by the wayside," according to a 1999 study by the U.K. telecommunications consultancy, Ovum. At the same time, those carriers with the right business model will be well placed to cash in on the huge growth in demand for cheap cross-border Inter net and corporate data services. TIC is clearly targeting these opportunities.
"International leased-circuit prices in Europe were around 20 times higher than equivalent circuits in the U.S. at the start of 1999, a result of the artificially high tariff structure and the cost of interconnection," says Rebecca De Coster, co-author of the report. "But the emergence of the pan-European operators changes everything; by connecting countries using a single fiber infrastructure, they are positioning themselves to cut the cost of cross-border services."
Ovum expects the total demand for cross-border bandwidth in Europe to reach more than 9 Tbits/sec by 2005, up from 339 Gbits/sec in 2000. To date, the pan-European carriers have sought to capitalize on this opportunity by concentrating their network construction between key financial centers like Amsterdam, Frankfurt, London, and Paris. Over the next two years, however, Ovum expects that these "tier one" networks will be extended into Scandinavia as well as southern, central, and eastern Europe.
Right now, there are more than 20 pan-European networks in service, under construction, or on the drawing board. The players include new entrants (such as iaxis), non-European carriers (such as Level 3), and former incumbents looking beyond their national boundaries (e.g., BT, France Telecom, Deutsche Telekom, KPN Qwest, and Cable & Wireless).
Ultimately, Ovum reckons that there is probably enough space for fewer than 10 long-distance carriers. "A large level of consolidation is inevitable and is already starting to occur between similar types of players," adds De Coster. "Operators will attempt to enter new geographic regions and markets through joint ventures and acquisitions." What's more, De Coster says that some new carriers have borrowed heavily to finance their networks. "Business expectations may have been unrealistic, and some companies may not meet their target revenues as prices fall rapidly," she adds.
Edward Harroff writes on telecommunications from Bellevue, Switzerland.